The DUFF: Movie Review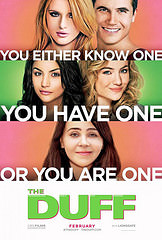 Directed by Ari Sandel and starring Mae Whitman and Robbie Amell, The DUFF (Designated Ugly Fat Friend), follows the story of two very different twelfth graders who experience hardships associated with cyberbullying and the social hierarchy of high school.
Bianca (Whitman), a quirky, alternative, and slightly pudgy sidekick to the two most popular girls in school realizes through a childhood acquaintance that she's considered the DUFF  of the well-known trio. She's not the #TheKindOne like Jess, an aspiring fashion designer, or #TheToughOne like Casey, the rebellious computer hacker. She's simply #TheOtherOne, the invisible one that no one notices and everyone ignores. After failing multiple times to have an effective conversation (AKA more than three words) with her long time crush Toby, she enlists help from Wes, the captain of the football team, her neighbor, and old friend, to turn her from approachable to dateable.
When a risque video of Bianca revealing her true feelings for Toby is released and goes viral, she must work up the courage to face the mean girl (Bella Thorne), and the rest of school as not only a DUFF, but also as a misfit who is confident in her quirks. This actually lands her a date with Toby; but after she gets "DUFF'd" by him, she realizes where, or with whom, her true feelings actually lie.
The DUFF, although supposed to be a romantic comedy, felt more to me like the writers focused too heavily on the comedy and forgot about the romance part until the very end. The humor was almost too excessive, to the point where some of it wasn't even funny, just stupid. It was also way too predictable that the two main characters would end up together, and become the "unlikely," yet completely cliche couple that turns up in movies nowadays. Although a cute pair, the chemistry between the two seemed nonexistent and Robbie Amell's portrayal of the "dumb jock with a secret heart" role was mediocre. On top of that, Bella Thorne's weak attempt at being a backstabbing mean girl just reminded viewers that she still belongs on Disney Channel as Cece Jones.
The DUFF was not all bad, though. Mae Whitman was the perfect person to play Bianca, and her genuine confidence and humor shone through. Her witty comments and funky dance moves made the audience's laughter real, and she helped promote a positive message about body image and embracing who you truly are. I've never heard of a high school girl being classified as a DUFF, but Whitman definitely shows girls how to deal with social situations like the ones in the movie.
Bad acting and awkward relationships aside, The DUFF is a funny and inspiring movie, specifically targeted for young girls. If you aren't expecting a heated romance like The Notebook, and are prepared for corny slash slightly lame humor, it might still be a movie worth seeing (although maybe wait until it comes out on RedBox so it isn't twelve dollars).