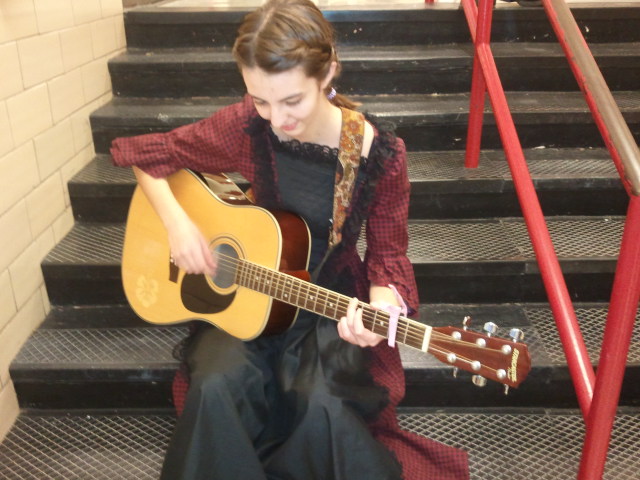 Bailey Bush
"I've loved music since as long as I can remember," junior Bree Valine said. She is now trying to take her musicianship to the next level by writing original music and performing publically.
Valine has been "banging on the keys [of the piano] forever." She started to sing and play guitar in the seventh grade, and wrote her first original song three days after she got her guitar.
A newcomer to AHS, Valine moved from Kansas City, MO this past summer. At her high school there, she was in the praise band, two choirs, and the musical. Now she sings in AHS's Patriot Singers and is in the fall production of "Elephant's Graveyard," playing guitar.
Valine is used to moving. "I've moved nine times and lived in seven different states," Valine said, because of her dad's job. "We came here for my dad who has gone back to college. The transition has been a lot, but fine, [because] there are a lot of really nice people here."
Valine previously attended an all-girls Catholic prep school. "Things are really different and I really miss all of my friends back home…but it's beautiful here. There are a lot of great people and Albemarle is nice," Valine said. She also said that she thinks AHS has "a great music department."
Valine writes original music. "When I started playing guitar and covering other people and learning how they write music…I kind of started to figure out 'oh, this is how you do it' and write my own songs," Valine said. The genre of Valine's songs is alternative pop.
Valine recorded her first album "With You" in June. "For my birthday, because my friends are the greatest friends in the entire world…they chipped in and bought me five hours in a recording studio," Valine said.
Valine doesn't always sing solo. In Christmas of 2011, she and her two friends Ruby Dibble and Madison Fitzgerald started their band This is Baltimore.      "They're both incredible musicians. I could write novels about how amazing they are," Valine said. Dibble and Fitzgerald still live in Kansas City.
"Without Bree, there wouldn't be a band…She is the sweetest, most positive person I know and music literally pours out of her," Fitzgerald said in an email interview.
Fitzgerald said that her favorite thing about This is Baltimore is that "there is no lead singer. We can all sing, so we didn't see the point of picking one singer to sing all the time." Fitzgerald explained that her main role in the band was writing the harmonies for the songs.
Valine said that the band is, "kind of still going. It's more like when I come to town and we get together and do something. We don't really practice outside of that."
One of the band's first gigs was playing at Sunnyside Park in Kansas City for some friends in June. "It has been awesome for This Is Baltimore to perform and record songs," Fitzgerald said. "Performing in front of an audience is so much fun, especially when we have a lot of friends there."
Since moving to Charlottesville, Valine has performed a solo gig; in September, she played at the Mudhouse in Crozet. Valine said that playing at the Mudhouse was fun, and the fact that it was "small and quaint was perfect because I was really nervous. It was a great learning experience."
At gigs, Valine performs her original music. She said that her writing style is comparable to Taylor Swift's. "I like to write about things that happen to me, because you're supposed to write about what you know," Valine said.
Valine said that she writes about "love and heart break…whenever I have a strong feeling, I just start writing." She says that her greatest song-writing accomplishment is a new song called "Crescendo."
"Crescendo" is about "the first few weeks after a relationship begins and just how happy they are. It's my longest song and lyrically I put a bunch of work into it. I've gotten a lot of compliments on the specific line, 'I'm not good with words but you make me feel like a song/together is where we belong,'" Valine said.
Valine also likes to write songs from the perspectives of characters of books she reads, and is currently working on a song about "Pride and Prejudice." "It's going to be a song written from the point of Elizabeth Bennet who has all these guys fawning over her and she doesn't even care because she's looking for true love," Valine said.
Sophomore Liz Blair is a fan of Valine's songs. "I really love Bree's music because each song tells a story. Her voice is beautiful and natural, and she's a great musician," Blair said.
Although Valine doesn't have any upcoming gigs at the moment, she plays "out and about at the Downtown Mall" once a week. Her songs are available to listen to on her website: http://soundcloud.com/bree-valine. You can also find her on Facebook at http://www.facebook.com/BreeValine.