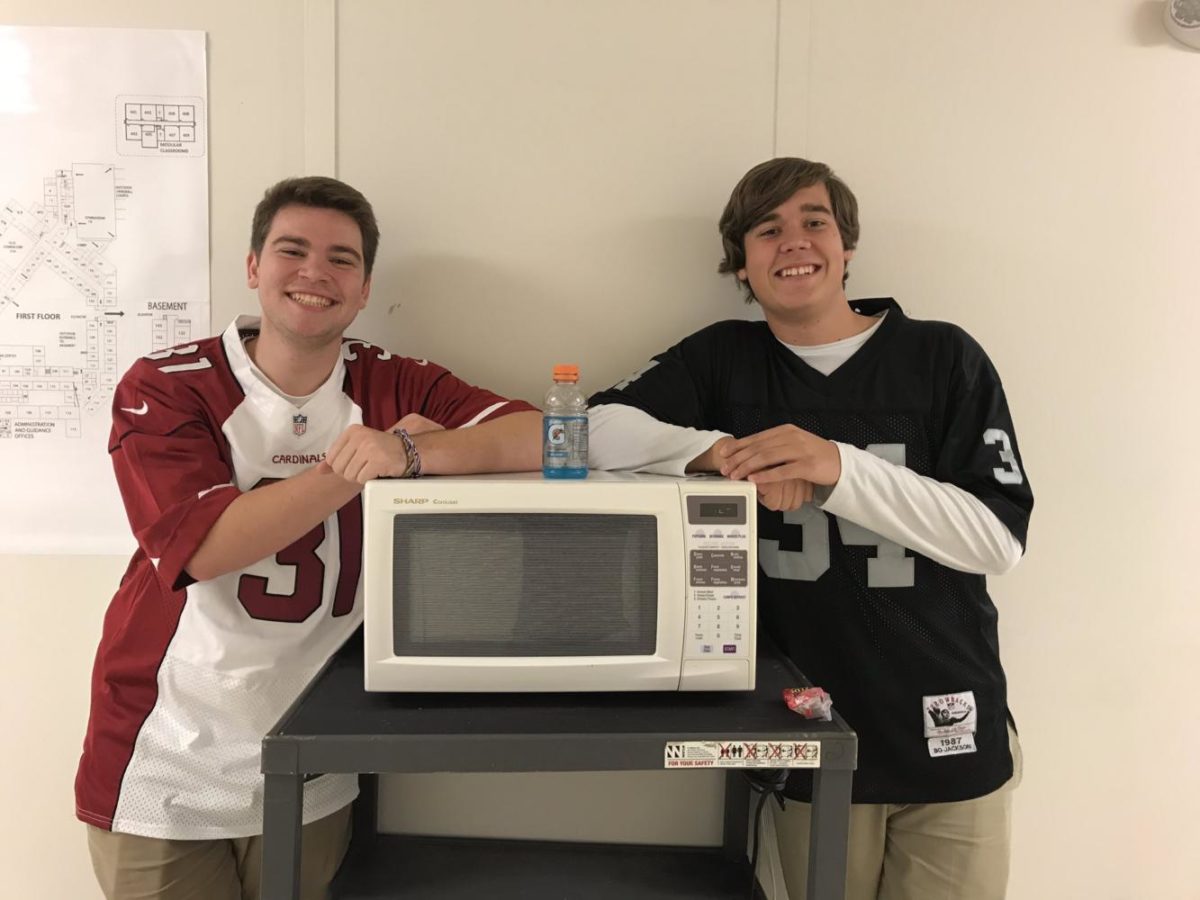 We're back! After taking the first four weeks to scout out the NFL, we are back with our first round of picks! The first four weeks have been filled with many surprises, the Giants are 0-4, the Patriots look like a shell of the team that won the Super Bowl a year ago, and Kareem Hunt looks to be the NFL's best running back.
Bills v Bengals
Jake:  The Bills have been quite surprising this year, jumping out to a 3-1 start. I expect them to continue their success this week. The Bengals are not very good at football, much of that can be placed on the Red Rider BB Gun, also known as their quarterback Andy Dalton. Look for Tyrod Taylor, to air them out in a blow out.
BUF: 34 CIN:14
Grayson: I'll take the Bills here, their defense looked great last week. Tyrod Taylor has been playing great this year if the Bills can get LeSean McCoy going they will be a tough team to beat. The Bengals have looked like trash this year other than when they played Green Bay.  I still don't count the Browns as an NFL team so in my mind the Bengals are still 0-3.
BUF:27 CIN: 17
Jets v Browns
Jake: So this is what the NFL has come to… Jets, and the Browns. (and they wonder why their ratings are down…) Anyways, yeah this will not be an entertaining game in any fashion. Deshone Kizer has looked pretty solid for the Browns, also for Cleveland, Myles Garrett is expected to make his NFL debut. I'll roll with Cleveland this week.
CLE: 17 NYJ: 3
Grayson: Worst game of the week, nobody will be watching this. This is really just a contest to see who will have a higher draft pick next year. I don't believe the Jets really earned, their two wins, against the Dolphins, and Jaguars. I like Deshone Kizer, however; so I'll pick the Browns.
CLE:24 NYJ:16
Panthers v Lions
Jake: Anyone who said Matthew Stafford didn't deserve that big contract, can go sit in the corner and think about what they said. Matthew Stafford has been sensational this season, leading the Lions to a 3-1 start. Meanwhile Cam Newton, for whatever reason seems to have forgotten how to throw a football. The Panthers have also failed to get rookie Christian McCaffrey, in the mix. I'll take the Lions.
DET: 27 CAR: 13
Grayson: The Lions are in my opinion the most underrated team in the NFL this year. Their defense has been amazing so far, while their offense has still been very consistent. The Panthers had an impressive win last week but I'll still take the Lions this week.
DET:38 CAR:22
49ers v Colts
Jake: Why this is actually a thing, I don't know. Who can look at the schedule with a straight face and say "Yeah! The Colts and 49ers! Everyone will want to watch that!". With no Andrew Luck, the Colts look like a highschool team, and the 49ers… Just are a highschool team. I'll take the Colts in a low-scoring affair.
IND: 13 SF: 7
Grayson: Wow what a surprise, almost as bad of a game as Jets vs Browns. If Andrew Luck, were to play this game would be a blowout. With Jacoby Brisset, the 49ers have a chance. If Carlos Hyde can get going this game will be close but I'll still take the Colts at home.
IND:27 SF:24
Titans v Dolphins
Jake: Big surprise for Miami, the Jay Cutler experiment didn't work. Never saw that one coming. The Titans been inconsistent this season. After getting the bricks blown off them, by the Texans last week expect them to come out hungry. If Marcus Mariota plays, I'll take the Titans. With his status up in the air, I'll play it safe and take the Titans.
TEN: 20 MIA: 3
Grayson: This week Jay cutler will beat the Dolphins, I expect him to complete more passes to Adore Jackson than his own receivers. He is what is holding them back and even if Marcus Mariota doesn't play I'll still take DeMarco Murray and the Titans. Miami's offense is gonna be M.I.A. this sunday. (I laughed so hard at my own joke.)
TEN: 30 MIA: 12
Giants v Chargers
Jake: As a diehard New York Giants fan it hurts me to say this, but there is a very good chance the Giants finish the season 3-13. With both teams entering at 0-4, you will see two very desperate football teams. The key matchup is The Chargers dangerous pass-rush, against the Giants barren offensive line, which has improved from last year, but is still struggling. I'll take the Chargers on a last second field goal.
LAC: 23 NYG: 20
Grayson: This is again, another trash game. The battle of two 0-4 teams. The Giants didn't really lose anyone on defense this year so I am confused why they are doing so poorly. Odell Beckham Jr.  Is finally looking like Odell, and thus the Giants are playing better as a team. Both teams have great receiving cores, and experienced quarterbacks. What the Giants don't have is a running game, due to that I'll take the Changers.
LAC:30 NYG:23
Cardinals v Eagles
Jake: The Eagles find themselves atop the NFC East, will the Eagles continue their trend of second half collapses? It won't start this week. The Cardinals have not looked very good this season, due to a poor run game, after losing David Johnson. The Eagles front seven, will dominate this game. While the Eagles will endure offensive struggles of their own, I expect the Eagles to pull through. (The Eagles also have the best kicker in NFL history, named Jake Elliott.. 🙂
PHI: 24 ARI: 20
Grayson: The Eagles started last year 4-0 before falling apart. I don't expect that exact same meltdown to happen this year, but I do expect them to lose this game. Each week the Cardinals running game has gotten better since losing David Johnson,  the Cardinals passing game has benefited. Even in Philly this week I'll take Arizona.
ARI:33 PHI: 28
Jaguars v Steelers
Jake: The Jaguars found a way to lose to the Jets last week, Impressive. The Steelers offense has been incredibly underwhelming this season. While the Jags defense has been as advertised. As much as I like the Jags defense, their offense led by Blake Bortles is too much of a liability to take them here. Steelers top the Jags.
PIT: 27 JAX: 17
Grayson: Last week was a fluke, the Jaguars are better than that. I mean come on, losing to the Jets? No more strange, accidental 75 yard touchdowns this week. I expect the Jaguars defense to revert back to how they looked against the Texans, and the Ravens. With a steady rushing attack to lift them over the Steelers in a big upset.
JAX: 27 PIT:23
Seahawks v Rams
Jake: The Seahawks have been terrible this year, don't let their 2-2 record fool you. They have wins over the 49ers, and Colts. While the Rams on the flip side, find themselves at 3-1 with an impressive offense, led by Todd Gurley and Jared Goff. The Rams always manage to play the Seahawks tough. With the Seahawks sputtering. The Rams will keep rolling.
LAR: 27 SEA: 10
Grayson: The Rams offense is legit. They seem to always upset the Seahawks. After a big second half blowout of the Colts, Seattle is red hot and Russell Wilson is playing at a very high level. Todd Gurley will be the deciding factor in who wins this game. I believe that the Seattle defense will have what it takes to limit him.
SEA:24 LAR:20
Ravens v Raiders
Jake: The Raiders, who started the season as a Super Bowl favorite, now find themselves at 2-2, without their starting quarterback Derek Carr. The Ravens have looked lockdown on defense, as usual. While the offense led by Joe Flacco, has struggled immensely. I'll take the Ravens in a low-scoring affair.
BAL: 17 OAK: 9
Grayson: The Raiders without Derek Carr, are a very different team Marshawn is not as good as he was in his Seattle days. Despite Joe Flacco, being a subpar quarterback this Ravens secondary still can restrict EJ Manuel from affecting the game through the air.
BAL:16 OAK: 10
Packers v Cowboys
Jake: This should be a good one. Zeke Elliott and the Cowboys, taking on Aaron Rodgers and the Packers. Look for a lot of offense in this one. I expect Zeke to run wild, on the Packers while Rodgers sprays the ball all over the field for Green Bay. At the end of the day, the Packers defense will stand tall, at the end. A Mason Crosby field goal wins it for Green Bay.
GB: 38 DAL: 35
Grayson: This should start out as a very close game, especially if key players for the Packers don't suit up like Ty Montgomery, and Davante Adams. If Montgomery does sit, the Packers backfield will be led by rookie Aaron Jones. Look for the combination of Jones, and Rodgers to hurt the Cowboys in the second half despite a close game through the first two quarters. The Cowboys will score again late, to make the score closer but garbage time points won't accurately tell the story.
GB:42 DAL: 34
Chiefs v Texans
Jake: The Chiefs have been tested early and often this year, and that won't change this week. Deshaun Watson looks like he is the quarterback of the future for the Texans, meanwhile Alex Smith is an MVP candidate. Both teams boast stout defenses, however; Kareem Hunt is the X-factor. I'll take the Chiefs in an exciting game.
KC: 27 HOU:24
Grayson: What can i say, but wow. Wow Deshaun Watson, you have impressed me, five touchdowns?! Quite impressive to say the least. Last monday night the Redskins showed how to beat the Chiefs. Converting on third downs early and often and playing physical defense at the line. Other than Travis Kelce the Chiefs receiving corps isn't much of a threat and with the way the Texans offense was clicking last week, I believe this is the week the Chiefs will fall.
HOU:31 KC: 24
Vikings v Bears
Jake: All i can say is, it's about time the Bears turn to Mitch Trubisky! After four weeks of suffering through the Mike Glennon circus, Bears fans have something to watch for on Monday other than Jordan Howard, and Tarik Cohen. With Sam Bradford, expected to make his return, two guys, who go by the names of Stefon Diggs, and Adam Thelin will be over the moon. I'll take the Vikings, even with no Dalvin Cook.
MIN: 24 CHI: 13
Grayson: This game will be a blowout. That is what i would have said last week if the two teams had faced off. Now I have some questions that lead me to believe otherwise. For example, how effective will Latavius Murray be now that Dalvin Cook is done for the year, or will Sam bradford play? If he does will his knee hold up? Will Mitchell Trubisky show up and prove why Chicago traded up to snag him at number two overall? At the end of the day I think the Bears will still struggle, Bradford will be fine and if he doesn't play Case Keenum will be just as good, and Latavius Murray will be decent enough to head a mediocre rushing attack.
MIN:26 CHI:16