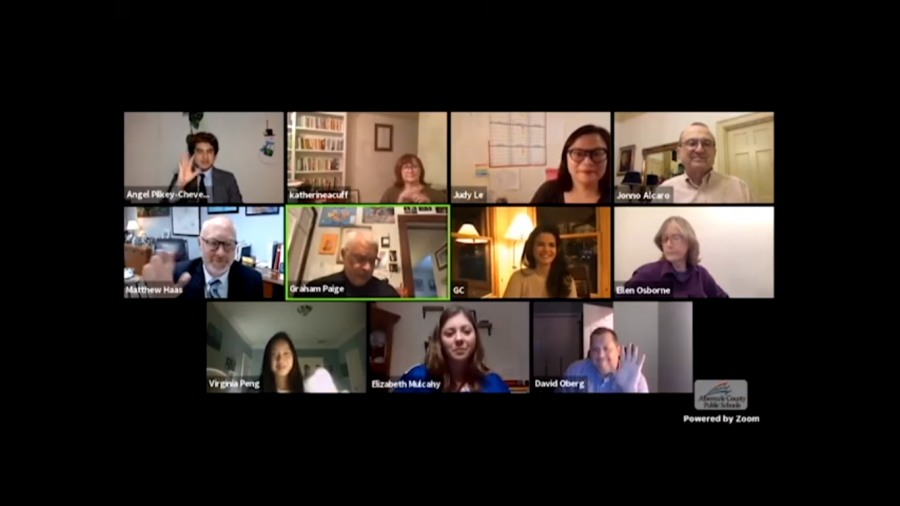 Screenshot of School Board meeting recording
Seniors Angel Pilkey-Chevez and Laila Barnes were two of the four first student school board representatives for the Albemarle County School Board. Except for voting, they got to have all the same privileges as board members and weigh in on topics like whether or not to go hybrid.
Last spring, the School Board voted to add a student position (beginning in July) to represent the  over 14,000 students in our county. Representatives serve three month terms, attending Board meetings two to three times per month. Although student reps can't vote, they can make presentations to the board and express their stance on issues.
"Although I was initially skeptical about having student reps on the School Board, I have changed my mind," Jack Jouett district school board representative Kate Acuff said. "The student reps have stepped up and offered their candid views on many topics including the challenges of online instruction to extracurricular activities during the pandemic."
School Board chair Graham Paige agreed. "They have been able to give a student's perspective of issues like class loads and how to obtain student input more effectively."
Pilkey-Chevez had already been active in the AHS student council (SCA), the County Student Advisory Council (CSAC) and the Student Equity Advisory Team.
He applied to be a student rep for the opportunity to have more of a say in what was happening in our school system. "I basically had the chance to speak, voice my opinion, and kinda lobby them a little bit on issues that I cared about and that students cared about."
Barnes is currently involved in National Honor Society and has spent a majority of her senior year building time management skills from balancing school and working 35-40 hours a week, in addition to her current term as student rep.
"I like being a part of our community; I like being a voice for people who don't have voices, giving inputs from a genuine student's perspective and how they think our school system is going. So, I really wanted to be that voice and make changes in our school system," Barnes said.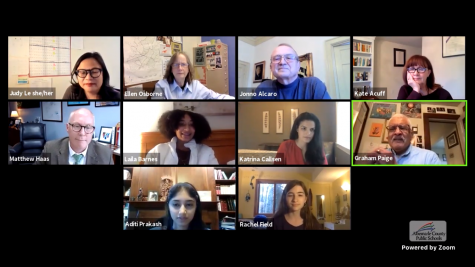 Both Pilkey-Chevez and Barnes applied for the position before the pandemic and had goals and topics they had to leave behind when COVID became a major issue discussed at meetings.
"I went in there with my lens of my main issues are gonna be equity and racial justice in the school system. That was thrown out the window– like it's still important…but COVID had to come first unfortunately," Pilkey-Chevez said.
Barnes had a plan to focus on racial equity as well, but also wanted to learn more about the different types of classes offered to gain a better understanding of the school system.
After learning of her approval to the Board, she arranged to sit in on "Fusion" classes, which are a combination of History and English..
"I basically just wanted to sit into that class, just take notes, and report back and just to see how those teachers work, those classes work, see if there were any benefits or cons to the class. So I started that and unfortunately my project ended, but I'm hoping to pick that up and finish it before I graduate."
Although it wasn't their original plan, Barnes and Pilkey-Chevez both appreciated the chance to voice their opinions and represent students during the pandemic.
Pilkey-Chevez's term (Jan 1 to March 31) coincided with the debate on moving to hybrid education in Stage 4 or remaining in Stage 3. In addition to his own opinions, he talked to students and teachers from Albemarle and the other county schools and through his student rep Instagram account to hear their thoughts.
"People that dm'ed me on Instagram being very vocal about their opposition–  there were both extremes– there was 'we need to go full back right now' and there was 'we can't go back for the rest of the year.'"
Pilkey-Chevez explained how he tried his best to always stay professional when responding but sometimes it was hard to keep a level-head. "[I had people say] 'We are over exaggerating COVID, like it's a flu, let's go back right now.' and those were really hard to be professional about."
He dealt with those hard situations by explaining what facts he was given about case numbers and mitigation practices to help illustrate what was going on. "So I never really said 'no, you're wrong', I gave them the facts and I hoped they could make a new opinion from that or that they could see where I was coming from."
Barnes also had a very similar approach when it came to hearing differing opinions from the community. "I definitely try to take in account of everything. I never am one to deny your opinion, but I will give my differing opinion based on factual points [or] based on what I experienced."
She also emphasized how important taking everyone's opinion is when talking about an issue. "Everyone has the right to their own opinion, and then you also have to take account of different circumstances…you just never know – everyone has a different opinion based on their own experiences."
Though this is not at all how either pictured their senior year, they both felt like the right decisions were made at the right time.
"I think given the things we knew at the time and everything that was going on, and the resources we had at our disposal- it went well and is going well. I think we went hybrid at the right time and I think hybrid is going well. It's definitely not a normal school year, but it's as close as we can get," Pilkey-Chevez said.
As the first year of the student representative position comes to a close, Pilkey-Chevez feels that there are some changes that need to happen to ensure its future success.   While working to revise the application process, he also believes that the term lengths should be reevaluated. "Three months is not enough to establish a good connection…because connections are everything especially when you're serving."
Pilkey-Chevez and Barnes encourage anyone who wants to be a student representative or wants change to speak up and find other people and voice their opinion.
"That even for me was difficult- I'm naturally a shy introvert, but you don't have to start off at a big platform talking to a large group of people…you can start off small, never be afraid to voice your opinion," Barnes said.
"If there's an issue that you're passionate about – there are definitely other people who are passionate about it – get together. A collective voice is better than a singular voice," Pilkey-Chevez said.
After they graduate, Pilkey-Chevez and Barnes both want to continue to have involvement and remember this experience for the future.
Pilkey-Chevez is going to attend Washington and Lee University and plans to either major in political science or environmental science. "Public service is the field I want to go in."
Barnes will be attending Virginia Commonwealth University and plans to major in management, but also has interest in political science. "I definitely do want to continue being a voice, making impacts and changes in the school system and our world. I think we still have a lot of ways to go with a lot of issues that are happening."