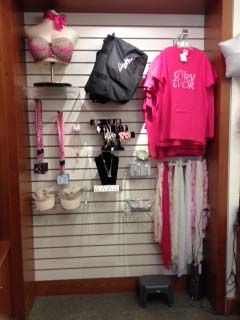 "There's certain things that make us a woman, and one of them is having breasts," LaTisha Barnes said. She is the manager and certified mastectomy fitter at Flourish: A Positive Image Boutique in the Emily Couric Clinical Cancer Center.
Breast cancer "literally breaks [patients] down emotionally, physically, and mentally." Barnes can see patients who "feel less feminine" because of their loss of a breast.
One lady walked into her shop after losing one of her breasts and said "I might as well just die." Barnes helped her to let all of her frustration out, and realize that "it wasn't as bad as she thought it was going to be." Barnes said.
Barnes said that "family is also sometimes just as important to talk to as is the patient." There are families where "[the patient] was probably the strong one in the family, and now that they have this disease..they're scared, but they're trying to put on a strong front for their family." Once in the fitting room, Barnes gives them a hug and tells them to "let it all out, because you need to do that sometimes, you need to be able to release."
Families not only have to worry about their loved ones, but they also have to be concerned with money, with the average wig costing around $215. Flourish sought out a solution. As a member of the UVa Women's Club, and wife of a UVa surgeon, Ramona Scott Burwell wanted to do something for cancer patients that don't have the money for wigs or hats.
"When she was diagnosed with cancer, her main goal was to look good and feel good, and put her best foot forward," Barnes said. Ramona understood that looking good and feeling good "helps to push through everything that's going on inside you."
After her passing, the UVa Women's Club created Ramona's Room in her honor, where donated hats, wigs, and scarves are offered to patients that cannot afford them.
For the future of Flourish, Barnes "would like it to be more of a household name, I feel like a lot of people don't know we exist." Flourish has jewelry and scarves for everyone, not just cancer patients.
"Everyone should experience walking in.. [patients] walk in from the lobby and they can feel the excitement, and it's just a feel good experience."
Students and members of the community may stop by Flourish, in the lobby of the cancer center across the street from the main hospital lobby.