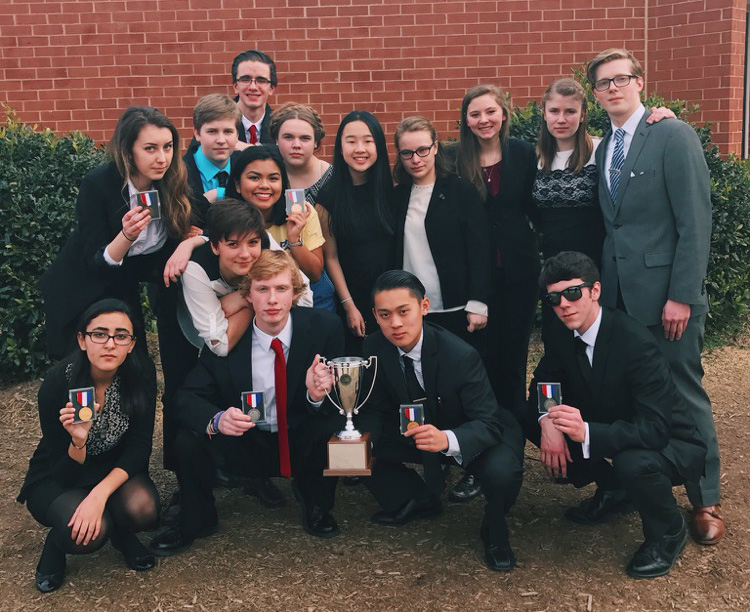 One of the greatest mysteries of Albemarle, aside from the pool on the roof, is our forensics team.
A student will rarely know what forensics is, despite how successful the AHS team has been in the past. Most often when asked what forensics is, most will just shrug or give a vague guess like, "public speaking?".
Albemarle's forensics team has a long list of success stories from past competitions. They won sweepstakes at the State's level last year, which is a ranking of  forensics teams by school. At the Virginia High School League, they were 1st in conference, regionals, and states. A total of six students got to go to nationals last year as well.
"The team is amazing! Everyone says this about whatever team they're on, but we're like a big family. We support each other and are all super close," senior Sarah Dizon said. "Honestly, a lot of competitive teams outside of athletics get overshadowed at Albemarle."
To right this wrong and give forensics some coverage, especially before auditions this week, here's your guide as to what the actual heck forensics even is, divided into the categories used in competitions. 
Extemporaneous Speaking
The speaker is given a question pertaining to political/economic current events and is given 30 minutes to construct a speech that's maximum seven minutes long.
Impromptu
In seven minutes total, the speaker can choose one of three provided topics and is required to plan a speech in three-four minutes, using the remainder of the original seven to deliver the speech. Topics provided are often a person, a thing, and a quote.
Original Oratory
The speaker delivers a ten-minute persuasive speech that presents a problem and offers a solution. The speech can be about anything the speaker wants.
Prose/Poetry
The speaker will either read aloud a prose excerpt or any number of poems within a ten-minute time frame.
Storytelling
The speaker acts out a children's book to the audience within seven minutes, using voices and impressions and acting as if the audience is made up of children.
Humorous/Dramatic Interpretation
The speaker acts out a humorous/dramatic script within ten minutes. They are required to act out every character in the script. Duo interpretation is done with two speakers who are not allowed to touch or look at each other while performing.
Declamation (Freshmen and Sophomores Only)
The speaker delivers a speech that has previously been delivered by someone else. Only used to compete in the Virginia Catholic League.
Auditions for the forensics team are Wednesday the 27th and Friday the 29th, 4-7 in the drama room (Room 41). Ms. Cunningham and Ms. Baum are the advisers of the team. Marie Ungar and Ian Waite are the co-captains.