Courtesy of Andrew Maynard
In March of 2009, a new face arrived in Charlottesville. It was that of Tony Bennett, UVA basketball's newest hire that was known for his defensive-minded approach that he brought from Washington State.
He had had some success on the West Coast, as he made a run to the Sweet Sixteen in 2008, with his calm demeanor steadying the Cougars' ship. For the Wahoo faithful, this was better than the angry sideline presence of Dave Leitao, whose incessant screaming at players was a constant at John Paul Jones Arena.
Bennett brought with him his "Five Pillars," a set of values that he wanted to instill in his players. Could he revive a program that had a tradition of success in the '80s but had fallen on hard times as of late? Could he convince players to invest in his system and play to his style; one that wasn't the prettiest, yet it produced solid results?
Fast forward ten years to roughly 11:45pm on April 8, 2019.
UVA fans, now you can take it all in. After years of losses to Michigan State, Elite Eight collapses and being on the wrong side of history, you can finally have your moment. Tell your friends who are Duke or UNC fans to sit down, since it's your time now. They might get the best recruiting class in the country, but last time I checked, a zero-star player from New Zealand named Jack Salt has more rings than Zion Williamson. All the people who comment "UMBC" on UVA posts, it was fun for a year, but that's over now.
Of course, last year's heartbreaking loss to the Retrievers has been omnipresent in this year's campaign. When the Hoos ran through the ACC like last year and were again rewarded with a #1 seed, some critics were wary of the Cavaliers in this year's tournament.
The team didn't do much to quell their fears when they went down by 14 points in their opening-round game. However, this squad showed a certain toughness and demonstrated a type of unflappability that last year's was lacking.
Forward DeAndre "Second Half" Hunter turned it on and showed the potential that has NBA lottery teams drooling. Guard Ty Jerome hit a few clutch threes and the Hoos showed off their trademark suffocating defense, which paved the way for a dominating win.
The second half turnaround might not have happened without last year's, as Bennett described it, "painful gift." The loss gave the team the rare opportunity to build themselves back up again.
They took a few unusual measures to get there, like Kyle Guy's well-documented phone background of him crying after the loss or Bennett's decision to go after a lightly recruited 5'9" (with shoes on) California point guard named Kihei Clark, whose stout defense and knack for passing ended up saving UVA's season in the Sweet Sixteen and Elite Eight.
All these methods (and a healthy dose of luck) led the Cavaliers into the uncharted territory of the National Championship, against a Texas Tech team that was also predicated around defense.
After using their usual steady pace to grind down the Red Raiders, Virginia seemed to be in control. However, Texas Tech pushed back with a 7-0 run and took a three point lead with 21 seconds left. For many fans a sense of dread started to form, a sort of sinking feeling in their stomachs. Could the team come this far just to suffer what would be a loss of comparable torment to what they went through 13 months ago?
Last year's bunch might have folded facing what was shaping up to be a devastating defeat. However, Jerome calmly brought up the ball and drove into the lane, eventually kicking it out to Hunter, who coolly sank a three that evened the game at 68.
The game then went into overtime, where the Wahoos finally broke the Red Raiders, going 12-12 from the line in OT, an improvement on the four points they got from the stripe against UMBC. Texas Tech bricked a few desperation threes and then the orange and blue confetti rained down.
The pillars that Bennett brought with him have been on display throughout the past ten years. There's been the humility of the team's playing style, where no one player truly shines above the rest and the load is carried equally. The players showed thankfulness as the learned from the repeated losses to their kryptonite, Michigan State.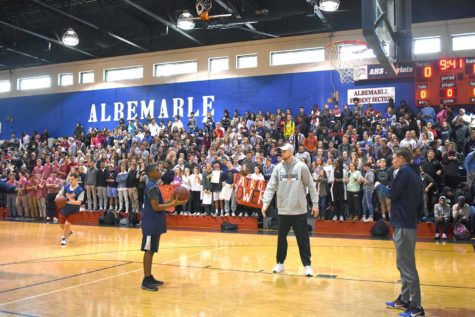 Every day team members display servanthood, as the reserve players are the "Green Team" and go head-to-head in practice against the starters, improving everyone's game. This squad includes former Albemarle players Austin Katstra ('17) and Grant Kersey ('16), both of whom Bennett has lauded for their toughness and willingness to do the dirty work for the program.
The team's unity has been immortalized in the images after last year's loss, where Jack Salt comforted senior Isaiah Wilkins on the bench.
Finally, the team showed passion after finally capturing the championship, where Kyle Guy seemed to gain the jumping abilities of Zion Williamson after the final horn sounded, bounding across the court with a mile-wide smile on his face, one that almost rivaled that of his coach.