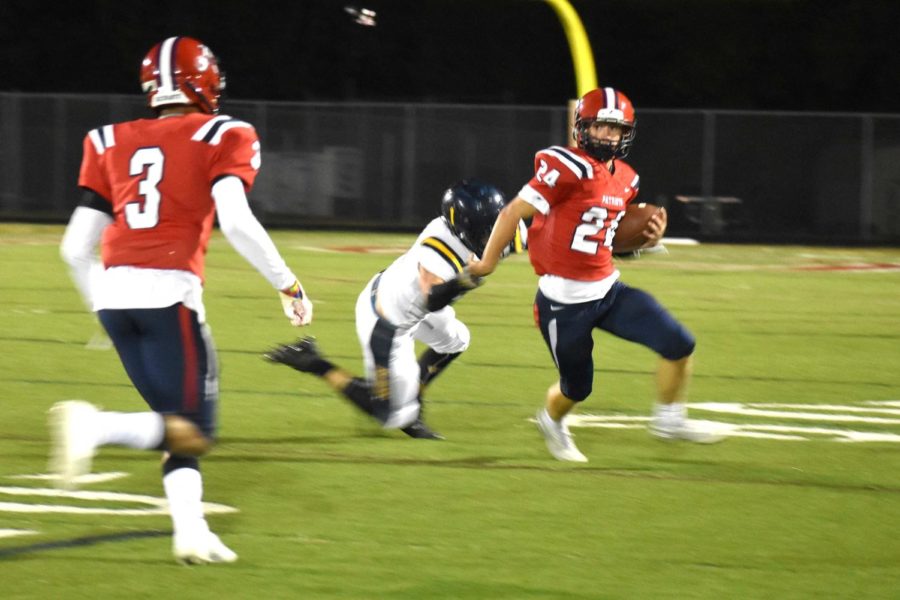 L. Reaser
As Coach Brandon Isiah continues his fourth season as head coach of the Patriots, he and his team stand in the season with a record of 3-5. 
The young team of mainly sophomores and juniors has picked up experience and skill after each practice and game; using each mistake or loss as a way to excel in the next play they run. 
"I like how we've come together as a team this year… we are a young team, we had a shaky start," sophomore cornerback Malik Washington said. "Each practice we get better; you can feel us coming together as a community." 
"I hope this week consists of great practices… the past two games we've had nothing but great practices and we've won." 
Though from an outsider's perspective this may just be another game, the coaches, players, and fans view this entire week, and game, differently. 
"The whole week feels different… all the practices mean more," Washington said.
"This week we know that we have a big game and have to play really hard," sophomore running back Ebenezer McCarthy said. "We're gonna do what we do." 
While hoping to beat WAHS during their Homecoming game, McCarthy also plans to accomplish a goal he has been working at all season long.
"I'm trying to get 1000 rushing yards. I have 344 to go," McCarthy said. "I'm trying to get at least one hundred plus [yards] this game." 
One of the biggest factors for this young team is experiencing more games and more practices. With learning comes ways to better prepare for the future. 
"Watching a lot of film, seeing who their best players are, trying to see what routes we can run, what pakis, and letting the coach know what we think so we can be on the same page," sophomore quarterback Jake King said.
One key to the Patriots success may be something as simple as trusting each other on the field with everyone's full concentration on the current play.
"Being around the guys, trusting everybody, knowing what we're capable of," Washington said. 
Not only is trust a factor, but a positive mindset and clear mentality can help make or break not only a game, but a team.
"Everything has to be different: new attitude, new approach to the week, new mentality," Washington said. 
Another challenge the Patriots face is the pressure of a 42 year old rivalry between the schools. King said that it would be important to "keep our cool" during the sometimes-heated contest. 
Though the pressure of playing in a rivalry game can get to a players head, the outcomes of winning the game can benefit the team immensely.
"I think it'll seal our playoff spot a lot and give us a big confidence boost," McCarthy said. 
"Beating Western, no matter what sport, will always boost your moral… it will give us a good extra burst of energy," junior slot receiver and strong safety Nolan Pitsenburger said. 
The crowd will be sure to feel the energy and excitement that the team has been building up all week in preparation for tonight's game. 
"We're all pumped for it honestly, we're just ready to go out there and play football," Washington said. 
The Patriots will face the Warriors on their home turf in Crozet at 7 p.m. tonight.