Drake's Blast From the Past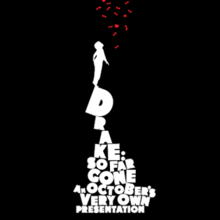 Drake fans get excited, because what was once old is now new. So Far So Gone, the Canadian artist's 2009 mixtape, was released at midnight on Feb. 15 on all major streaming platforms for the first time. This move gives reprieve to those who have spent time finding the songs on SoundCloud or YouTube and introduces a new generation to an artist that they might know for only his newest works.
The mixtape is a call back to when the Toronto rapper was still emerging onto the music scene, before his successes with 2011's Take Care and 2013's Nothing Was the Same.
In terms of musical content, it has recognizable tracks like "Best I Ever Had" and "Houstatlantavegas" that listeners probably would have heard before. However, this re-release gives us the chance to hear hidden gems that might have been previously passed over, like the album closer "Congratulations" or the Lil-Wayne featured "Uptown."
SFSG gives the listener a window to the past, but also a view into the future, as there are several songs that show the inspiration for newer Drake titles. For example, "Sooner or Later" could have easily fit in on 2018's Scorpion, as it retains the same slow, piano driven beat as newer songs like "After Dark" or "Final Fantasy."
Overall, this new release comes as a pleasant surprise for the faithful, and might even create a few new fans for the self-titled "6-God." If you have an appetite for some new material from Drake, this mixtape should fill you up.