Aaron Hernandez: The Killer Inside Review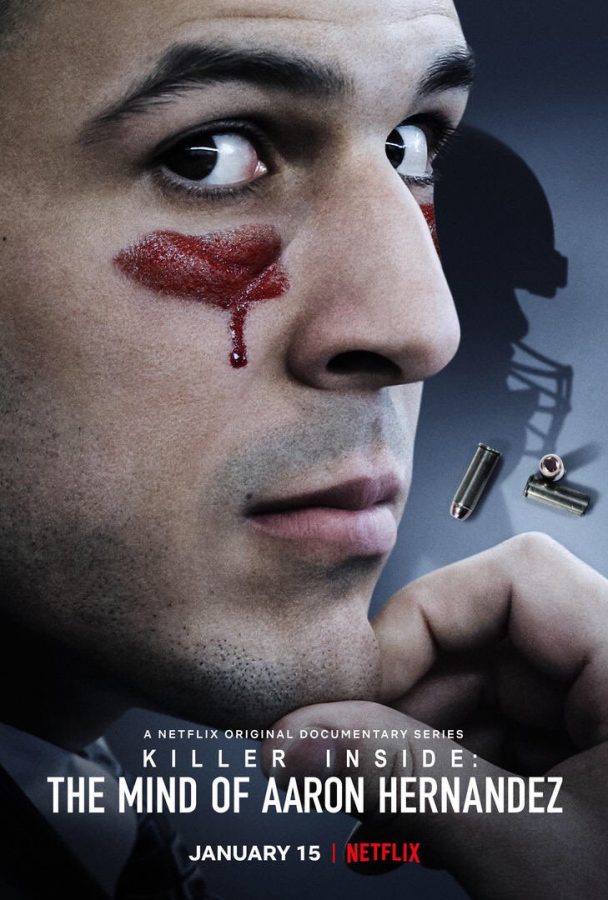 Brian Teweles
February 20, 2020
One of the most polarizing figures of the last decade, former Patriots tight end Aaron Hernandez is the subject of a new three-part true crime series on Netflix. Hernandez, who went from relatively regional fame in New England to national headline maker after being arrested and eventually charged with the killing of semi-pro football player Odin Lloyd in 2013, is profiled and analyzed heavily over the series. 
The episodes, all clocking in at just over an hour, go into detail about Hernandez, from his youth in Bristol, Connecticut, to his eventual suicide in a Massachusetts correctional facility. Interviews with a collection of journalists that followed Hernandez and his trial proceedings, along with former friends and other NFL players provide information on the former star and are interspersed with news coverage. 
One place where the series shines is with its usage of the calls between Hernandez and others from jail. Over 900 hours Hernandez's phone calls were released to the public in November 2018, and the producers lean on these in order to humanize Hernandez in ways, such as their frequent inclusion of Hernandez's calls with his wife and toddler daughter. This, however, is about as close as the show gets to presenting real, stone-cold evidence about Hernandez. 
Most of what is said about the former football star is circumstantial. His family declined to be interviewed, so the people who give their thoughts on the matter are doing quite a bit of guesswork. This includes Hernandez's high school buddy and his father, along with Leigh Bodden, a former NFL player whose qualification for the documentary is virtually only the fact that he also played for the Patriots at one point in time. 
A key topic is Hernandez's sexuality, an interesting possible variable within the mind of a murderer. However, the claims that are made around it are mostly unsubstantiated, made by the high school friend without any real pieces of evidence. Additionally, another former ex-NFLer, Ryan O'Callaghan, is brought in seemingly just to tell that he is gay, which should somehow support the thought that yes, NFL players can be gay, therefore Aaron Hernandez might have been too. 
Although it does provide some value, Killer Inside strays a bit too far towards the likes of today's true crime shows to be taken seriously as a real documentary. Even though it has some good bits and keeps the viewer intrigued, most of what is insinuated about the ex-NFLer is a bit hazy when taken beyond face value. In short: Killer Inside keeps you interested with cliffhangers and a quick three episode season, but doesn't bring anything verifiable to the table, taking the air out of the show.