Backstreet's Back, Alright!
The story of Backstreet Cinematics' origins is like something out of a movie.  It begins when Monticello High School senior Luca Huff created the film club at Burley Middle School.
From there, Huff was able to meet and work with people who helped him gain knowledge and experience in the film making industry. He began to expand his horizons and made movies outside of school in his freshman year, and has been growing his team ever since.
Enter AHS senior Sam Spears.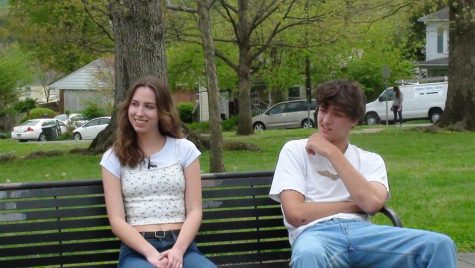 Spears had seen Huff's work on social media and became a fan. Having taken two years of film making already, he decided he wanted to work with Huff.
In a twist worthy of any farce comedy, Huff reached out to Spears via direct message and offered him a role in a music video. Everything just fell into place.
Huff values input from members of Backstreet Cinematics, and typically looks for other "like-minded and passionate individuals" when recruiting new team members.
Enter senior Joe Yung.
Through Spears, Huff was then able to recruit Yung to play a role in their fall film Along Came the Dark. "It was just a bonding moment when we met. We clicked like that and we worked really well together," Yung said.
"I dropped running to do it and that's always been a huge part of my life before, and now I'm fully bought in and it has changed my life completely."
Along Came the Dark premiered on YouTube on Jan. 16 with many positive comments. However, Backstreet Cinematics was already looking ahead to their next project.
Their most recent movie project is titled Water Under the Bridge, and takes place in the early 2000s, when a group of four high school friends find themselves in deep trouble after accidentally committing murder.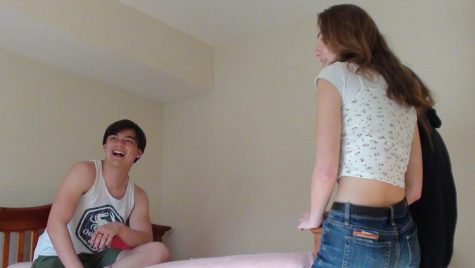 This movie has a cast of main characters whose ages range from 15 to 21. While auditions were held for the main characters, Huff invited local teens to come out and be extras in the movie.
The actors typically get on set for the shoot, go over their lines with fellow cast mates for the scene, then begin to shoot.
The actors take their craft seriously, working to create the appropriate emotion.
"If I have to be sad for the scene I'll listen to some sad music ('Where'd all the Time Go' by Dr. Dog) or think of something sad that's happened," Spears said. This is a popular strategy that other actors use when preparing for a sad scene.
Yung, on the other hand, prefers to pull on his acting practices to prepare for his role. "I did a good amount of method acting before getting into the Travis role. I really feel like I am Travis right when I put on that outfit."
The actors are tasked with remembering long and sometimes difficult dialog. Some actors find memorizing their lines to be the hardest part of the job.
"Sometimes we don't have time to read over the script except for one or two times before we start shooting," Spears said.
Some could argue that going over the lines right before you shoot would be beneficial in helping you to remember. Spears, however, finds it better to read the script the night before when he is able, so he can practice how he will execute the scene.
Filming for Water Under the Bridge began March 19 and they hope to wrap shooting in the early summer. A typical day on set can go from two to 10 hours.
"
It can be pretty exhausting, but we push through."
— Sam Spears
"It can be pretty exhausting, but we push through," Spears said.
Although they may finish with shooting scenes, the crew must then work closely with their tech team to work on scoring, audio and other components of the film.   Huff estimates that for every minute you see on screen requires about two hours of post-production.
Factoring in the use of space and equipment, the production of Backstreet Cinematic projects can also be expensive. Along Came the Dark cost about $500 to shoot, but Water Under the Bridge required $5,000 with new equipment costs.
"We usually pay out of our pocket, asking our folks and such; we've been given gifts and  just a lot of our money comes from our support system," Huff said.
Equipment and space are a big part of what their money goes towards, so there are no extras like craft services. On long shoot days, Huff's parents stop by to provide lunch for the actors and extras. This is just one of the many ways parents help with relieving some of those costs.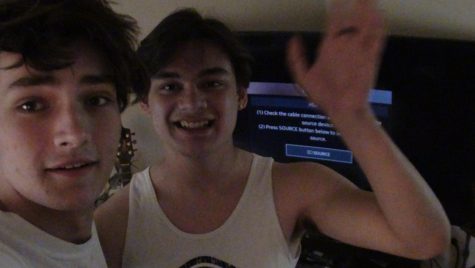 "Another thing that we've been looking into recently  has been receiving sponsorships from companies that are looking for us to advertise their content and their product," Huff said.
TikTok plays a big role in how Backstreet Cinematics can connect with fans and potential sponsors. With over 200,000 followers, it is easy for Backstreet Cinematics to receive both positive and negative feedback.
Frequent posts on TikTok have grown loyal fans who come back daily to check in on their progress, with one user commenting, "bro I don't think you understand how hyped I am to watch this movie."
"We try not to let it negatively affect us, but it can definitely be an influence on our attitudes. We like to listen to our fans," Huff said.
At the end of the day, Backstreet Cinematics' goal is to, "make movies that we genuinely really want to make about subjects and topics very personal to us," Huff said.
"The number one thing that makes a good movie is how it makes the audience feel," Spears said. "If you watch a movie and you don't feel anything, it's kind of a crappy movie. If you watch a movie that makes you happy, makes you sad, makes you happy for the character, makes you angry at a guy, that's how you know the movie is good when it makes you feel an emotion."
Cue closing credits.
Follow Backstreet Cinematics and keep up to date on TikTok, Instagram, YouTube, and Patreon.