Rae Sremmurd's Sremm 4 Life Doesn't Live Up to Expectations
After five years, hip-hop duo Rae Sremmurd finally dropped their fourth studio album Sremm 4 Life. As soon as promotion for the album started fans were excited to see what they would tease next. Their initial spark came from their approach to songs on SremmLife (2015) which were mostly made up of chant songs. They stormed onto the music scene, taking over summer. Unfortunately, after previously capturing lightning in a bottle, the new album just doesn't electrify.
Rae Sremmurd is a hip-hop duo known for their experimental trap beats blended with a mix of rap and R&B. The group is made up of Khalif Malik Ibn Shaman Brown (Swae Lee), and Aaquil Iben Shamon Brown (Slim Jxmmi). They're known for their hits, "Black Beatles," "Come Get Her," "No Type," and "Swang" just to name a few.
On April 7, Sremm 4 Life was officially released and the spotlight was back on the duo after five long years. Expectations were high amongst fans once the marketing campaign revealed it was going to be executively produced by Mike WiLL Made-It. MIKE produced all of the hits on SremmLife such as "No Type," "Come Get Her," and "This Could Be Us". However, it turns out Mike was involved with only three songs on the album which explains why the album feels very disjointed.
The lack of cohesive production on each song was evident, especially on the final track "ADHD Anthem (Too Many Emotions)." The theme of the song makes sense, but the song itself gives listeners a headache due to the whirling synths and arpeggiating melody. The producers could've easily made the track longer and added multiple beat switches to represent changes in emotion, relating it back to ADHD.
The album starts with an energetic beat on the song, "Origami (Hotties)." The song itself doesn't mean much in terms of a concept song, but it does its job of introducing the duo and utilizing them at what they do best. However, with Swae Lee on the chorus and Slim Jxmmi on the verses, this pattern got repetitive real quick.
Tracks like "Flaunt It/Cheap," "Sexy" and "Diamonds Dancing" do the opposite and start with Jxmmi. They could've easily found different ways to enter a track together. If they started a song going back and forth between verses, it would be more entertaining waiting for what the next brother will say to one-up the other during their verses. Regardless of the repetitive approach to songs, some decent cuts from the album are "Royal Flush," "Tanisha (Pump That)," "Activate," "Flaunt it/ Cheap," and "Sexy."
First, the song "Tanisha (Pump That)," will get more popular as the record ages. Its catchiness followed by the simplicity of house-style kicks makes it a perfect fit for TikTok. Considering Vine helped boost engagement for SremmLife, it makes sense they would try to create a sound that is more listener-friendly and not experimental. The song was produced by Mike WiLL Made-It and Pharrell Williams, with Pharrel having a hand in the majority of the production. It was released as the first single on the album. While the track is pretty laid-back, yet it pales in comparison to their older work on SremmLife. By the end of the album, even the duo seemed bored by their tone, beat and vocals.
"Royal Flush" includes a feature from Atlanta artist Young Thug. His contributions are felt in his verse, you can feel the passion in his tone as he delivers lines. It's refreshing to hear a new verse from Young Thug, who released his last album in 2021. Unfortunately for Slim Jxmmi, Young Thug's contributions overshadow his own. The instrumental for "Royal Flush" elevates the track to be the most distinct beat on the whole album with the song opening up with these anthemic trumpets preparing you for what's to come. Swae Lee's chorus does the song justice and is overall a decent cut.
"Activate" features another Atlanta artist, Future, who harmonizes and imitates Swae's flow on the chorus. Swae Lee is a good fit for this beat, yet lacks lyrically in his chorus. This problem is obvious, especially when Swae gives a verse right after a chorus. Moments like this definitely turn listeners away from digging deeper into the album.
"Flaunt It/Cheap" sounds like it's inspired by rap groups such as Run-D.M.C. with the drum loop playing during Jxmmi's part. The track opens with some much-needed energy and funny one-liners from Jxmmi; yet, as soon as he leaves, the beat switches and Swae Lee starts rapping a semi-chorus over this new analog synth beat. The effects on the synths are distracting, but can't hide how formulaic Swae is on the other tracks. Overall, Swae Lee definitely could've offered more to that track and it is a common theme in the last chunk of the album.
Songs like, "Not So Bad (Lean So Cold)," "ADHD Anthem(So Many Emotions)" and "YMCA" could have used some better lines, instead of relying on bars that will grab your attention for a split second. The track "Not So Bad (Lean So Cold)" is a cover of Dido's "Thank You" sung by Swae Lee. It may stick out to some listeners for being a tribute to how iconic the song was in the early 2000s with Eminem sampling the record. Yet the concept falls flat on its face with a drill beat accompanying it. Additionally, drill beats are often associated with a darker subject matter, but it doesn't work here due to Swae's range as a singer.
"
The effects on the synths are distracting, but can't hide how formulaic Swae is on the other tracks"
Rae Sremmurd is better than this. Their past successes clearly got a hold of the duo's lifestyle, trapping them both in a state of writer's-block. While there are some decent cuts from the album, once again it isn't on the same levels as their previous releases. Even the tracks with Mike WiLL Made-It's production still fell flat. Nevertheless, they can easily recover from this album by prioritizing the upcoming summer and using it to drop new singles to get fans outside playing music again.
What they shouldn't do is separate after this release. There's something about these brothers coming together that just feels right: their chemistry combined with their ability to elevate the party scene proves they still have that spark. Swae needs to re-focus his energy away from solo projects and back towards his brother.
Overall, this album deserves a D. There's more that can definitely be improved on by both members. The fact that it has been five years shows that the group wanted fans to anticipate this release after all these years. Just for it to be more mediocre than their previous releases.
Leave a Comment
About the Writer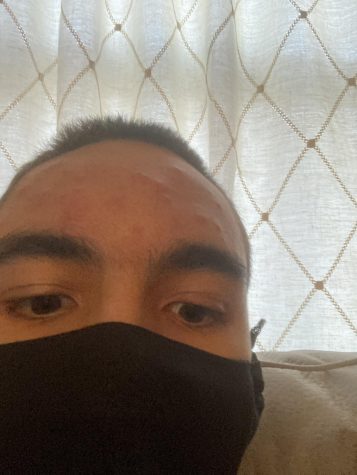 Eric Theobald, Staff Reporter
Junior Eric Theobald is new to Journalism yet prior to joining the class, he has always had a passion for interviewing and wants to continue to enhance...