Holiday Recipes
Looking for a special treat to share over the holidays? The months of cooking has arrived with all of the Autumn and Winter holidays occurring.
Peppermint Bark is quick and delicious, only two ingredients are required:
2 pounds of any chocolate
30 small smashed peppermint canes
Prep time is 5 minutes and a cook time of 8 minute. The final product will be ready in 1 hour and 10 minutes after fully cooling.
First, line a large pan with heavy-duty foil and place the chocolate in a microwave-safe bowl. Begin to heat in microwave on medium setting for 5 to 6 minutes, stirring occasionally until the chocolate is fully melted and smooth. Then stir the crushed peppermint candy canes into melted chocolate. Once stirred in, spread the chocolate evenly across the pan and chill for 1 hour. When fully chilled, break the chocolate into pieces.
For those who have a sweet tooth, try , a Jewish cookie with a smooth filling.
Warning: contains nuts. You can omit walnuts if necessary.
Dough
8 ounces cream cheese, at room temperature
1/2 -pound unsalted butter, at room temperature
1/4 cup granulated sugar plus 9 tablespoons
1/4 teaspoon kosher salt
1 teaspoon pure vanilla extract
2 cups all-purpose flour
Filling
1/4 cup light brown sugar, packed
1 1/2 teaspoons ground cinnamon
3/4 cup raisins
1 cup walnuts, finely chopped
1/2 cup apricot preserves, pureed in a food processor
1 egg beaten with 1 tablespoon milk, for egg wash
Directions:
Preheat the oven to 350 degrees F.
First place the cream the cheese and butter in a bowl and mix until light with an electric mixer. Then add 1/4 cup granulated sugar, the salt, and vanilla and slowly mix in the flour until everything is combined. Once mixed, place the dough out onto a well-floured board and roll it into a ball. Cut the ball in quarters, wrap each piece in plastic then let cool in the refrigerator for 1 hour.
The filling consists of 6 tablespoons of granulated sugar, the brown sugar, 1/2 teaspoon cinnamon, the raisins, and walnuts all mixed together in a separate bowl.
Grab a board; powder flower across the surface before rolling each ball of dough into a small circle. Then spread the dough and press 2 tablespoons of apricot preserves and sprinkle with half a  cup of filling into the dough.. Create 12 equal wedges then roll each wedge  around the dough with the filling. Once rolled, place the dough, with the points on the bottom of the tray, on a baking sheet lined with parchment paper then stand for a half hour in the refrigerator.
After chilling, brush each cookie with the egg wash and sprinkle a mix of  3 tablespoons granulated sugar and 1 teaspoon cinnamon on top. Bake for 15 to 20 minutes or until tinted a light brown. Let cool then enjoy!
Another good dish for the holidays is the Creole Black-Eyed Peas and Rice.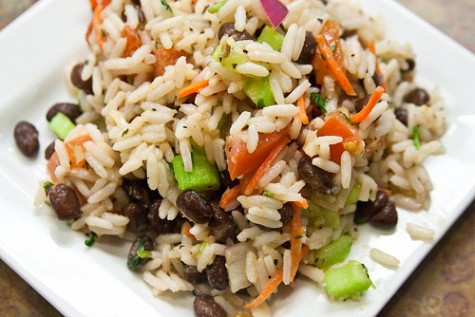 Ingredients consist of:
1 pound lean ground beef
2 small onions, chopped
1 cup chopped green bell pepper
1 cup long grain white rice
2 cups water
1 tablespoon Creole seasoning
1 teaspoon ground black pepper
1/2 teaspoon garlic powder
2 (15.5 ounce) cans black-eyed peas, drained
First, you will place ground beef into large saucepan on medium-high heat. Then add the onions and green pepper and continue to cook and stir until beef is evenly browned. Once the beef is browned, drain the grease. Mix rice and water to the pan, then add the Creole seasoning, pepper, and garlic powder. Once brought to a boil, cover and reduce heat to low. Halfway through letting the rice simmer, stir in the beef and vegetables and continue to simmer for a half hour or until water has been absorbed. Then enjoy a delicious meal!
Photo by Tim Pierce