Guardians of the Galaxy Vol 2 dances its way to the top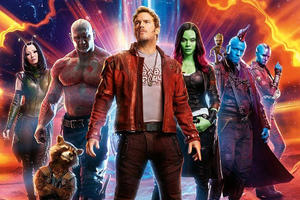 There are NO spoilers ahead, if you haven't seen the movie feel free to read.
Guardians of the Galaxy Volume 2 did not disappoint. The brilliant mix of comedy and action made the movie hard to look away from for even a second. I especially loved how they balanced the screen time between all of the characters– every main character got the amount they needed.
Director James Gunn also did a good job of pairing characters together that you wouldn't have expected, by adding new and exciting team members to the Guardians. This helped add a new dynamic to the film, by building new relationships between the unexpected characters.
While the movie was great, but it didn't really contribute to the upcoming Avengers: Infinity War the way I thought it might., However; this movie was supposed to just focus on the Guardians of the Galaxy, not the other Marvel Cinematic Universe favorites. Which in the end was a great decision, to not take away from the Guardians. We will most likely have to wait until Thor Ragnarok, to get a good look at how Infinity War will shape up. While Spider Man Homecoming and Black Panther, may also give us juicy information before the highly anticipated release of Infinity War.
Getting back to the Guardians, the comedy in this movie was simply amazing. Even in the most emotional or climatic moments they managed to make you bust out laughing, while still making the action surprising, fresh. The end fight scene was definitely a new type of action, that we had never seen before, in a Marvel movie. Which is sure to keep you on the edge of your seat.
I also enjoyed the character development in this movie. You could really see each and every character develop, from the first movie. There were two big ones that I personally loved. You learned a lot about Drax's backstory, I won't spoil what it was but you really learn more about him as a character. The big one is Star Lord's backstory. This is a huge spoiler so I won't go into detail, but it's safe to say you will be shocked with what you see.
Lastly, the soundtrack in this movie was once again, just awesome! Gunn did a fabulous job of incorporating the soundtrack into almost every phase of the film. Which was great to see, as the soundtrack as become a cornerstone for these movies, as well as a big part of Star Lord's backstory, and current life.   
I would recommend this movie, not to just the Marvel fanatics, but to any movie goer. It is a true sequel, though, and won't make much sense if you haven't seen the first.
Rating: 91/100