A Trip to Cyprus
Traveling, virtual schooling, and exploring during a pandemic.
The global pandemic caused school to initially go virtual, which meant it could be done virtually anywhere. For siblings junior Ella and freshman Ben Veysel, taking advantage of this meant having their first semester on an island in the middle of the Mediterranean.
"Usually every year we go to Cyprus, but because of quarantine regulations we couldn't really go in during the summer," Ella said. Once they learned that school was online, they spontaneously decided to go because they could "just do the work there."
The Veysel family stayed from the beginning of August to the end of November, which was longer than they anticipated, and were only allowed in the country because they were already citizens of Cyprus.
With such a long trip, one variable was the weather.
"[The weirdest thing about Cyprus was] probably how cold it got at nighttime. It might seem surprising because it gets really hot during the day. It can easily get up to 90 [degrees] or 100 [degrees]. But at nighttime it just drops," Ben said.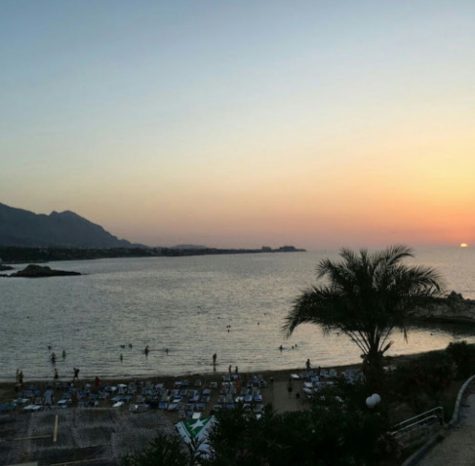 When traveling, the family obviously had to follow COVID-19 guidelines.
"On the planes and stuff, we had to wear a mask the entire time. Even when you're sleeping, you have to fall asleep with a mask on. I had to get COVID-tested four times for the whole exchange from Cyprus and back," Ella said.
The plus side to this was that enduring a long flight without taking off their masks made both Veysel siblings think keeping one on for the whole school day for hybrid is no problem.
"I keep it on for seven hours a day at school, but, compared to the plane, it's nothing," Ben said.
Once they got to Cyprus, however, the pandemic was a totally different story.
"It was like a whole new world versus America. We showed up and there were hardly any masks being worn. Whenever I went out to restaurants and stuff you would see people wearing masks or at least having them, but no masks rules were being enforced," Ella said. 
As of March 29, 2021, Cyprus has 360 new COVID-19 cases a day and has had 44,991 total cases, compared to the U.S. having 70,285 new cases a day and 30.4 million total cases.
And since COVID wasn't as big of a deal in Cyprus, reconnecting with friends and family was definitely something on the to-do list.
"I was excited to go see my family and my friends in Cyprus because we used to live there a long time ago, in elementary school for me," Ben said.
"Seeing them for four months at a time rather than a few weeks or a month or so was amazing," Ella said.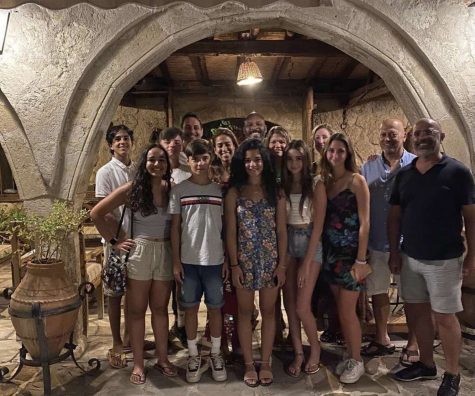 But staying connected with friends over in the US would present itself as a challenge.
"I was most nervous about my friends because back here at home I had a PS4 and I played with my friends online because of COVID and I couldn't bring that to Cyprus because it was too big. So I didn't know how to be able to communicate to them," Ben said.
As for doing virtual school there, a normal day would start at 4:30 p.m. for them instead of the normal 9:30 a.m., and the siblings had differing opinions.
"My fourth block class was MESA Engineering and I had back-to-back classes of engineering, [meaning] my last two classes were engineering. Typically he would give us our fourth block as async work and just do the entirety of the third block [synchronously]," said Ella. "Since I did not have my fourth block enforced… I signed off at 9:30 [p.m.] or so. It was actually a very convenient time difference because it didn't end in ungodly hours of the morning but it was just a 7 hour difference."
"My last class ended at 11:30[pm]. Luckily sometimes [my teacher] let us out sooner around 11 for me, at least, but it was 11:30 most of the time," said Ben. "[School was] tiring, because I had to stay up late." 
Ben thought that focusing during class "was the same as here. Online is the exact same."
Ella disagreed, saying, "It was a bit harder [doing virtual school] there because I was doing work in the living room. My living room has my little sister running around, my mom cooking, my dad just walking around, talking and playing with my sister, my grandma sometimes, and Ben is literally at the table with me so I'm talking and he's talking at the same time. It was just a bit more hectic." 
A different language wasn't a hard obstacle to tackle either.
"Everyone on the island more or less knows an extent [of] English," Ella said.
"There aren't many Americans there, but there are British people because Britain used to own Cyprus for a little while so with my friends I would speak English, and then when going out I would speak Turkish," Ben said.
But Ella missed no opportunities for touching up her Turkish skills, saying "My Turkish isn't the best, so even listening to music is a little bit difficult, but it is one way for me to practice or learn more and just not completely forget Turkish."
As for the whole trip in general, "It was just a really long summer vacation," Ella said.
"We went with our friends and family on a boat trip across the island, all the way around the island on the northern side. We went to stops and went swimming," Ben said.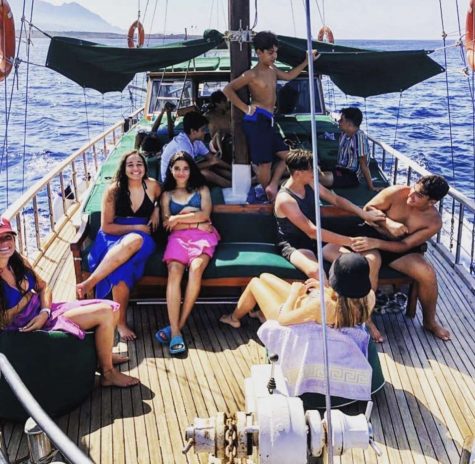 "Cyprus is very historical and there's Saint Hilarion Castle right beside my friend's house… We would go on tours there, and go around the entire castle for the day and just explore that," Ella said.
Cyprus had a conflict in 1974 between Turkish and Greek forces. In this conflict the suburb of Varosha in the city of Famagusta was abandoned and it reopened last summer, so Ella took the opportunity to explore.
"I decided to go with a friend and her family to go visit [Varosha] and that was such an amazing experience. We just walked around for hours and miles on end just seeing all the buildings, the old Coca-Cola posters from the '60s. There were cars there that were just left for decades. It was amazing to just go around there and walk around this dead town."
"What was really cool was the fact that back in the '60s, the south and the north hadn't split yet, so there were Greek and Turkish and Arabic and English signs everywhere. There weren't like Turkish signs only in the north side or only Greek signs in the south side or only English like America, it was all of these languages and cultures that had come together from the '60s that are split apart now."
"It was just weirdly emotional, I guess, because so much has changed, and I just want Cyprus to be whole again so that everyone can be culturally mixed together," Ella said. "I had so many amazing days but that was one of the days I won't forget, for sure."
While he didn't explore abandoned cities, Ben did explore in a different environment.
"The coolest thing I did there [was] probably scuba diving. I got my scuba diving license over there and I got to see fish and everything," Ben said.
And one thing he wishes he could take back is "the beach" which was "perfect" in Cyprus.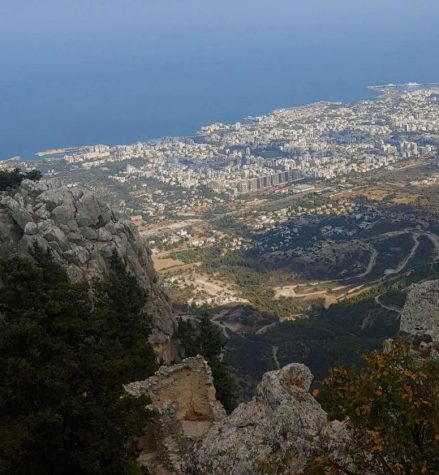 With Cyprus being an island in the Mediterranean, a prominent aspect of their trip was the food.
"Cyprus has amazing food. My mother makes it here, but it's not the same as actually being in Cyprus and eating. It was really really good to have that food again like reintroduced to my life on a regular basis because it felt like home," Ella said.
"What you learned on the island is that the small [restaurants] taste better than the big [restaurants] because [the small restaurants] worry more about the food quality instead of the quantity," Ben said.
No matter how fresh and flavorful the food there was, Cyprus does lack in some American essentials.
"I missed many foods. All the fast foods, like pizza, hot dogs, [and] burgers, because over there they have them but they are very bad," Ben said.
And when they arrived back home, while the second priority for Ben was "playing with [his] friends," his number one priority was " to eat pizza, because… [he] really was craving it."
As for produce, Ella mentioned that in Cyprus "you'll find olives everywhere."
"My mom has olive trees and my grandma has olive trees everywhere. She'll just go off into the yard or the mountains behind her and just grab olives and my grandmother makes olive oil," Ella said. "We always bring back olive oil, but you're not allowed to bring back fruit, so I couldn't bring back pomegranates and I love the pomegranates in Cyprus. You can find good ones here but something hits [differently] when you pluck a pomegranate from your garden and you just eat it."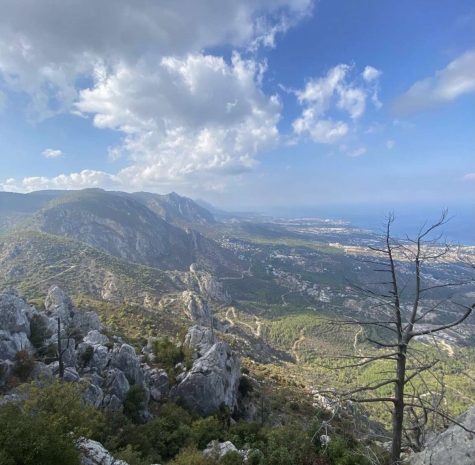 Other than food, living in another culture for four months had its effects for Ella.
"I found out that Americans handled the COVID situation really differently… America could never impose a quarantine in isolation in the way Italy and France could… because the American people are so opinionated. I have known this since day one of living here, but Americans are so privileged to have these rights.
"I'm not saying I didn't have rights in Cyprus because I obviously do, but I have family who live in Egypt and I've been to the Middle East and I can see the differences that people have in that culture versus the one in America. The way you can easily express the right to speak in America is amazing and… when I see all these people posting on their [Instagram] stories I just think that is amazing that people are just able to talk so openly about something that is important to them. 
"In other countries that have [the freedom of speech] regulated or have social media regulated you wouldn't be able to. I already knew this, but seeing it in action when people were talking about the election or the BLM movement it was amazing," Ella said.
Even though Cyprus taught her a lot about American culture, Ella feels "so lucky to be brought up in the best of both worlds."
"When I'm in America people are like, "You grew up in a different country?" and I'd have to tell them about my family, my background, like "I was born in Cyprus but I grew in America" sort of thing. And then wherever I'm in Cyprus people are like, "You live in America?" and I just tell them the other thing.
Coming back, jet lag impacted the siblings differently.
"The jet lag was a major deal. I think I took one or two days off from school to get over the jet lag. It's a big thing because [I kept] sleeping through late," Ben said.
Meanwhile, Ella is usually fine if she "[has] a good night's sleep."
"I am so lucky because I don't get that jet lagged. I'll sleep whenever the sun isn't there and I'll wake up whenever there is sun, so it doesn't matter where I'm at," Ella said.
Overall, their trip to Cyprus was a reconnecting experience with a different culture, different foods, different friends, and different family. And as for doing school, in Ella's opinion it was just a "means to an end" for a great adventure.