Sonen Targets National Win
Sophomore Isabella Sonen has battled her way to qualify for the UIPM 2021 Pentathlon and Laser Run World Championships, a sport that includes running, swimming, fencing, horse-back riding, and shooting pistols.
The modern pentathlon has its origins in the early 20th century, where it was designed to simulate the experience of a 19th century cavalry soldier. It is a lesser known but worldwide sport, and is one of the Summer Olympic events.
Sonen, who had participated in many of the sports separately, learned about the pentathlon in seventh grade.
"I was just on the internet and I saw something about girls competing in the modern pentathlon in the Olympics," Sonen said. "I thought that was really interesting and the thing that really caught my eye was the thumbnail, which was somebody running and somebody swimming and somebody riding a horse. […]  I was swimming and running and horse-back riding at the time, […] so I saw these three things combined and I was like, 'I have to do that.'"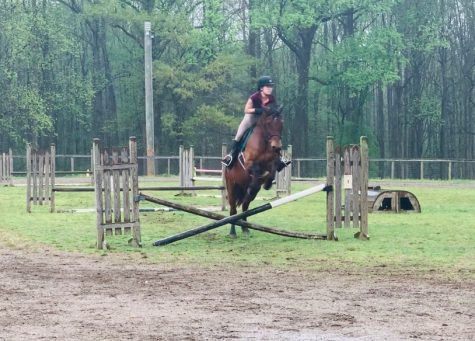 After a year of obsession with the sport, her mother signed her up for her first pentathlon in the spring of 2018 and she was hooked. From there, she competed in multiple regional competitions, and, this year, she qualified to compete in the first nationals competition since 2019.
Preparing for the competitions this year, Sonen spends seven to 14 hours a week training.
"Running makes up the bulk of my training because I do it for the endurance which carries over through every sport. […] I run probably five or six times a week. I swim two to three times a week. I horseback ride almost every day because I own my own horse. I fence about once a week with my club and do footwork on my own, and then I do shooting practice twice a week or three times a week for about an hour."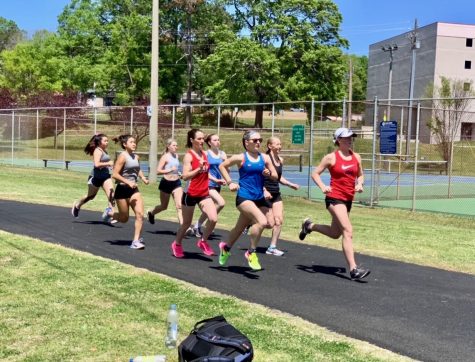 However, training hasn't been easy. Along the way she has faced a lot of hardship in the form of injuries.
After three injuries her freshman year, Sonen also tore the sheath on her fibula in the fall, so that, "it really hurt walking and running."
"I wasn't able to swim pain-free until January or February, and I had to take a couple months off of running and fencing, so that made it difficult to get into the shape I wanted to for that competition, but I started going back to my fencing club early March […] and the cross country season started, so that got me in good running shape."
Despite these setbacks, she competed in the regionals event, which included most of the southeast United States, and placed second, qualifying her for the national competition coming up in New Mexico.
"I would say my strengths are the horse-back riding and the running because I enjoy them the most and do them the most. With my weaknesses definitely being shooting and swimming."
While participating in biathlons when she was younger, Sonen learned to shoot a rifle, but she had never used a laser pistol until her first pentathlon competition in 2018. 
"I had a chance to practice with it for about 20 minutes before [the competition] so I knew how it worked, but I was definitely not skilled. I think I hit one bullseye and I needed five each round, 15 total, to clear the target.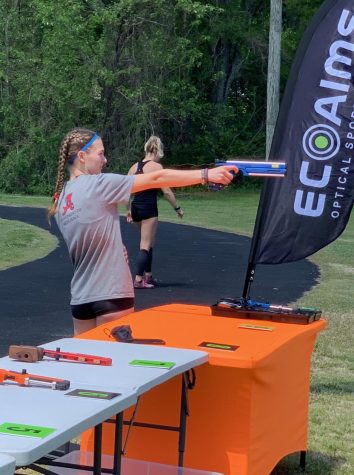 My initial impression was that there was a lot of contrast between the running and the shooting. I would run very hard and then, instead of resting like in an interval workout, I had to immediately refocus and shoot."
"I've been working really hard on [shooting]. There's a program with the USA Modern Pentathlon that started over the pandemic where we all shoot on a Zoom call. That's how I've gotten a lot better at shooting."
"I'm excited and I'm really hoping to place well at nationals. Every pentathlon that you do is helpful. Nationals will be my fifth complete pentathlon that I've done. Every time I feel like I get better at timing my nutrition, I get better at timing my peak, and everything, so it'll really help."
Sonen's hard work payed off when she competed at nationals on May 21-23 in Roswell, New Mexico. She placed third, qualifying her to compete at the world competition this summer in Egypt.