Patriots vs Warriors
How did the rivalry evolve?
In the summer heat of 1977 along a strip of the Downtown Mall, Albemarle and Western began their long-lasting rivalry with a tricycle race.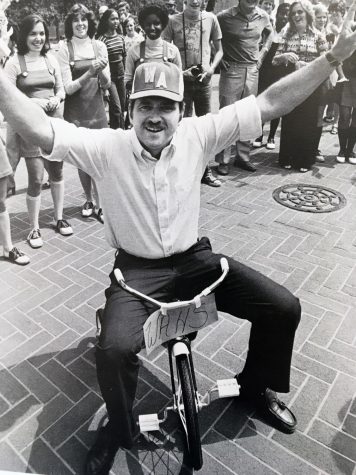 Charley Armstrong, Western Albemarle's first head principal, just barely beat AHS principal Ben Hurt. Thus began a tradition of friendly competition between the schools.
The opening of Western in the fall of 1977 brought relief to a highly overcrowded Albemarle High School. 
The overcrowding began when Albemarle County decided to add Kindergarten classes to all elementary schools in 1974. Adding an extra grade at the elementary level had a ripple effect through all of the grades, pushing sixth-graders into the middle schools.
All 9th graders attended school together at Jouet from '74-'77. "That was the worst thing educationally we have ever done; 900 9th graders under the same roof," former WAHS assistant principal Al Reaser said. 
"After Western was built, the high schools were finally able to support all four grade levels in their building," Reaser said. 
Western Albemarle High School claimed 1150 students from Jouett and AHS in its first year, creating much-needed room. Students were split based on redistricting, even those going into their senior year. Friends were separated and teachers were torn, creating both connections and tensions between students and staff at each school. 
Historic Rivalry
Athletics became the natural environment for the rivalry to thrive. Former teammates, classmates, friends, and enemies all faced off for the chance to represent their school. Crowds piled into stadiums and gyms from both schools to participate in the festivities. 
Even today, "The energy inside the gymnasium is electric on WAHS game day," AHS head basketball coach Greg Maynard said. 
"
The energy inside the gymnasium is electric on WAHS game day"
— Greg Maynard
Maynard's brother, Darren, happens to be the head basketball coach at WAHS where the games against the Patriots bring in the "biggest crowds of the year."
During their first year competing against each other, Albemarle dominated in almost every game. "Everybody beat us," Reaser said, "It was an uphill battle."
 "There was only one varsity football player that was among those redistricted to Western, only one," Reaser said. 
The 1978 AHS Peer yearbook noted the conflict as former teammates became rivals:  "Mixed emotions resulted from the competition against last year's teammates and friends. The girls' soccer basketball team pushed hard all game long to trounce Western, but the girls all had tear-filled eyes after the contest. The soccer and football teams, however, felt no remorse  about pounding their new rivals into the ground." 
Two years later in the fall of 1979, the Warrior football team finally managed to topple the Patriots 25-21, with a record 6,000 fans in attendance at Western. Former WAHS English teacher Kathy Sublette recalled staff celebrating the win by driving their cars all-around Crozet, honking their horns.  
Since then, scores, sports, and competition have fluctuated between the two schools. 
"Both schools have really good sports programs," Greg Maynard said. Their similar athletic match-up has kept the rivalry alive for 44 years. 
Football and lacrosse player junior Jake King provided insight into the team preparation before a Western game. "Western week is a lot more focused […]Monticello and Charlottesville are fun games to play, but our rivalry with Western is tradition and we definitely don't want to lose to them."
While focus can certainly be helpful to a team, sometimes they can get "too hyped up," according to Greg Maynard.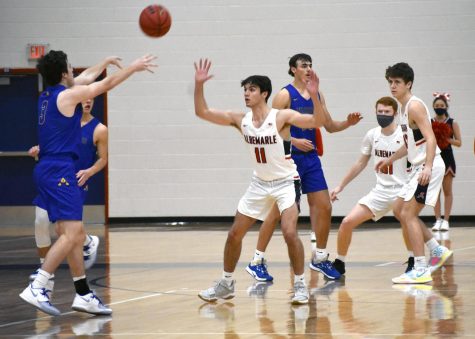 "Some years, we actually need to calm our players down before the WAHS games," assistant basketball coach Drew Maynard added.
The same can be said for supporters in the stands. " You can always tell when we are about to play Western, the students and fans want to win as much as we do," Drew said.
Modern Rivalry
Social media has evolved over the past 44 years, influencing how widespread the rivalry has become.
"When I was in high school, social media was not as big of a deal so all that mattered was what happened in the game, win or lose," Drew Maynard said. 
Nowadays, "Social media enables the competition to keep going even after the game is over," according to King. 
Instagram and Twitter accounts such as Scrimmage Play or John Harvey encourage reposts and comments. This has caused controversy in the past, specifically during the 2019 football game at Western. 
"The football game went into overtime and a video went up on Scrimmage Play causing a lasting dispute about a call made by the ref about a touchdown," King said. 
Instances such as this have taken the rivalry off-field and online with an increase in smack talk, hate comments, and rumors.
Another changing factor in the history of this feud is the demographic makeup of Western. When Western opened, the school was much more rural. The students at the school were coined "country bumpkins" according to Reaser.  Albemarle even hosted a "country bumpkin spirit day" in honor of their first football game against WAHS.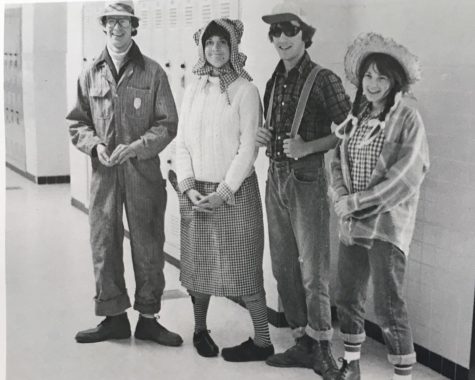 In the Albemarle County Comprehensive Plan, Crozet has been designated as a "growth area" since 1971. However, most of that planned growth did not begin until the late 1990s. Now that Crozet has fulfilled its "growth area" status, both schools are more suburban and Western has evolved into more of a  "preppy" stereotype according to King.
Since desegregation in 1963, AHS's minority enrollment has increased to 45 percent (in 2019-2020) while Western's minority enrollment decreased to 13 percent, according to information provided by Assistant Superintendent for School Community Empowerment Dr. Bernard Hairston.  The opening of Monticello High School in 1998 and the subsequent rounds of redistricting have also influenced diversity at the high schools.
Racial undertones have weaved their way into the rivalry over time. There have been multiple rumored racial slurs exchanged between football teams in the past as well as altercations off the field as a result of offensive language. 
"Western is mostly white, Albemarle is a lot more diverse, but in the end, all we need to focus on is the game and coming out as the better team," King said.
So, does this rivalry help or hurt the schools? 
"I believe that it is the best rivalry in high school athletics," Drew Maynard said.
"
I believe that it is the best rivalry in high school athletics"
— Drew Maynard
"Although I want to win every game on our schedule, playing against Western always feels a little different because of the family connection," he said. Drew's uncle, Darren Maynard, is the WAHS head basketball coach. 
"It has made me a better coach[…] I've had to figure out techniques for my players to have a shot at beating an excellent program," Darren said. He also thinks it helps the basketball team prepare for postseason play.
Reaser believes the rivalry is natural because of the close proximity of the two schools. From his perspective, it has inspired the school spirit both at AHS and Western.
"Dressing up and flying the A-town flag helps boost the morale of both the game and student section," tri-varsity athlete senior Jordyn Solak said. "The more students that participate, the more fun everyone has."
Solak said there is pride involved in the rivalry. "There is always trash taking in the stands, which makes us want to beat them even more."
"Playing against WAHS requires being in the right mentality and being focused throughout the day," she said. "Many WAHS and AHS students are also friends. The atmosphere contributes a lot to the game because both schools have active student bodies that like to come out and support their teams."
Psychology teacher Steven Turner said that school rivalries are normal but certainly not healthy. "They encourage the fundamental attribution error," he said. People tend to attribute positive traits to their own group and associate negative traits with outsiders. 
Despite differences and school biases, there is respect towards those attending or working at the opposing school. 
"I have family and some great friends that work at AHS. I appreciate how hard their players play," Darren said.
Moving on into the 2021-22 school year, the rivalry will continue, thriving on the field and encouraging the best from fans and players at both schools. 
"Tradition is tradition," King said, and in the case of these two rivals, it does not seem like the tradition will be forgotten.
King promises an exciting boys lacrosse game Wednesday, June 9 to close out the 2021 regular season. The girls lacrosse team will be playing at Albemarle the same night at 5 pm.
After winning 14-6 on May 11, the Patriots are hungry for their next win.  "Nothing feels better," King said, "They have a score to settle, so we just need to exceed their energy and hold onto our win streak against them."