Make A Change: Crafting A Better Future
Making A Difference Through Eco-friendly Crafts
With the first few steps into room 213, members and new faces are immediately greeted and welcomed into the club. Students huddle around projects, making casual conversation and problem-solving as a team. For members, helping the environment is a shared passion.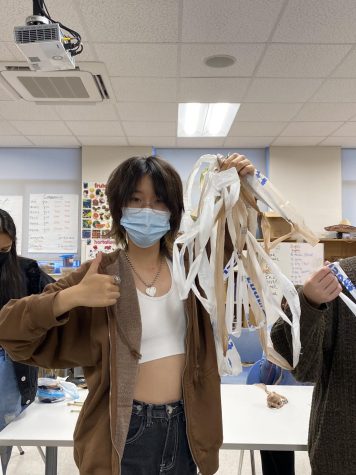 Make A Change (MAC) is a new club that focuses on creating art crafts that benefit the environment by using repurposed materials to give back to the community.
Helen Hou, a sophomore dedicated to art and volunteering, first sparked the idea of MAC over the summer by sharing a TikTok video of crafts on her Instagram. Her friends reached out and she formed a group chat from there to work out details.
"I want to major in architecture and design buildings that are beneficial to the environment," Hou said. "Everything I do connects to the environment and MAC helps me connect with those roots."
The club quickly gathered an executive board to jump-start their projects. "There aren't many clubs that focus on the environment with artistic undertones, so I wanted to start something new to help out with that," sophomore vice president Luke Sweet said. "I saw MAC as an opportunity to make a difference in the world and a creative outlet."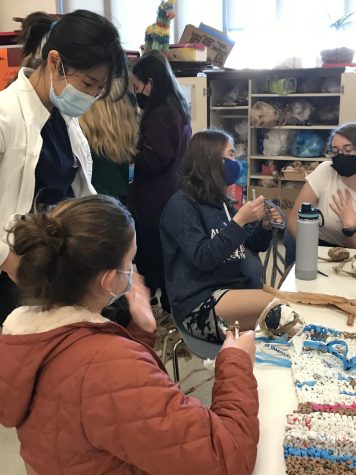 For sophomore social media manager Anna Zheng, joining MAC was an easy decision. "I was fairly new to the school and I wanted to get involved in a lot of clubs and was interested in helping the environment," Zheng said. "Olivia Kim [MAC's secretary] told me I should join it and I thought it would be a fun way to incorporate crafts with making an environmental impact."
Spanish teacher Brinn Garcia-McGhee attends meetings as the club sponsor, but rarely finds the need to guide the members.
"They're super self-motivated," Garcia-McGhee said. "They have a system down and are extremely passionate about the environment and helping the homeless community. All I need to do is attend and support when needed."
MAC's current project includes creating a large sleeping mat out of repurposed plastic bags and donating it to The Haven. Each mat takes approximately 700 plastic bags and so far they have collected over 1000 bags.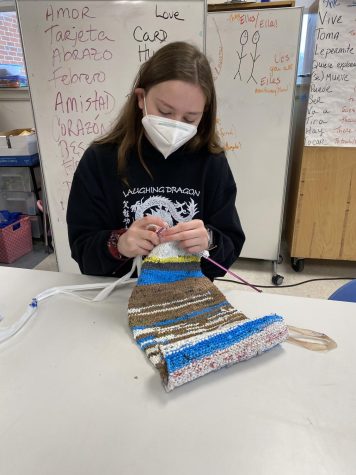 Their next project includes making paper out of recycled materials and using them for cards for teacher appreciation week. The club also plans to put together air fresheners with scented seeds that can be planted when the freshener runs out.
"I am excited about making recycled paper because the school doesn't have an actual recycling system," Zheng said. "We are going to use the papers to make appreciation cards for teachers since they work hard and don't get the recognition they deserve."
During club meetings, members set up multiple stations that focus on sections of the craft. For their current project, whether cutting the plastic bags into strands or looping and knitting, each member has the chance to be involved in helping the community.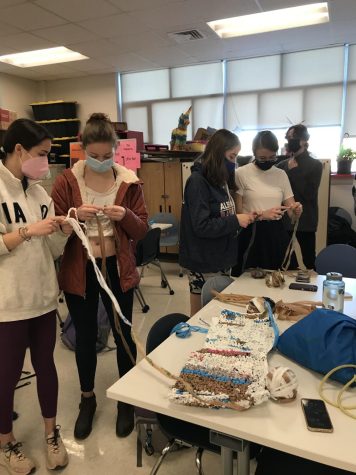 "We have about 15-20 people who come regularly and everyone seems to enjoy it and have their own groups of friends inside the club," Sweet said. "There's a variety of things you can do within the club in just one project and it's easy to find enjoyment. If you're contemplating joining, go ahead and bring a friend so you feel more comfortable."
Freshman Eli Phillips attended his first MAC meeting in March after searching for a more active club to join and quickly found his place in the group. "As soon as I came into the room everyone was really nice and welcoming. Students were more than happy to say 'hello' and ask for my name," he said. "I feel like I'm helping the club just by cutting bags and it doesn't take any prior skills to do so."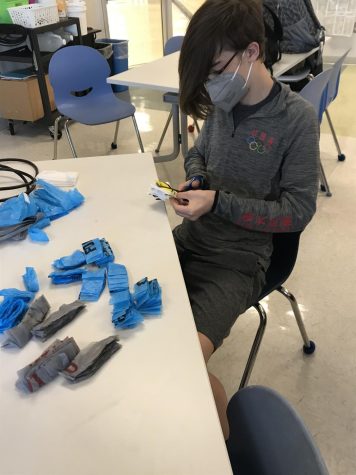 No previous skills are needed to join the club, only an open mindset and an eagerness to learn. "For a lot of our projects students get the opportunity to learn new skills," Hou said. "For example, with the mats, a majority of our members didn't previously know how to crochet, let alone plastic bags. Some of our members who enjoyed crocheting taught the rest and many students now take up crocheting as a personal hobby."
Over winter break MAC started collaborating with UNICEF, National Art Honor Society, Key Club and Amnesty International. With that, they got a lot of bags to work with and some manpower with the NAHS members to knit the bags.
"My favorite part about the club is how everyone gets along with each other," Hou said. "Everyone does their job efficiently and when they're done with their tasks they ask questions to help even more."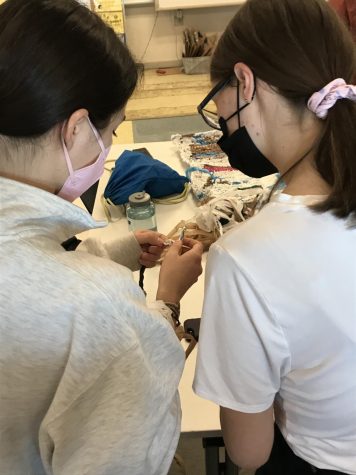 "I would say anyone who is interested in helping the environment or has an interest in crafts should join; we're a very sociable club and there's always a great mood and climate," Zheng said. "We always have people talking and chatting and get a lot of work done. It's a really fun way to get work done and give back to the community."
MAC meets every Thursday morning in Room 213 at 8:10 as well as on club Fridays and is open to new members. Students can visit MAC's Instagram or linktree to access the sign-up form and be added to upcoming emails and group chats.