Living Out Loud
Senior Kat Ravichandran uses passion and leadership to positively impact her community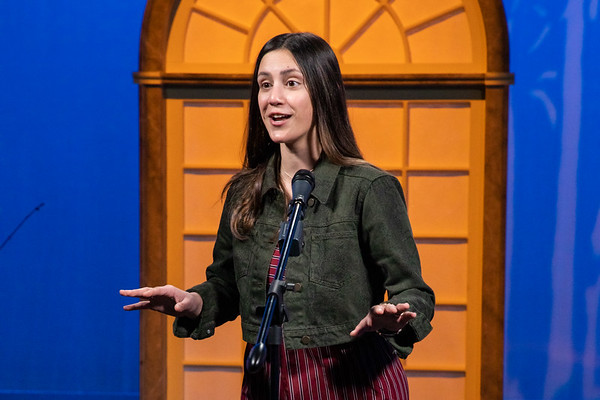 Genuine. Selfless. Uplifting. Dedicated. Extraordinary. These are all words that both students and teachers use to describe senior Katarina Ravichandran. 
"Kat is very charismatic, incredibly witty, and she just makes everyone in the class laugh," junior Eavan Driscoll said. "She's really a very humble person. Kat works hard in class with everyone around her, but she also likes to have fun." 
Through dedication and an unflagging work effort, Katarina Ravichandran has not only won multiple accolades but has also dedicated herself to helping improve the Charlottesville community as a whole. 
Ravichandran's diligent leadership has been recognized recently as she has been awarded a substantial scholarship from the Emily Couric Leadership Foundation. The foundation gives out scholarships to young women who are high school seniors in the Charlottesville community.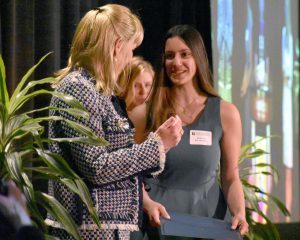 "They award the scholarship to the most outstanding female leader for the area and a young woman who has the greatest potential to positively impact society. This is Kat! She absolutely embodies this ideal of the Emily Couric Scholarship Foundation," guidance counselor Christopher Lennon said. 

Ravichandran received the Joshua J. Scott Merit Award which grants $38,000 to the student. "The scholarship provides a network with other successful women and it's very empowering," she said. "When I found out I got this scholarship at first there was a little disbelief, but really I just felt extreme gratitude and elatement."

While many seniors shape their interests to focus on ways they can excel, Ravichandran opted to branch out. Despite never being involved in drama or forensics, she decided to try the school's Poetry Out Loud competition. "I just wanted to try my hand at it. I think there's a lot of benefits that come with trying new things," she said. 

Virginia Commission for the Arts

She recited three different poems for the competition. "The Woman at the Washington Zoo" by Randall Jarrell, "Self-Inquiry before the Job Interview" by Gary Soto, and "The Two Boys" by Mary Lamb. 

"I chose them because I think each one offers a different range of emotion. The first is a woman questioning her career and begging to take control of it, the second is a man experiencing anxiety trying to succeed in life, and the third focuses on the subject of two boys struggling with hunger." 

Ravichandran worked diligently both by herself and with the help of the English Honor Society sponsor Tom Panarese to prepare for the competition. "She was excellent right off the bat. Kat has a natural talent for it. She's an outstanding student," he said.

Despite being a novice at performing poetry, she won not only the school contest but was also the state winner on March 10.  She received a $200 cash prize for her accomplishment, as well as a $500 stipend for AHS to purchase poetry books. 

Learning how to productively interact with poetry and meeting fellow passionate students were the highlights of the competition, according to Ravichandran.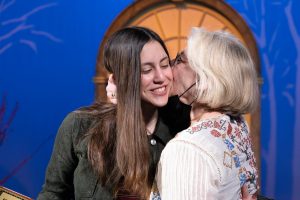 She uses that same passion to help those less fortunate. She is the founder and president of the Students Working Against Hunger club at AHS (SWAHG). She was inspired to start the club her sophomore year when a speaker for the Blue Ridge Area Food Bank came and spoke to her orchestra class. 
"She told us that almost one in six people struggle with hunger, and I think that if you hear that number you want to help. So when I realized there wasn't a club at Albemarle specifically targeting food insecurity, I just decided to start the club with some friends." 
"She heard about an issue in class, and instead of saying "that's too bad," and going on with her day, Kat actually did something about it," Lennon said.
SWAHG recently finished a school food drive where they collected almost six tons of food, providing nearly 9,000 meals to families in our community. "It is so inspiring to see students, teachers, and families come together with the common goal of fighting hunger in our community," Ravichandran said.
Though the drive is over, that does not mean the club stopped working. SWAHG also has a larger program, Wasted Food Save for the Hungry] that works with restaurants like Panera Bread and Bodo's Bagels. 
"Because they produce fresh food daily they, unfortunately, have to throw out the excess food at night, so we pick up the fresh food and take it to pantries," she said.
Ravichandran's devotion to helping her community does not stop there. In her sophomore year, she participated in a science fair where she analyzed the success of the measles vaccines and how that could help prevent measles outbreaks, which is also now applicable to COVID. She was able to win the competition and move on to the international science fair where she was a finalist. 
"Kat is brilliant. She has one of the best critical thinking minds I have ever seen from a student. She has the ability to put ideas and concepts together in such a special way," Lennon said. "Not only is she brilliant, but she has a heart of gold. Kat is dedicated, compassionate, and has the ability to put thoughts and ideas into action, unlike anything I have ever seen." Lennon said. 
"
Kat is dedicated, compassionate, and has the ability to put thoughts and ideas into action, unlike anything I have ever seen."
— Chris Lennon
Now, because of that same compassion and call to action, she uses her knowledge to help others. "I've continued to do mathematical modeling and now I do this work for United Way Greater Charlottesville which is a local non-profit," she said. 
"I model in RStudio a variety of topics, hoping to maximize their impact on their community as well as provide data resources to community members.  I really enjoy math, so I like the idea that I can utilize math for a greater cause."
Her leadership roles extend beyond AHS, as she is the president of the local Hoof-N-Woof 4-H club. 
"What's really cool about the club is they try to make it an equal opportunity for everyone," Ravichandran said.  "It not only helps you become better at riding horses, but you can also learn a lot about equine knowledge and general science. You learn how to be good with animals and just a better person in general." 
Looking to the future, Ravichandran plans to attend Harvard University next year, and, while she is not completely certain what she wants to major in, she is leaning toward Economics and Data Science.
With such a demanding schedule and so many commitments, most students would feel overwhelmed by it all, but for Ravichandran, it's all about the mindset. 
"For me, it is truly centered around finding what you care about and are passionate about. Once you identify those, it is just a matter of 'how,'" she said. "I think balance comes from knowing what your limits are and how much energy you can give – because the best experiences are those you can give 110% to." 
Leave a Comment
About the Contributor
Kayla McQuilkin, Staff Reporter
Kayla McQuilkin is a junior at Albemarle High School and is currently in Journalism 1. She is a varsity cheerleader here at AHS. One of her passions both...