Easy as Pie
Chef Poindexter serves up a helping of student enthusiasm to win Golden Apple award
This year's Golden Apple award recipient from AHS is culinary arts teacher Chef Malik Poindexter, AHS culinary arts teacher.
"I was in shock when I found out I won the Golden Apple award. I read the email multiple times," Poindexter said.
Just two days prior, Poindexter received the honor of radio station Z95's Teacher of the Month, which was just as shocking. 275 students and parents voted for him to receive the Teacher of the Month award, for which he received a basket filled with things, including a Bluetooth speaker and a few gift cards.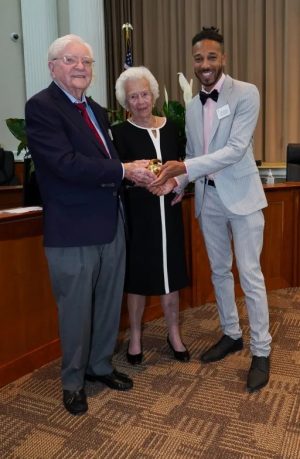 "I thought someone was pranking me. I never thought I would win those awards so it was very surreal and appreciated," he said.
Poindexter enjoys being able to provide experiences with food that many kids don't have access to at home. He finds the most rewarding part of teaching to be seeing his students succeed and find joy in his class. "I see kids learn a skill and then take it a step further until they can make a five-course meal." 
Nominated for the Golden Apple by senior Liz Carr, Poindexter is beloved by students both in his class and around the school. He has a joking personality with everyone and is always friendly in the hallways during class transitions. 
"He's just easy to talk to and is a funny, charismatic person. People who aren't even in his class are impacted by him," Carr said.  
"I like how funny he is," senior Daniel Van Riper said, "Chef's young, so he understands us better.  He was in our shoes not too long ago." 
According to Van Riper, Poindexter makes assignments interesting by incorporating hands-on projects in class as opposed to ordinary paper assignments.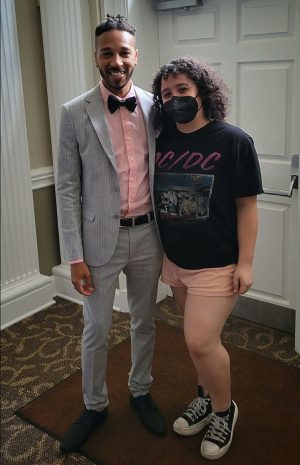 The culinary arts elective is sequential, and year after year students advance into higher levels of the class.  Everyone begins with intro to culinary arts, then, culinary arts specialization and capstone for juniors and seniors who have already taken the other levels follows. 
In the intro to culinary arts class, students start with food safety and sanitation. Then they move on to soups, sauces, and basic baking skills. Poindexter has created a food truck project to complete the course where students apply the knowledge they learned and come up with their own cohesive food truck ideas.
Students create a business plan, hire employees, and make their own signature dish. He brings in local chefs and restaurant managers for the class to present their ideas and receive feedback. 
In level two Poindexter builds upon the fundamentals of level one. He teaches proper techniques for preparing meat as well as temperature safety, plating, and balanced meals. 
Once students get to levels three and four they start to become more independent. Students have the freedom to plan catering events that take place in the building.  On occasion, students plan events outside of school to cater as well. Students are required to plan and prepare their events on a budget. "It's kind of like their own little business," Poindexter said.
Poindexter found his love for teaching when he was a student at Monticello High School.  He and his best friend would teach percussion at Walton Middle School. "Developing that relationship with those kids, seeing how much they cared, and the impact I could make on them really made me fall in love with teaching.
Despite his passion for teaching, Poindexter was two years into college at PCVV before he realized that teaching was something he wanted to pursue as a career. He regularly baked cakes for family gatherings or events and his parents brought up the idea of culinary school.  "I didn't even really know what culinary school was at the time or that it was something I could do." 
Poindexter decided to attend the Culinary Institute of Virginia. At this point, he had decided to be a teacher but still wasn't sure what positions would be available.
While he was in culinary school, he worked at local restaurants Wild Wing Café, Artisans Bakery, and Bizou before finally achieving his dream of becoming a teacher in 2017. It wasn't long after finishing culinary school when the perfect opportunity sprung up. 
Poindexter dove into the education system head first, not only as the culinary teacher at AHS, but as the instructor for a combined Monticello/AHS percussion ensemble. "I write the music, drills, and design their show as well."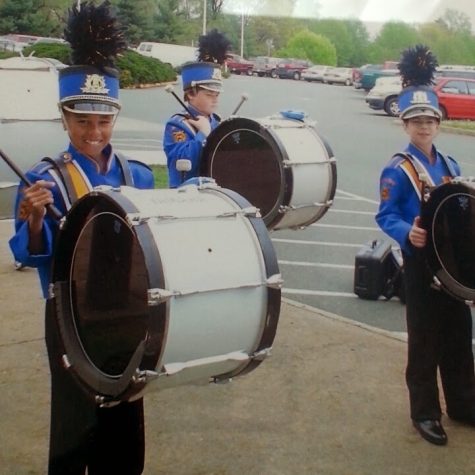 Poindexter's love for music grew at a young age. As a kid, he used to drum on everything. "My mom had to do something about it so she signed me up for drum lessons." He's been playing drums since he was 10 and played all the way through high school. In his junior year of high school, he started singing in choir and eventually in the Monticello musicals, performing Fame and Hairspray.
Outside of being a percussion director and teaching, he loves hanging out with friends and coworkers. He'll go watch drag racing or meet them downtown for dinner. His favorite restaurants to meet them at are either the Bizou or Crush Pad.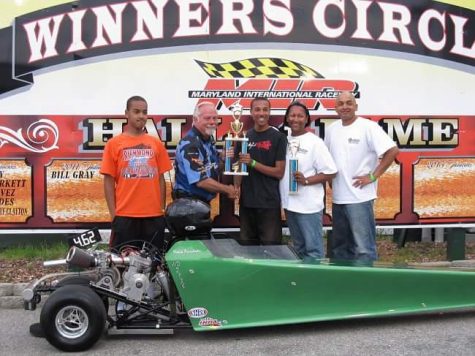 Along with the many things Poindexter enjoys outside of school, he loves drag racing. He discovered drag racing before music since his family was involved, including his brother, grandfather, aunt, and uncle. He received his first race car at the age of nine and raced until he was 18. He no longer drag races but still enjoys watching it with his friends and family.
Poindexter has now been at AHS for five years and continues to positively impact his students and the community around him.  Funny, relatable, and charismatic are three main characteristics Poindexter's students used to describe him.  His impact is sure to grow in new years to come at Albemarle.
Leave a Comment