New Nail Trends For Spring
With Prom this weekend there are tons of new nail trends, from colors to different shapes and lengths. Here's the rundown of the Top 5 nail trends of spring 2023.
5: Chrome Nails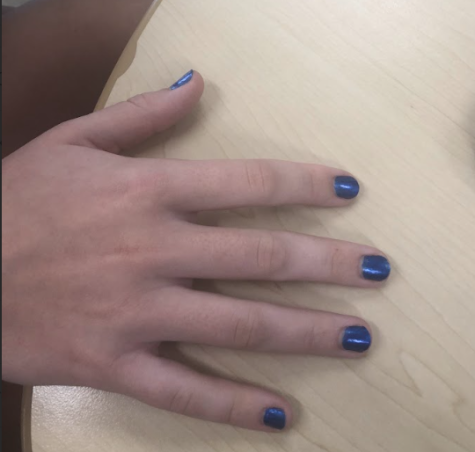 Chrome nail polish is normally put on top of a base color and features a shimmery sheen. Chrome is used as a visual effect that imitates the glossy and reflective look of metal. This gives a futuristic look on a classic manicure and is one of the best ways to add a shiny effect making your nails the ultimate eye catching statement. 
If you want a gorgeous glossy and glittery look, definitely check out the Essie Metallics Nail Polishes for $10. They come in a variety of colors including A Cut Above, Congrats, Birthday Girl, For The Twill Of It, Good As Gold, ect. If you want a vegan chrome nail polish, check out the MIniLuxe Coal Nail Polish, sale price for $14. 
4: French Tips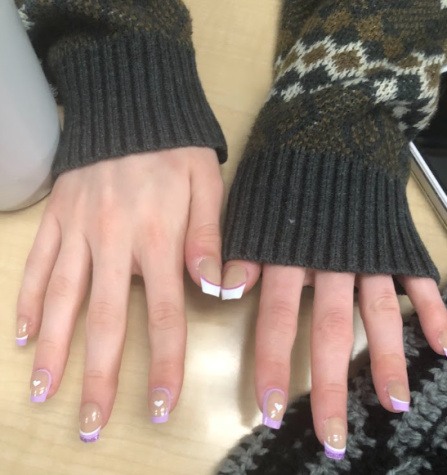 A French manicure is traditionally nude, sheer or pink polish with a solid white tip. But now, French tips have a whole new look:  colors! 
The base should be your nail bed color and the tip can be any color. For spring, pastels are the best option. Pink, purple, yellow, and blue are the most flattering. 
This design looks sleek and classy on natural or acrylic nails. These can be done with different lengths to personal preference, but traditionally the tip is shorter than the base of the nail. This look is soft yet natural and super flattering on all who wear it. 
3: Square Shape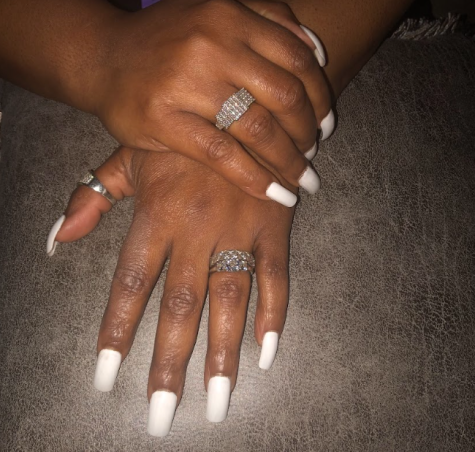 This trend is popular for those with short nail beds. Square nails are stylish and clean and require low maintenance. This shape looks amazing with a variety of color choices.  
If you're going for an effortless look, definitely go for a classy black or a nude color. If you're going for a simple yet elegant look, white is a great option. 
2: Coffin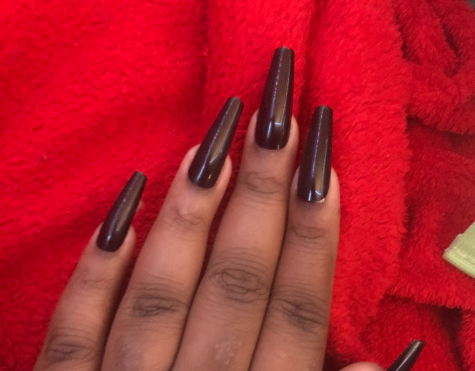 Coffin nails are also known as ballerina nails. They are shaped like the stiletto nail, but they have a square tip rather than a sharp tip. These nails are tapered, long and filed flat. They are called coffin or ballerina nails because the shape looks like both a coffin and ballerina's slipper. The shape gives the illusion of narrow nail beds and slim fingers. 
Coffin nails have been around since the 90s and still have their flare. These nails have a modern look and also leave plenty of space for the last trend…
1: Designs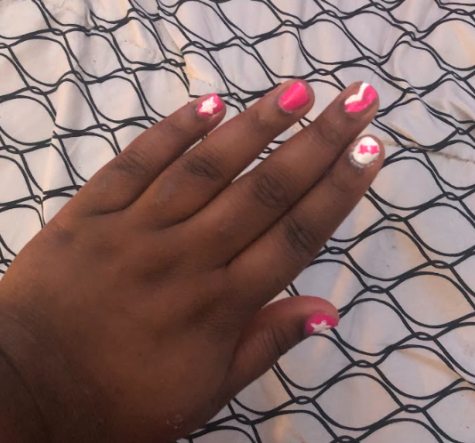 The best nails are the ones with designs. You can get practically any design and shape of nail you want, but you might have to pay a little extra. They can cover the whole nail or even just part of the nail. 
Trending recently are hearts and smiley faces, but you could really get any design you want. If you get a simple design they could go with everything you wear, sometimes even complex nails can go with everything. 
Leave a Comment
About the Contributor
Serena Goode
Serena Goode is a freshman on the Revolution team. On her free time, she enjoys hanging out with friends, watching YouTube and listening to music. Serena...