Got Hope? Students Promote Breast Cancer Awareness
November 18, 2014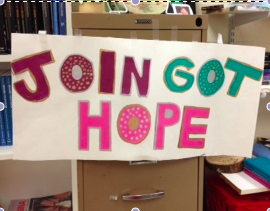 "Nobody thinks that anyone in their family is going to get it," junior Savannah Kennedy said.
Cancer kills 8 million people worldwide each year, according to the Center for Disease Control and Prevention. Even students who aren't diagnosed are not immune to the effects of cancer.
Kennedy's five year old cousin has Neuroblastoma. "It makes you re-evaluate your life and appreciate the small things."
Kennedy, along with junior Darby Madonick, decided to create the Got Hope club in order to have, "events and opportunities for [teenagers] to help out."
They went to Spanish teacher Sra. Graham to sponsor their club. "As former students of mine, they knew my story and they asked to use my room," Graham said. Sra. Graham was told 17 years ago that she had three months to live because of her breast cancer. Of course, she agreed to sponsor the club. "I'm really involved with breast cancer and was happy to help out," she said.
Kennedy, as president of the club, and Darby Madonick, co-president, approached Sra. Graham after "Darby's older sister did a hair drive at her college, and she came to me saying we should do one at school, and that just got me thinking that we should just do an entire club for cancer." Kennedy said.
Kennedy said "when people think about helping out with fundraising for cancer they just think of donating money, but a lot of the time people just want you to sit in the hospital." She said that "a lot of the
old people with chemotherapy love it when teenagers sit with them."
The Got Hope Club plans to help raise money for cancer research and for the patients and families through football tailgates. "At the homecoming tailgate we did an Alex's Lemonade stand, which is for childhood cancer," Kennedy said. They chose to do Alex's Lemonade stand because, "it's well known. Most people don't know what the Got Hope Club is, so they wouldn't walk up to that sign, but they know what Alex's Lemonade Stand is."
As a club, they will be fundraising through more tailgates, and "toy drives. We'll probably have opportunities for people who aren't in the club to just donate money," Kennedy said. Online there was a side box "where people could text to donate, and we raised about $100 through that." Although there will be no more football tailgates for the Got Hope Club, they will have events during soccer, lacrosse, and basketball games.
The Got Hope Club is planning "a lot of stuff with the holidays [which] is going to be fun, especially with the kids around Christmas and Halloween. They love to do stuff, and maybe pen pals with the kids, a hair drive, or a toy drive," Kennedy said.
Students can join Got Hope by visiting their twitter: @gothopeahs, emailing [email protected] or talking to Sra. Graham in room 129.