Albemarle Students Take on International Science Fair After Killing It At Regionals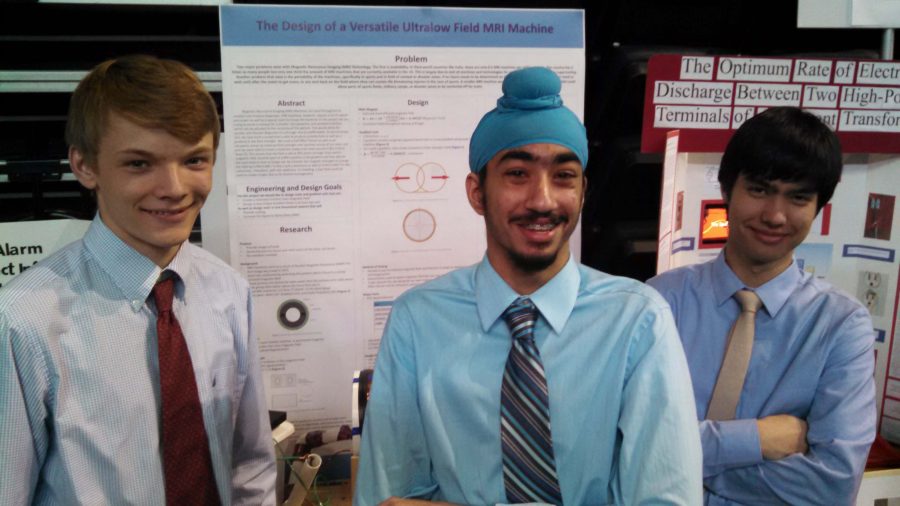 275 countries, 1,700 students, and four hard-working Albemarle students attended the Intel International Science and Engineering Fair throughout the week of May 8-13 in Phoenix, AZ.
The four students selected to attend had to gain considerable recognition against other local talents at the Piedmont Regional Science Fair, which took place on March 26.
In total, Albemarle students won a whopping 82 awards at regionals, allowing sophomore Ashwin Swaminathan and juniors Ishpreet Singh, Sander Abraham and Ryan Scholes to move on to internationals.
At Piedmont Regionals, Swaminathan won a Change the World award, a National Ground Intelligence Center Environmental Sciences award, a Booz Allen Hamilton trophy and first place in Plant Sciences for his project, "Drought Resurrection: A Novel Method to Induce Drought Resistance in Plants."
This project created a way for plants to prosper without a dependable water supply, which could revolutionize the world if successful.
Singh, Abraham, and Scholes presented "The Design of a Versatile Ultralow Field MRI Machine" at Regionals.
The portable MRI won five awards at Regionals: the first place award for International Council on Systems Engineering, the National Ground Intelligence Center Best of Show Award, the National Ground Intelligence Center Engineering Award, the Force of Technology Award and the first place award for Electrical & Mechanical Engineering.
"There were a lot of really great projects from other students," Scholes said. "I definitely did not expect this."
Singh, Abraham and Scholes put over a year's work into their scaled-down MRI machine prior to the science fairs, working together during the summer and over weekends throughout the school year.
Research alone took months, which involved learning about MRIs in general and finding substitutional parts that could be used to downscale the machine.
"Then, based on our research, we took what could work in theory and got the parts that we needed and put it into reality," Abraham said.

According to the students, this has been the biggest engineering project they have ever worked on so far, with over $500 invested into materials and research over the span of a year.
The project had little to no outside help from advisers or teachers, and was a completely independent effort by the students.
"We want to finish our first design and actually make it work and have it ready to actually be used," Singh said .
"Then hopefully it can become an actual, viable product that can be used across the world," Abraham said .