From Bella to Beatrice
Hersman a National Finalist in Shakespeare Competition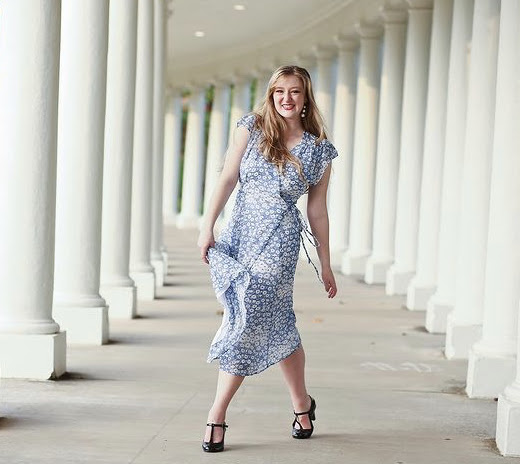 Senior Bella Hersman conquered the stage when she qualified for Nationals in the English Speaking Union's 101st annual Shakespeare competition.
The competition requires high school students to memorize and perform both a monologue and a sonnet by William Shakespeare. Hersman won both the School and Branch divisions of the contest in order to qualify for Nationals.  
Hersman has participated in the Shakespeare competition for three years, first entering her sophomore year after being encouraged by former drama teacher Fay Cunningham. 
"I was immediately interested because my grandmother was an English and drama teacher, and I was raised on her love of Shakespeare," Hersman said. 
"I have been dancing since I was three years old;" she said, "however, this competition was my first experience with classical acting."
Her first year participating, Hersman placed second place in the Branch competition, granting her a scholarship to the American Shakespeare Center theater camp in Staunton in 2019.  
"That was the most wonderful three weeks I have ever spent," Hersman said, "I was able to figure out who I was and make new connections."
This year Hersman has chosen to perform Sonnet 38, followed by Beatrice's monologue from Much Ado About Nothing, Act 4, Scene 1.
ESU National Shakespeare Competition
She has been preparing her chosen piece since January when the ESU announced the competition would be continuing on an online platform.
Hersman expressed that she had some difficulty choosing from various female Shakespeare monologues to perform. "For a classical writer he [Shakespeare] writes women really well," said Hersman, "he makes them so complex."
Hersman considered Katherine from Taming of the Shrew and Rosalind from As You Like It, but in the end, she "just really resonated with Beatrice and how much love she has for her friend." 
In the monologue, Beatrice laments that she is unable to avenge her friend Hero, who has been publicly shamed by her fiance. 
"I admire how Shakespeare lets her be angry and allows her to yell and feel such strong emotions, it made it possible for me to perform a powerful piece." 
She has now submitted two different performances of Sonnet 38 and Beatrice's monologue to the judges, revising based on feedback before submitting for the next level of judging. 
In her latest submission, Hersman said it took about 10 takes to perfect her performance. "My perfectionist side has taken over a little while the competition has been online."
Every reenactment for this competition must balance public speaking and acting. Hersman prefers to approach her performance from the acting point of view. 
"Shakespeare is meant to be performed, not just read."
"I like to watch and learn from my competitor's performances; however, one of my biggest challenges is staying authentic, going with my gut, and not second-guessing my interpretation of a piece simply because it differs from someone else's," Hersman said.
Currently, the top 40 contestants are on the ESU's YouTube page. The top 10 finalists were announced on April 19. They will have a live zoom meeting for their final judging sessions this year where they will be graded on comprehension of the language, physicality, speaking, and more. 
Although Hersman did not qualify for the top 10, she is eligible to receive the People's Choice Award and win a $1000 cash prize.
 People's Choice voting closes at midnight on April 23. The winner will be announced on April 26 at the ESU National Shakespeare Competition and on the ESU website.
To vote for Hersman, text NSC5 to 212-818-1200. 
Hersman's personal takeaways from her involvement with the Shakespeare competition are resilience and good sportsmanship. Hersman expressed that every year she has learned to push through failure as she inches her way up the competition levels. 
There have been educational benefits for Hersman as well. "I would not be understanding the Shakespearean language as well in my English classes without this background and being able to explore Shakespeare at my own pace."
She now jokes that her peers have benefited just as much as she has from the competition because whenever teachers ask for someone to read in class she is usually the person they pick on.
"This experience has introduced me to a deeper analysis of the language and the history which I have learned to love," Hersman said.