AHS Players Spring into Wonderland High
Fans of Alice, the Mad Hatter's tea party and the Queen of Hearts will have fun recognizing familiar faces and characters in the AHS Players' production of Wonderland High.
The play takes place at Wonderland High and follows the story of transfer student Arthur Bloom and the wacky-but-funny adventures that he faces throughout his new school. Students and teachers  at the school are all re-imaginings of Lewis Carrol's characters from Alice's Adventures In Wonderland.
Entering his first year as the drama director, Salvatore Giordorno was faced with a major task in having to create a musical with COVID protocols in place.
"The addition of wearing masks was a challenge at first, especially considering this is kind of a big play with around 20-something kids as actors," Giordano said. "It has a pretty big impact on your performance when you do things such as singing, dancing and other things of that nature, but even with restrictions the cast is happy and excited to be back in school."
"It's definitely a challenge to figure out how to act and dictate clearly with the masks, but it's worth it," senior Bella Hersman (Alice Liddel) said. "They aren't as restricting as the social distancing rules."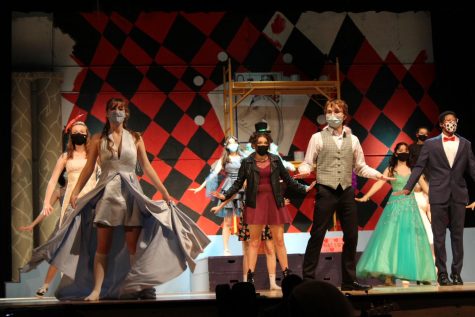 "We have to control our breathing more [with masks]," sophomore Soren Corbett (Arthur Bloom) said.
Cast members not only perform in masks, but must maintain at least 10 feet of social distancing while singing over 20 songs.
"It made certain parts of this huge cast show very difficult to put on;" Corbett said, "however, we have worked through the obstacles and are putting on a fun and goofy show that is sure to bring a smile to everyone's face."
Helping to enforce social distancing guidelines and "support Mr. G," senior assistant director Rylan Snyder, "found it difficult to juggle the responsibilities" of working behind the scenes as well as acting on stage.
Snyder found working with the underclassmen particularly rewarding.
"They stepped up while coming back from hiatus and are trying their hardest to make this play the best it can possibly be. I feel good knowing they're passionate about putting on good performances" Snyder said.
After a fall "play" that was a pre-recorded collection of monologues from a variety of sources, the cast was thrilled to find out that they would be able to perform live in front of an in-person audience.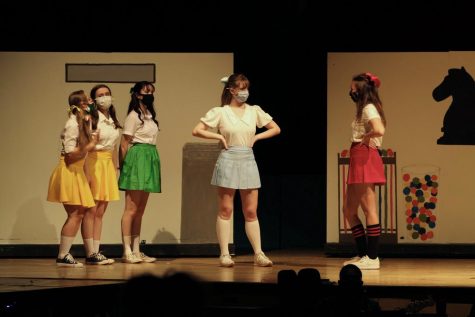 "I love being able to have a spring musical," Hersman said.  "Being able to act and have fun with such a wonderful cast has been the highlight of my senior year. My favorite part of the show itself is the goofy big scenes with the 'popular kids' of the school."
Giordano believes that students should watch the show because, "coming out to see something that's fun and brings some joy to people would be the perfect way to close out the year."
Wonderland High will take place May 27-29 at 8pm, and May 29 and 30 at 3pm. Tickets are $5 for students and must be purchased in advance here.