Patriots for Peace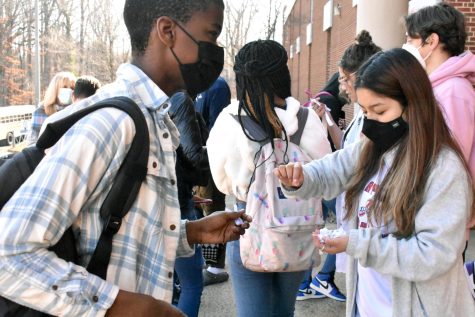 This Friday, March 11, students and staff wore white as part of the SCA's initiative to promote peace and support victims of the Russian-Ukrainian conflict. 
Students donned white clothing while SCA members handed out white ribbons at the front office and bus loop.
Though the SCA handles matters pertaining to the school and student body, they wanted to extend their influence to topics beyond the building.
"Although we can't really address and pick sides on this invasion happening in Europe," senior organizer Yatzil Romero-Rodriguez said via email, "it is our responsibility as students, people, and citizens to support everyone around the world — and in this case the people who are being affected by the war." 
The SCA wanted to show that the students of Albemarle are aware of the conflict and its implications on the millions of innocent people who are involved and endangered.
"We want the citizens of both countries to see that we stand alongside the people who have lost their homes, loved ones, jobs, business buildings, school buildings, etc. — anything that was meaningful to them due to the invasion," Romero–Rodriguez said.
"Even though we will not understand their pain and hard times, at least we want them to see that we support them and send them blessings."