Students Upset By Local Book Bans
Students just 45 minutes away at Madison County High School will not be able to check out books by notable authors Stephen King, Toni Morrison, Margaret Atwood, and more after its school board voted 3-1 to ban 21 books from school library shelves on Jan. 12.
The books have been removed on the basis of sexually explicit content, and the announcement of the new policy caused a variety of people to speak out both in support and opposition to the school board's decision.
"This is censorship in 2023" New York Times bestselling author Jodi Picoult tweeted.
Virginia Delegate Nick Freitas took to the same platform to support the removal of Steven King's books, claiming they are "openly pornographic."
Many parent voices on the issue have been amplified through social media, nightly news, and independent articles; however, the voices of students, those most impacted by this decision, have been mostly ignored by the media.
"I was super upset when I heard about the school board decision," Madison County High School senior Julia Utz said. "It was so surreal for a good chunk of Twitter to be talking about us. Especially when Stephen King responded to the ban."
Utz believes that the new restrictions are entirely "unfair," and said she "trusts"  MCHS librarian Charlotte Wood [former AHS creative writing teacher] to do her job.
"I am not going to judge a parent for their parenting style, that is their decision, but I don't want someone else's parent telling me I can't check out a book. Stop dictating my life."
This type of book banning in school libraries has been rapidly spreading throughout U.S. public schools and has already affected nine school districts across Virginia.

According to PEN America, the recent drive to ban books in schools is an organized effort by parents across the nation and not "spontaneous, organic expression" from the public. Support groups for parents looking to change book policy in schools have popped up all over the nation, ranging from Facebook groups to nonprofit organizations like Moms for Liberty and Focus on the Family.
Moms For Liberty has grown to over 200 chapters since it began in 2021. They first made a name for themselves by protesting masking in schools and have since wholly focussed on the task of regulating books. Since its founding, M4L has orchestrated bans in 138 school districts in 32 states, affecting nearly four million students according to PEN America.
Madison County school board vice chair Christopher Wingate selected the 21 now-banned books from a wide variety of sources, including conservative groups like Focus on the Family, a fundamentalist Protestant organization founded in 1977.
As of Jan. 1, Virginia law already requires school boards to have policies ensuring parents are notified 30 days prior to use of any "sexually explicit" content included in instructional materials.  However, policies like the one in Madison County go further to regulate what teenagers read in their free time by establishing control over the library.
"This is ridiculous," Utz said, "a 13-year-old can handle mature topics. Not to mention that the majority of high school students are talking about sex, watching it, or having it. Why does the school board assume we are ignorant?"
While ACPS has not adopted any new policies restricting school libraries, one book has quietly been taken off the shelf at AHS.
After a single parent complaint in April of 2022, principal Darah Bonham instructed former AHS librarian Monica Laux to remove  A Court of Mist and Fury written by Sarah J. Maas from the AHS library on May 10.
The parent was concerned about sexually explicit content in the novel, referring to the book as "trash/ pornography." She urged Bonham via email to "immediately remove it from ALL ACPS schools."
According to library records, neither the concerned parent nor student ever checked the book out as either a physical copy or through the online Overdrive digital book collection.
"The resolution I had was to remove the book from the library because of the sexually explicit language used within some of the excerpts which were noted by the parent," Bonham said. "Even though the librarians' process of bringing this book into our library deems it appropriate, there is a part of it that, from a high school principal's perspective, is pretty explicit."
Librarians Erica Thorsen and Laux became concerned about the way the book was removed.
School Board policy IIBD, which governs libraries, states, "The principal shall be responsible for appropriate budgeting and the selection of resources utilized by the respective schools." This allows for a principal to make the decision to remove a book from their school's library if they feel the material violates selection criteria outlined in policies IIBD and IIAA.
In the librarians' opinion, Bonham should have utilized policy INC/KLB, which calls for either the superintendent to render a decision or create a committee made up of students, teachers, librarians and parents to do a thorough review of challenged material.
At the time of the complaint, the only physical copy of the book AHS owned was a Spanish translation of the novel. Despite supporting professional reviews indicating it was appropriate for high school students, it remains off the shelves while other parts of the popular YA fantasy series A Court of Thorns and Roses are still available to read.
"I am not in the business of banning books. I think everyone should have access to a wide variety of books," Bonham said. "I obviously have to censor, though, when I feel like something crosses the line of being appropriate for high schoolers."
However, students who have read the novel don't feel that it is inappropriate. "I first read A Court of Thorns and Roses during the pandemic between my freshman and sophomore year," senior Amy Ballif said. "When you compare the series to everything else that's available for high schoolers, it is not a stretch to say it's appropriate."
"
When you compare the series to everything else that's available for high schoolers, it is not a stretch to say it's appropriate.
— Amy Ballif
The librarians believe that reading choices should be left up to individual students and parents. "In a library, the idea is that you have the ultimate choice. We never would encourage a student to read a book that would make them uncomfortable," Thorsen said. "But we do want to have representation so that all students can see themselves in library books and see that this is a place for them."
In the wake of the Madison County library decisions, Utz has noticed more interest in the banned titles among students.
"Now everyone wants to go read them, Utz said, "it's ironic. One of my friends who never reads is buying the books. They want to know what the school board is trying to hide."
Utz went before the school board at its Feb. 13 meeting to express her opposition to the ban and offer a student's point of view.
"So many of the books on the list have influenced the lives of students in this school. Library books representing the experiences of every student are so important," she said.
The Perks Of Being A Wallflower, one of the novels banned, offered Utz comfort during her own struggles with depression. "I had an example of someone seeking help to save their own life. Without The Perks Of Being A Wallflower, I would not be alive today."
Although the banned books have been boxed up and sent to the school board office, people from all over the nation have been buying books off the MCHS Wish List to populate their library shelves. "We want to show the school board that they can't take our books," Utz said, "it is comforting to know others feel the same."
Books Banned by Madison County School Board
The Handmaid's Tale by Margaret Atwood –(in AHS library)
The Absolutely True Diary of a Part-Time Indian by Sherman Alexie –(in AHS library)
The Perks of Being a Wallflower by Stephen Chbosky –(in AHS library)
Shatter Me series of 6 books by Tahereh Mafi (Defy Me, Ignite Me, Restore Me, Shatter Me, Imagine Me, Unravel Me) –(in AHS library)
Tar Baby by Toni Morrison –(in AHS library)
The Bluest Eye by Toni Morrison –(in AHS library)
Sula by Toni Morrison –(in AHS library)
Love by Toni Morrison –(in AHS library)
The Tale of the Body Thief by Anne Rice –(in AHS library)
Interview with the Vampire by Anne Rice –(in AHS library)
Snow Falling on Cedars by David Guterson
Empire of Storms by Sarah Maas –(in AHS library)
Bag of Bones by Stephen King –(in AHS library)
11/22/63: A Novel by Stephen King –(in AHS library)
It by Stephen King –(in AHS library)
Furyborn by Claire Legrand
Leave a Comment
About the Contributors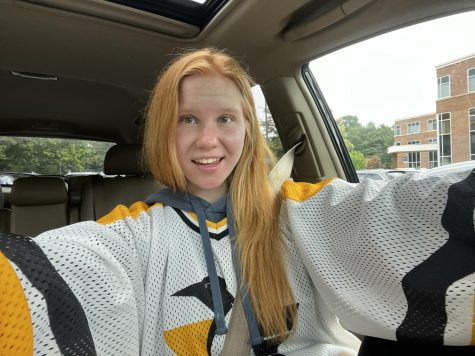 Eavan Driscoll, Editor
Eavan Driscoll is a senior at Albemarle High School in Virginia and will be attending Virginia Tech in the fall. She is a captain of the field hockey team...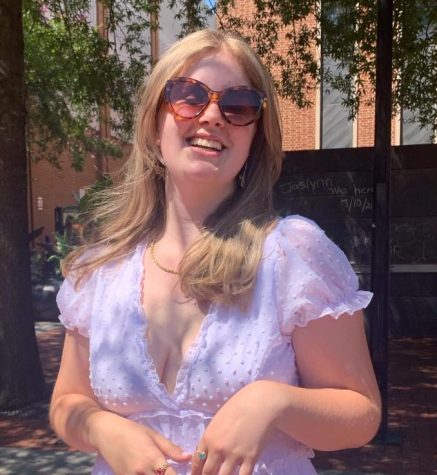 Gracie Bitrick, Staff Reporter
Gracie Bitrick (she/they) is a Journalism 3 student and a senior. She loves contributing her time towards The Revolution, The Lantern as '22-'23 co-editor-in-chief,...