Waiting on Williamson
On Feb. 20, the "rip heard round the world" took place when star Duke basketball player (and inevitable #1 overall pick in this year's NBA draft) Zion Williamson tore through his left Nike basketball shoe during a primetime game against North Carolina. As a result of the incident, Williamson suffered what Duke team doctors diagnosed as a "mild knee sprain."
The Blue Devils went on to suffer an embarrassing 16 point home loss against their archrivals, something that is traditionally unheard of at Cameron Indoor. Immediately after the game, analysts began to speculate about Williamson's condition and when he would return to competition.
Although Duke's head coach Mike Krzyzewski stated on March 4 that his star player was "in stage four of a four stage recovery," the team's reluctance to insert their best player back into their lineup has prompted vast speculation about when (and if) Williamson will return. This has become an especially prominent issue over the last two weeks, as it appears that the dunker extraordinaire is more indispensable than previously imagined, as they have the same amount of losses in the previous five games (their record without him has been 3-2) than in the 25 they had with him (21-2).
There are three main opportunities for Zion to make his way back to the court: (graded on a scale of 1-5 dunks, 5 being the most likely)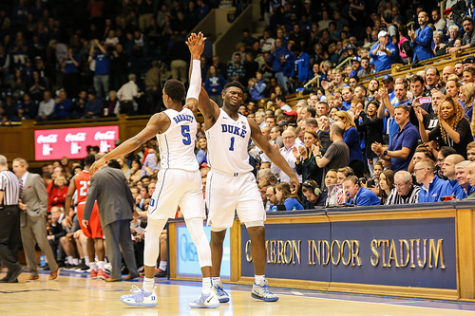 Option 1: March 9 vs. UNC
This second primetime matchup between two of the goliaths of today's college game would be a fitting time for Williamson to return, since their first matchup was when the infamous injury occurred. It only seems right for the NCAA's premier player to return from the bench and dazzle what would be a huge audience on ESPN with his eye-popping dunks and uber-athletic blocking ability. Additionally, he would get the chance to play spoiler for Carolina on their senior night, something that any competitor like Williamson would love to do.
However, Krzyzewski rained on this parade some when, during a press conference on March 5, he stated that he "has to be careful not to push it," referring to the risk of reinjury for Zion. Nevertheless, Coach K is known to occasionally have a trick up his sleeve, so this situation shouldn't be completely ruled out.
Rating: 3 out of 5 dunks
Option 2: ACC Tournament (March 12-14)
The next opportunity for Williamson to come back would also be under the bright lights, albeit probably not on quite the same level. It would probably work better for a recovering athlete in terms of competition, as the type of team that the Blue Devils would face would be significantly weaker than UNC, for example Miami or Georgia Tech.
Although they only escaped with a one point win on March 6 against a pitiful Wake Forest team (at home, no less), starting off against a weaker team would be a safe way to ease Williamson's knee into play. This option is supported by how Krzyzewski said at the March 5 press conference, "I'd be surprised if he wasn't back by the ACC tournament." Signs are pointing to this being the most likely option out there.
Rating: 4 out of 5 dunks
Option 3: NCAA Tournament (March 21-23)
This third option is more of a backup plan for Duke in case Zion's injury is worse than they are letting on. Like Option 2, this would also give him more time to get to 100%, which lessens the chance for re-injury. Additionally, if Duke loses their final game against UNC, their seed for the ACC Tournament will fall, giving them a tougher slate in Charlotte. This means that if they want to go the route of easing him into competition, playing against a UMBC (sorry UVA fans) type would be a better fit than a decent ACC squad.
Rating: 2 out of 5 dunks
All in all, unless Coach K feels the need to bring back his star to try and get revenge on Roy Williams and North Carolina, ESPN will probably be devoid of any actual Williamson game action (they'll still have plenty of content about him, don't worry) until the ACC Tournament. However when he comes back, the Blue Devils will be rise back to their position as the best team in the country, proving that Williamson is a key piece to Duke's puzzle.