School Board Votes "No" To Redistricting
Ben Yung, Staff Reporter
December 15, 2015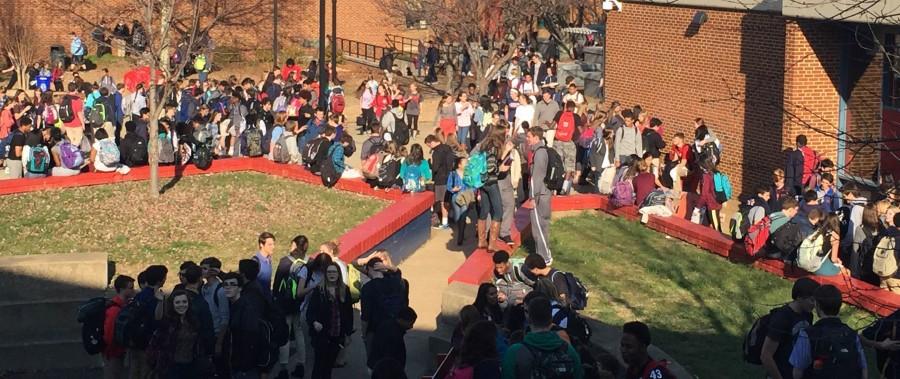 The school is overcrowded. Over the past four years: the lunch room has become more and more packed, the breezeway now struggles to support the uncontrollable sea of students that come rushing out after every block and the halls have become so filled that it is nearly impossible to weave through the jumbled mess.
"Everybody agrees, we are over capacity and something has to be done about it," principal Jay Thomas said.
"Being over capacity brings other issues: you see teachers having to float between rooms; […] they're having to cram into little spaces, they're having to share work spaces with each other and it is hard for them to get planning done. It is hard for them to get grading done. It is hard for them to have conversations with students and parents, so it is just this trickle effect that has put stress on everybody," Thomas said.
As of right now, Albemarle is 122 students over capacity, and Building Services projects that if nothing is done, it will be more than 200 students over capacity in just five years.
In need of a solution, superintendent Dr. Pam Moran presented the redistricting committee's plan to the School Board on Oct. 22; this plan included a portion of Albemarle students being moved to Monticello High School.
On Nov. 12 the School Board deemed redistricting to not be an effective solution and, in a two-to-five vote, voted against redistricting, leaving Albemarle's population as it is.
School Board vice-chair Kate Acuff, from the Jack Jouett Magisterial District, voted against the redistricting proposal.
"The reason redistricting continues to be raised is that since the Great Recession in 2008, funding for capital improvements has plummeted and we have not been able to keep up with the growth in the County.  Moving students around is no longer a viable solution to the need to build more capacity," Acuff said via e-mail.
The committee did want to go on the record in voicing their dissatisfaction in that redistricting would be  temporary solution for a problem that should be solved with building additional school capacities. They also realize that the general sentiment in the community is that redistricting is fruitless according to Acuff.
The only other option in opposition to redistricting would be to build a new high school; this project would take years to plan and cost up to $100 million to construct according to board member, Steve Koleszar. With the current financial situation Albemarle County is in, this would not be fiscally responsible.
While the Board recognizes the problem of overcrowding at Albemarle, they do not know exactly what to do about it with the current budget. Members of the Board realize that changes will have to be made and the school will likely have to be expanded.
"Technology is driving changes in the delivery of instruction. We don't fully know how those changes will affect the needs for high school space in the future," Koleszar said. "I believe we will have to add seats and other improvements to Albemarle High School in the near future to address overcrowding there."
School Board members Jason Buyaki, Ned Gallaway, Pam Moynihan, and Barbara Massie Mouly who also voted against redistricting did not return The Revolution's request for comment.
"Deciding not to redistrict does not solve the problem of overcrowding at AHS. To address the overcapacity at AHS for the next school year will require the addition of some modular classrooms.  Not an ideal outcome, but necessary while the School Board reviews its options," Acuff said.
One option is that the School Board is looking at allowing open enrollment at Monticello. This would give students the option to enroll to Monticello even if they're in another school's region. Albemarle students who would prefer attending MHS for any reason would be able to attend. Bus routes would not reach students who made this decision and they would be forced to find alternative ways of getting to and from school.
Another is the concept of installing module units to help alleviate the stress on teachers and staff. Module units are essentially trailers that would be placed on what is now the practice fields by the gym; these would include anywhere from six to eight classrooms and a bathroom.
It now seems that any effective long term changes that will be made to accommodate the influx of students will be based around extensions onto the school and will likely take a few years and millions of dollars to complete.