Boys Varsity Cross Country
The question on everyone's minds going into the 2012 boys cross country season was: how would they handle losing three of their top five runners, including state runner-up Adam Visokay?
                   "Losing three from your top five normally is a great obstacle to overcome the next year. However, the 2012 team repeated as District Champs and placed fifth in the Northwest Region as well as having another All-State runner–(junior) Ryan Thomas,"  coach Buz Male said. "This would not have happened if (sophomore) Zach Gentry, (senior) Aaron Elder, (senior) Sam Gillespie, and (junior) Jake Brooks had not stepped up big time."
                   Thomas placed 15th in the State tournament, qualifying him for All-States and the Nike Southeast Regionals in Cary, North Carolina on Nov 24th. "I'm really proud with everyone for working so hard to get where we got this year." Thomas said.
                   The team credits their coaches as a large part of their success. They unanimously credited Male for their achievements. "He's hard working and very passionate and that mentality and work ethic translates down to the kids," assistant coach Alec Lorenzoni said.
                   The team's scores have improved since Male's arrival in 2007. During his first season, the team placed sixth in the State meet and since then the boys' team has attended States every year but this.
                   "He affected my life for the better," said senior co-captain Keith Montminy about Male. "Buz was my first friend on Facebook, actually, when I moved here in 8th grade."
                   However, another reason for the consistent success may be the intimacy of the team. "We're like brothers in a lot of ways," senior co-captain Joe Krohn said.
                   Cross country has the largest team at Albemarle—70 runners total, including 7 on the boys' varsity team—for two reasons: the team discourages exclusiveness resulting in little or no cuts, but also large amounts of students are drawn to cross country for its close relationship as a team.
                   Within the team there are different levels: the A and B team. The A Team takes claim to the faster and more advanced runners, while B team is for less experienced runners that are earning their way to the top. However, Male pointed out that both teams practice together.
                   "One of the biggest plusses of the XC program is that all 70 boys, train together as one team along with myself and the three assistant coaches. In other sports there are separate Freshmen and JV teams. The entire 70 boys, from 8th to 12th graders are required to have the same mental approach and commitment to their team," Male said.
                   With the loss of a small amount of good runners, the talent has begun to balance out, leading to more pack running. "Packs are really advantageous; you're running with, in this case, two other guys on your team. The result is a much tighter knit top group, both socially and in the running community," Krohn said. "[A few runners] really stepped it up and are interchangeably our third and fourth runners throughout the season."
                   The boys' team is by no means a gentleman's club only. "We're the closest team—both girls and guys," senior co-captain Sam Gillespie said. Camping trips, ping pong matches and cuddling are common past-times on weekends with the team—for both genders.
            "You get to a point where it's not weird," Gillespie said. While couples are constantly popping up as a result of near-excessive time that the team spends together, often boys and girls are simply just friends—but cozy friends. "Memories that will stick with me the longest is probably a collaboration of all the runs I've done with the guys over the years and the jokes, antics, and talks that have come from them," said Montminy.
                   All cross country runners find satisfaction in their sport because their place on the team depends entirely on their records. The more impressive their times, the greater their position on the team. "My favorite part of cross county is that the clock does not lie," Lorenzoni said. "Run one of the top seven times and you'll get to race. No politicking, no campaigning the coach for more minutes…just run."
                   "I think our kids see the positive benefits that come out of working hard and striving for a goal together," said Lorenzoni " The biggest reason I continue to coach is the enthusiasm and passion the kids have, something you can really only find in a team environment."
                   Montminy expressed his advice for newcomers, "Enjoy every second of [cross country]—it goes by a lot faster than you want it too."
About the Contributor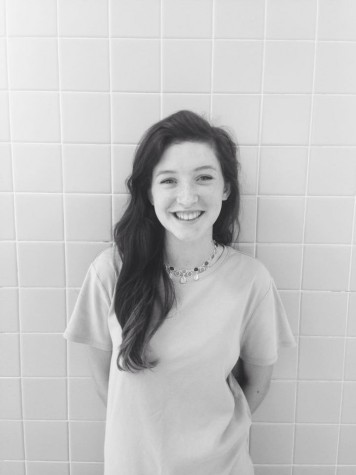 Julia Harrison, Opinion Editor
Julia Harrison, a senior at Albemarle, the opinion editor of The Revolution and a fourth year on staff. Her greatest regrets in life are getting rid of...