Girls' soccer look to kick in a win for the season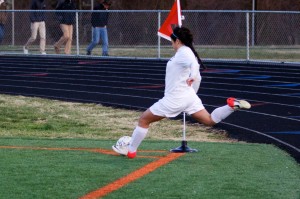 In the previous season, the girls' soccer team found success making it all the way to the District championship. This year, history seems to be repeating itself, and the new group of girls hopes to take the team even further.
This season, the Lady Pats are fighting hard to stay at the top, playing with motivation and intensity. "We have to take it one game at a time," senior and captain Lauren Truwit said.
Truwit, who plays center defense, said, "I try to talk a lot to help out everyone in front of me since I can see a lot of the field."
Truwit also uses her communication skills when leading as captain with teammate senior Maggie Tubridy, a forward and center midfielder. Although the position often provides many challenges, both girls enjoy their job in helping out their team. "We lead in helping the team work together and making each game a team effort, not an individual one," Truwit said.
Senior right back Katharine Waldron praised her teammates for the amount of caring and genuineness that they have for all the girls on the team. "I look up to them in everything that they do," she said.
The girls' close-knit relationship on and off the field is what makes the girls a threat to other schools they compete against. Truwit said team chemistry is incredibly important because, "What happens off the field carries onto the field."
Having such a strong bond with one another makes winning even more important to the girls. Tubridy said, "Before every game, our coach says, 'Look after each other, take care of each other, and make magic!'"
The girls also acknowledge their confidence to get work done as an advantage the team carries. Waldron said, "We stay strong when we are one up and have to keep a lead."
As the regular season comes to an end, the girls look forward to what is in store for the team in the postseason. "Everyone has talents and skills to be offered," Tubridy said. Junior outside midfielder and forward Ali Starr agreed with Tubridy, "We have learned to mesh together and we have learned each other's playing styles, so we have great potential."
Tubridy in particular is looking for the team to do its absolute best because this is the soccer team's last year in the Commonwealth District. "Everyone is prepared and ready to make a statement and go out with a bang!" she said.
Playing currently with a 15-1-1 record, the team is staying on track in their efforts to win and be the best. It is while playing Mountain View, Colonial Forge, and Massaponax that the girls find the game most difficult, but they are always able to put up a fight. "They are teams that keep us on our toes during games," Waldron said. "We've got a pretty big target on our back because of our record over the year. Everyone wants to beat us and knock us out of first place," Truwit added.
In order to compete against such aggressive rivals, the girls look to several things to keep focus. One of them are spirit days, which Tubridy said, "Helps the team feel unified throughout the day and remind us that we are a team both on and off the field."
The team also finds encouragement in their coaches, Jon Hall and Amy Sherrill. Waldron said, "They help us to know when it is time to focus and when it is time to have fun." Truwit finds their intense love for the game as what really gets everyone going. She said, "That [their love for the game] truly does inspire us to put our hearts out on the field, just like they do."
Hall currently coaches for his 11th season at AHS, and he recently reached a milestone, earning his 100th win. The team achieved the major accomplishment for Hall during an away game against Massaponax on March 20, in which they defeated the Panthers 2-1 in overtime. Hall said of his achievement, "Anytime you reach 100 wins, it makes you remember all the players that you have coached and what they have meant to you."
Sherrill reflected on the game, "It was really nerve-wracking knowing that Coach Hall was about to embark on this awesome feat." Sherrill also gave credit to the team for their ability to play so well together as a new team early in the season, and winning on another team's home front. As a player who contributed to the big win, Starr said, "It was a great feeling to be a part of the team during that game."
As the season continues, the girls have several goals to remind each other of what can be done. Waldron said, "We are always close to winning Regionals and we have the ability, but we have to remind ourselves of that sometimes."