VABA or Y-Ball? It's Fun Either Way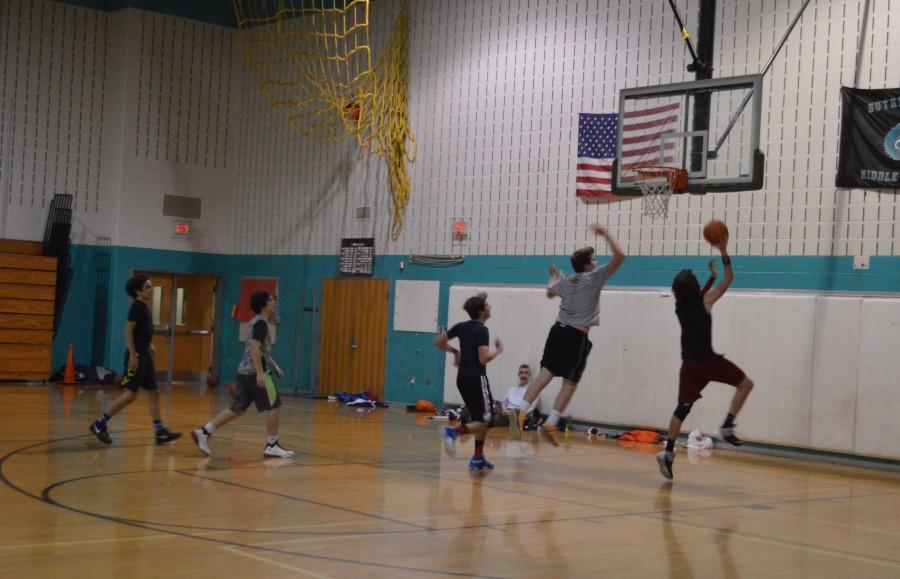 "VABA is something to look forward to during the week, especially on Mondays when we have practice," sophomore Dom Barr said.
VABA, or the Virginia Basketball Academy, is a local organization that focuses on building character in children and teenagers through their basketball teachings. The league used to be called Y-Ball, but the named changed when VABA took over from the  YMCA.

VABA has many different levels of teams for boys up to twelfth grade, eight to twelve teams per division, but the most commonly known of at Albemarle is their recreational league.
"I joined VABA because one of my friends was on another team and I wanted to make a team to compete against him. I was kind of just joking, but then we got a team together and it has been really fun," Barr said.
"Rec basketball is great because it's fun and competitive, but laid back and not too serious," senior Griffin Coffey said who plays for the Timberwolves.
"You don't have to be an amazing basketball player, there isn't judging and you get to play with your friends," sophomore Tony Geremia said, who plays for The Hornets (or Team Get Some as they call themselves).
Students who don't play for AHS official teams still enjoy the game of basketball through VABA to enhance their skills on and off the court. All of the coaches of the recreational league are volunteers, usually a parent of one of the basketball players, and are eager to help each team member improve.
Sophomore Collin Shelton, Barr and Geremia also said that with each practice they can feel themselves improving. With every teammate making at least several points as well as assists, the team agreed that they had made a lot of progress since their first practice.
Coffey also stated that VABA teaches each athlete to have good sportsmanship. "Everyone has equal playing time, so you want to be nice to each of your teammates and help them improve."
VABA players look forward to their practice during the school week and their games against their friends on weekends.Each player said that they enjoy the friendly competition between other teams and playing against people from Albemarle.
The recreational championship is scheduled for Feb. 20, 2016, for people who would like to attend. If anyone is interested for playing for VABA next season the price is $155 and the teams practice once a week with a game each weekend.