ACC Tournament Preview 2017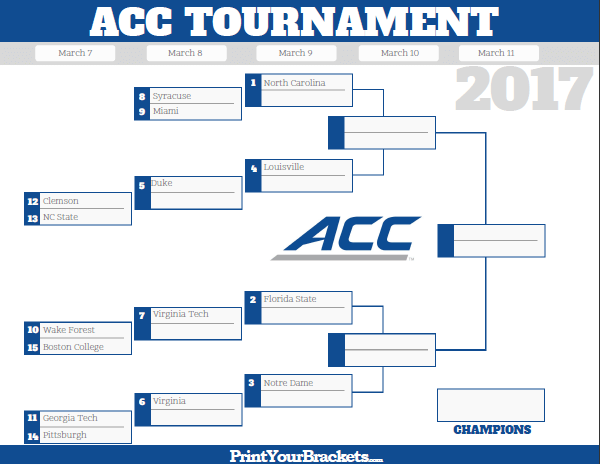 REGULAR SEASON STANDINGS
| Seed | School | Conf. | Overall |
| --- | --- | --- | --- |
| 1 | North Carolina | 14–4 |  26-6 |
| 2 | Florida State | 12–6 |  24-7 |
| 3 | Notre Dame | 12–6 |  23-8 |
| 4 | Louisville | 12–6 |  24-7 |
| 5 | Duke | 11–7 |  23-8 |
| 6 | Virginia | 11–7 |  21-9 |
| 7 | Virginia Tech | 10–8 |  21-9 |
| 8 | Syracuse | 10–8 |  18-13 |
| 9 | Miami | 10–8 |  20-10 |
| 10 | Wake Forest | 9–9 |  18-12 |
| 11 | Georgia Tech | 8–10 |  17-14 |
| 12 | Clemson | 6–12 |  16-14 |
| 13 | NC State | 4–14 |  15-16 |
| 14 | Pittsburgh | 4–14 |  15-16 |
| 15 | Boston College | 2–16 |  9-22 |
ACC Tournament Schedule
Game
Time
Matchup
Television
First round – Tuesday, March 7
1
noon
#12 Clemson vs #13 NC State
ESPN2
2
2 pm
#10 Wake Forest vs #15 Boston College
3
7 pm
#11 Georgia Tech vs #14 Pittsburgh
Second round – Wednesday, March 8
4
noon
#8 Syracuse vs #9 Miami
ESPN
5
2 pm
#5 Duke vs Winner of game 1
6
7 pm
#7 Virginia Tech vs Winner of game 2
ESPN2
7
9 pm
#6 Virginia vs Winner of game 3
Quarterfinals – Thursday, March 9
8
noon
#1 North Carolina vs Winner of game 4
ESPN
9
2 pm
#4 Louisville vs Winner of game 5
10
7 pm
#2 Florida State vs Winner of game 6
11
9 pm
#3 Notre Dame vs Winner of game 7
Semifinals – Friday, March 10
12
7 pm
Winner of game 8 vs Winner of game 9
ESPN
13
9 pm
Winner of game 10 vs Winner of game 11
Championship – Saturday, March 11
14
9 pm
Winner of game 12 vs Winner of game 13
ESPN
ACC Tournament Preview
Some are calling the 2017 ACC the best year in the history conference. The league will probably get ten teams into the NCAA tournament, with an outside shot at one more if Georgia Tech were to make it into the semifinals. North Carolina and Louisville come into the tournament as the favorites, with Virginia sitting as a dark horse. Duke, Florida State, Notre Dame, and even Wake Forest have a legitimate shot to win this tournament. So let's get on with the predictions
The tournament will start with the 12-13 matchup as Clemson takes on NC State. This could be Mark Gottfried's final game as the coach of NC State, but I don't see Dennis Smith letting that happen. Smith has averaged 18.5 points per game this year, and he will go off again here against a Clemson team that has underachieved this year. Smith will lead the Wolfpack to a victory, and end Clemson's already tiny at-large hopes.
The second game of the day should be a blowout. Wake Forest comes into the tournament on the heels of three straight wins, and the Demon Deacons should cruise against a bad Boston College defense.
The final opening day matchup sees Georgia Tech face Pitt. Both teams come into the tournament after getting blown out on Saturday. Georgia Tech by Syracuse, and Pitt by Virginia. Georgia Tech's fantastic defense will dictate the pace, slowing down Pitt's shooters, and in an event that no one would have thought possible preseason, the Yellow Jackets keep their NCAA Tournament hopes alive and move on to the second round.
After opening day we go into the "qualifiers" for the quarterfinals as (8) Syracuse faces (9) Miami, (5) Duke faces (13) NC State, (7) Virginia Tech and (10) Wake Forest square off in a rematch from Saturday, and (11) Georgia Tech looks to move into the tournament by upsetting (6) Virginia.
Starting with the 8-9 game, these two teams last squared off in early January, so a lot has changed since then. At that time Syracuse was seen as a team with no chance to make the tournament, but after beating Virginia, Duke, and Florida State, the Orange find themselves back onto the bubble.  A loss here would mean the Orange will have lost five of their final seven games, and finish the year 2-10 away from home, which would make for a very worrisome selection Sunday. Miami seems to be a lock for the NCAA tournament, and I see them proving that they deserve that with a win. The 'Canes have a strange combination where they can slow down the tempo, and then absolutely kill you with a dagger three pointer from Davon Reed. Reed averages 15 points per game, and I see him leading the Canes into the next round.
The second matchup of the day pits Duke, who ended the year losing three of their last four, against NC State. The Wolfpack beat Duke in Cameron earlier this year, but ever since they have flattened out, and Duke will avenge that loss with a win here, and move on to face Louisville in the semis.
Virginia Tech and Wake kick off Wednesday's second session with a rematch from Saturday, where the Demon Deacons beat Virginia Tech in Blacksburg, 89-84. Wake Forest's offense is underrated, with both John Collins and Bryant Crawford being huge difference makers. Collins is actually averaging a double-double if you round up his 9.8 rebounds. He will have another big game, and I've got Wake beating Virginia Tech for the 2nd time in five days, and moving on to face Florida State.
The last quarterfinal of the day sees Georgia Tech meet Virginia. These two teams met earlier this year in a 62-49 win for Cavaliers, and while Georgia Tech will be fighting for a tournament bid, Tony Bennett is a good enough coach to get UVa prepared for the Yellow Jackets, and a red hot Kyle Guy will lead Virginia to the quarterfinals.
After my predictions for the first two rounds, the quarterfinals will look like this. We've got (9) Miami looking to get their second win of the year over (1) North Carolina, (5) Duke and (4) Louisville squaring off in an elite eight quality game, (10) Wake looking to extend their Cinderella run against (2) Florida State, and (6) Virginia facing off against (3) Notre Dame.
The day starts off with Miami looking to go 2-0 this year against tournament favorite North Carolina. While it would be a nice story to see the 'Canes make it to the semifinals, they just aren't big enough to match up against a North Carolina team that dominates opponents on the glass. Carolina advances to face the winner of Duke-UL.
I wasn't kidding when I said Duke-Louisville was an elite eight caliber matchup, it is. Duke is led by it's trio of offensive scoring threats in Jason Tatum, Luke Kennard, and Grayson Allen, however Louisville's biggest strength this year has been their lockdown defense. Donavan Mitchell has been great for the Cardinals recently, scoring 20+ points in four of his last five games. If he can have another big game, and UL can get Deng Adel involved, Louisville will edge out a Duke team that will be tired after having to play the day before.
The second session kicks off with Wake Forest and Florida State, and this is where the run sadly ends for the Demon Deacons. They will still make the NCAA Tournament, but they fall to Dwayne Bacon and the Seminoles. Bacon has put up excellent numbers all year, and if the 'Noles want to make a dent in this tournament, they will need him to be on his game when the face the winner of the next quarterfinal, Notre Dame vs Virginia.
Notre Dame has won six of their last seven, and play well inside, where Virginia is weak, but I've still got the Wahoos in this one. Virginia is experienced, well-coached, led by a fantastic senior point guard. Virginia's perimeter based offense matches up well against the Notre Dame defense as evident by the 71-54 blowout win in South Bend, the only previous meeting between these two teams. London Perrantes leads Virginia into the semifnials.
Our semifinals are UNC-Louisville, and Florida State-Virginia. Both of these matchups only happened once during the regular season, so they should be fresh.
Carolina and Louisville's lone matchup this year was just over two weeks ago, an 11 point win for Tar Heels in Chapel Hill. The crowd will certainly be more split in Brooklyn, but I still see Carolina getting their second win over the Cards, and effectively locking up a one seed. UNC has the most talent of any team in this tournament, and the Tar Heels have won the rebounding battle in almost 90% of their games, as long as the Heels can stay out of foul trouble, they should beat Louisville by seven or eight points.
The other semifinal is even better then the first. These two teams last played in 2016, so it's a very fresh matchup, and that game in December of 2016 ended on a buzzer beater from Dwayne Bacon, who went off for 29 of FSU's 60 points in that game. Bacon is a great player that may have a future at the next level, but he's not going to score half of FSU's points again. For the 'Noles to win, they will need to spread out their scoring to players like freshman Jonathan Issac, but the 'Noles went just 3-6 away from Tallahassee during the regular season, and their woes away from home will continue. Virginia is certainly not the best team in the ACC offensively, but the Cavs can hit a momentum-changing three at any moment, and they will suffocate you with their stifling defense. This will be a low scoring game in the 50's, but Virginia will pull it out and advance to the final.
So, the ACC Championship will be a rematch from last year, as six seed Virginia will face first seeded North Carolina with the conference title on the line. These two teams have combined for six of the past seven ACC Championships (regular season and tournaments) This year, it will pit the best offense in the ACC vs the best defense in the ACC. A fitting end to a great tournament. These two teams split the regular season series, with each team beating the other at home. Justin Jackson and Joel Berry are superstars who can hit from anywhere for Carolina, and while Virginia's defense may be one of the best in the country, they can sometimes fail to close out on three point shooters. The wahoos themselves can shoot the three ball well, but with Isiah Wilkins and Jack Salt starting down low, the Cavaliers frontcourt is going to get killed on the glass. Virginia can not get anything going through the high post, and that might be Carolina's strength. Virginia will certainly keep this one close by limiting open shots for Carolina, but the few open shots that Carolina has, they will hit, and Carolina will escape with a six point win, and possibly with the #1 overall seed in the NCAA Tournament.
ACC Tournament Bracket
First round
Tuesday, March 7
ESPN2
Second round
Wednesday, March 8
ESPN
Quarterfinals
Thursday, March 9
ESPN
Semifinals
Friday, March 10
ESPN
Championship
Saturday, March 11
ESPN
1
 North Carolina
9
 Miami
8
 Syracuse
9
 Miami
1
 North Carolina
4
 Louisville
4
 Louisville
5
 Duke
5
 Duke
13
 NC State
12
 Clemson
13
 NC State
1
 North Carolina
6
 Virginia
2
 Florida State
10
 Wake Forest
7
 Virginia Tech
 
 
10
 Wake Forest
10
 Wake Forest
15
 Boston College
2
 Florida State
6
 Virginia
3
 Notre Dame
6 
 Virginia
6
 Virginia
11
 Georgia Tech
11
 Georgia Tech
14
 Pittsburgh