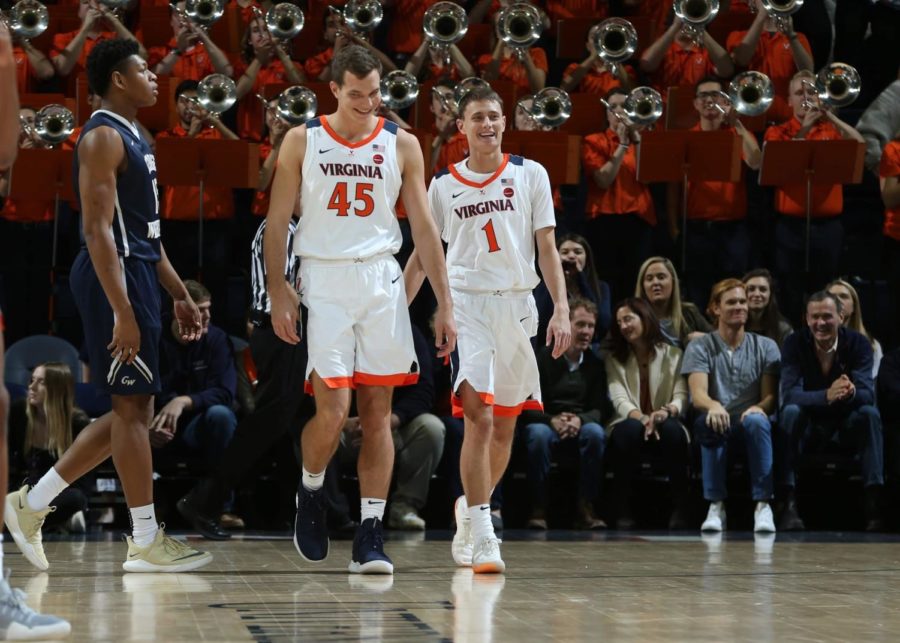 Matt Riley
Walking Tall
Two former Patriots are making their mark on the UVA hardwood
March 5, 2019
Update (4/9/19): AHS Patriot alumni Katstra ('17) and Kersey ('16) can now add NCAA Champions to their scholastic and academic achievements.
The Cavaliers won the National Championship in overtime, 85-77 against the Texas Tech Red Raiders. Through perseverance and dedication, Virginia made the ultimate comeback from their previous March Madness appearance, as the first ever number one seed to lose to a sixteenth seed.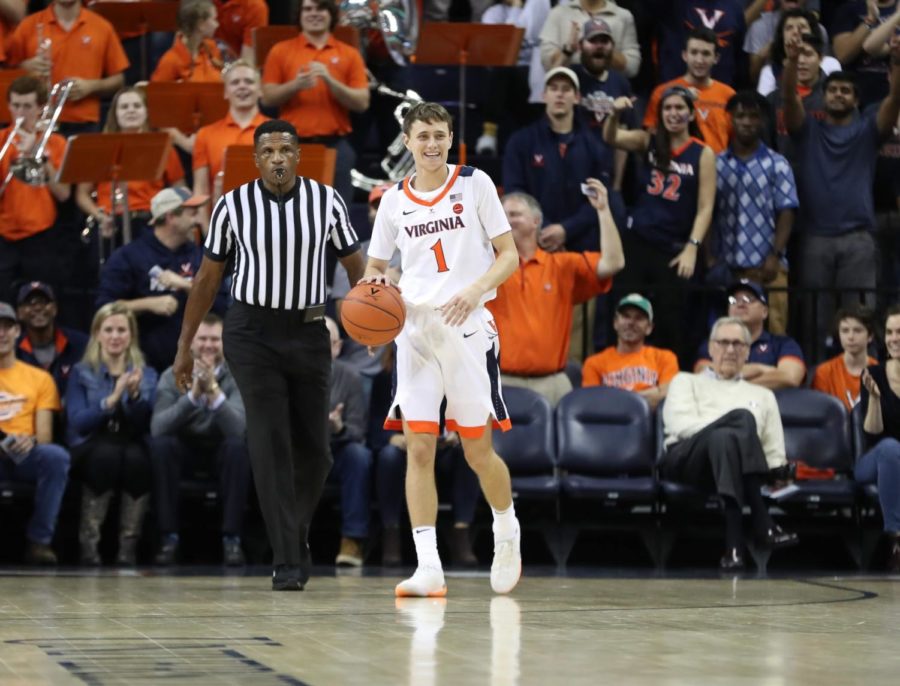 Matt Riley
Hard Work Rewarded
Kersey moves from management to team member at UVA
From Albemarle basketball work horse, to University of Virginia basketball manager, to the basketball player everyone cheers for, Grant Kersey has done it all. 
Kersey ('16), a third year at the University of Virginia, has always loved the game of basketball. After playing for two years on the AHS varsity squad, he couldn't give it up and decided to be a manager for the UVA team.  
"Having the opportunity to be around the game at such a high level was too hard to pass up," Kersey said.  
Being a manager was a big time commitment to Kersey as he spent around 25-30 hours a week working. Kersey dreamed of playing on the team, but the opportunity never arose.
"I didn't really know what to expect. I knew it was possible, and, if I worked hard enough, maybe I would be fortunate enough for it to work out. I never thought it would work out this way."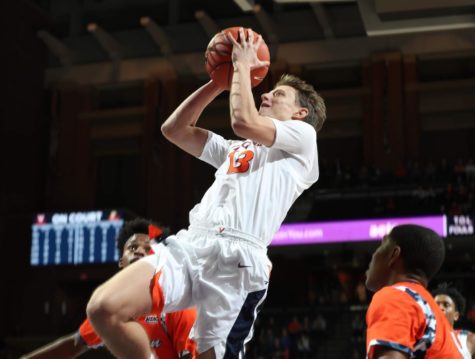 On Nov. 5, head coach Tony Bennett acknowledged Kersey for all his hard work and dedication towards the program with news that he would be suiting up for home games this season.
"I was trying to play it cool, but in my head I was freaking out a little but because it was a dream come true for me," Kersey said. "It was something I always wanted to happen and it was surreal that it was actually coming true."
Putting on his number 13 jersey was "the coolest feeling ever. That was something I had always wanted to feel just growing up as a kid going to games and everything. It was really surreal; it felt like a dream," Kersey said.
The number 13 is more than just a jersey number to Kersey.
"That was my dad's number when he was a kid growing up, I wanted to be his number," Kersey said.  
Kersey not only plays at home games, but has started to play at away games, proving that, with hard work and dedication, you can achieve any goal.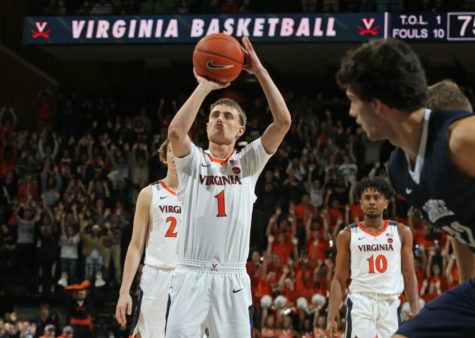 Kersey attributes his work ethic to how he was raised. "I've always been determined and worked hard."
Albemarle also gave Kersey the foundation and skills that he would carry over to college to make him more successful.
"Time management I would say is a big one, just knowing when to get your work done and when you have free time, and knowing when you have to be ready for practice and go to class," Kersey said.
The Albemarle alum hasn't seen much playing time, but Kersey has shown he is a clutch player. Kersey gave UVA its first 100 point game in the program's history.
"Before we went in, Ty Jerome was on the bench and he looked at us and was like, 'You guys got to get 100.' So I said, 'Yeah we have to' because Coach Bennett had never had 100 so we wanted to try and get it for him.
I caught the ball and then I threw it out to Austin, then I heard one of the coaches yell at him to shoot it, so I knew it was ok if we shot it that late in the game, even if the shot clock was off. When the ball bounced out to me, I was like, 'Oh, I can just get a rebound' and then it just happened to bounce out there. I might as well just try and shoot it and see what happens.
"The crowd's reaction and getting 100 for the first time for Coach Bennett and just being a part of history for such a good program; it just didn't feel real," he said.
Kersey's advice for current Patriots is to stick to your work ethic. "Sometimes you're working hard and nobody's seeing it, or you don't know what's going to happen. It will all work out in the end."
Coach Greg Maynard has always impressed with Kersy's persistence to be better at basketball.
"He kept plugging away, kept practicing, keep getting better and better, and he finally grew a few inches, and really worked hard on his shot," said Maynard.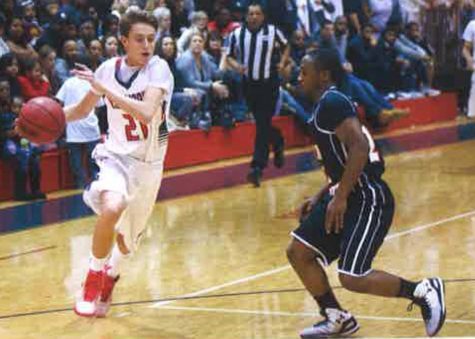 Not only has Kersey represented Albemarle High School but, Tony Bennett said Kersey has  embraced his roles and has really served UVA.
Once a Patriot Always a Patriot lives inside this Albemarle alumni to this day.
"It means the world, I couldn't imagine high school anywhere else so that's something I'll carry forever, I'll always be a patriot for sure," Kersey said.
Leave a Comment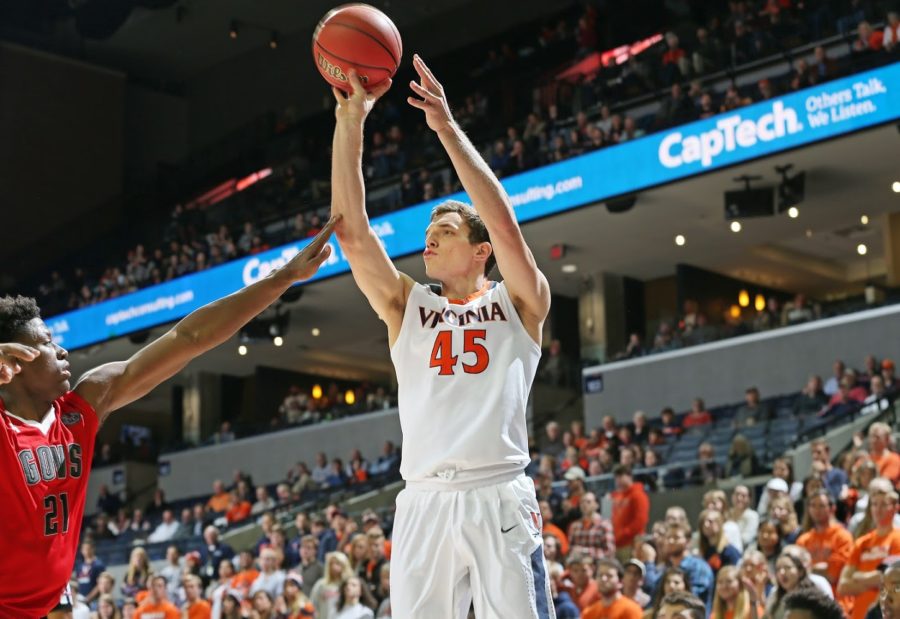 Matt Riley
Dream Come True
Katstra walks into UVA hoops scholarship
Austin Katstra, former Albemarle High School basketball star, has made a big splash into the pool of college basketball.
Katstra ('17), who is currently a second year, debated between attending a D2 or D3 school with more playing time verses coming to the University of Virginia as a walk-on.
"I chose to go to UVA for three reasons; one being the education… that was definitely a big factor in that," Katstra said. "The coaching staff is just incredible, I have the best coaches in the country. The way they treat everyone the same, no matter what, really speaks to how they interact with us. Lastly, I grew up in Charlottesville and I've always wanted to play for UVA, so being able to fulfill that dream is just another reason."  
The 6'6" Katstra played for only 19 minutes over 10 games his first season, a far cry from his Patriot days where he was a four-year starter.
"The biggest difference is just the physicality… I went from playing against pretty much no one that was taller than me to playing against most people taller than me," Katstra said.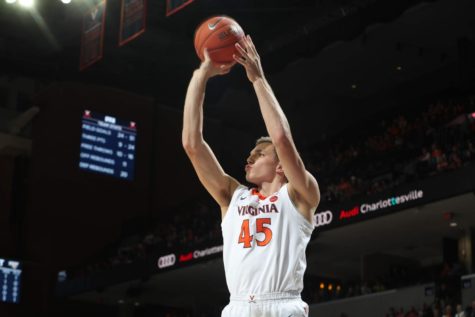 Despite limited time on the hardwood, Katstra felt positive about his first year on the team.
"It's a blessing being able to play basketball at this high of a level and, at prestigious institution like UVA, is just a blessing in itself and being able to play with these guys is just something I wouldn't trade."
All of Katstra's hard work and team dedication  paid off on Jan. 16 when he received a scholarship from head coach Tony Bennett.
In a video posted to the team's Twitter account, Bennett surprised Katstra with news of the scholarship after completing a free throw during practice. Immediately, the team surrounded Katstra with hugs of appreciation and congratulations.
"I didn't know what to do," Katstra said. "I was kind of shocked for probably a whole day… I was extremely thankful for the whole coaching staff for doing that for me."
Basketball has taught Katstra other things than perfect form when shooting including, "Time management is probably the biggest thing."
Both Albemarles Coach Greg Maynard, or UVAs Coach Tony Bennett, have had great experience with Katstra and his dedication towards basketball.
"One of the best players I've ever coached, very intense, really payed attention to detail, wanted to be very good, and worked hard," said Coach Maynard.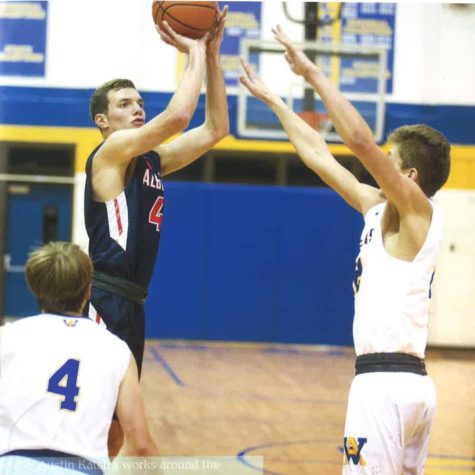 "Austin done a great job representing our University, Charlottesville and certainly Albemarle High School," said Coach Bennett.
Coach Maynard adds his favorite memory with Katstra was, "When he had a buzzer beater dunk to beat Varina in the Virginia Preps Classic."
Albemarle has not only taught Katstra basketball, but has taught them things he has carried over into college.
"If you surround yourself with people who want to see you succeed, for me on the court, or in the classroom or just in general then that's going to help you in such a positive way… Coach Maynard, the guys on my team, Mr. Lindsay, Coach S., and Ms. Tyson, just to name a few, they all wanted the best for me, no matter what that was.They weren't going to jeopardize what I wanted to do, they were always looking out for me. Being able to surround yourself with those people is something I carried over into college to make sure to always surround myself with people who also want to see me succeed," Katstra said.
Once a Patriot Always a Patriot lives inside Katstra.
"It's the ability to always be able to come back and feel like you're at home and able to reach out to people at Albemarle if you need help anything or just to reach out to talk and people at albemarle are always there for you and are always rooting for you. They've always got your back no matter what.
Katstra said.
Leave a Comment