2021 NFL Free Agency… So Far
*Disclaimer: I am a Washington fan so the Washington section might be a little biased, but I'll try to keep it neutral
NFL free agency just started on March 15, and teams are already going crazy trying to better their organization. This year has a stacked free agency with big names such as Dak Prescott, Chris Godwin, Allen Robinson, Juju Smith-Schuster, and many other stars hitting the market.
The New England Patriots have already begun to show their deep pockets.  Within 24 hours they've already signed 12 players, including their 2020 starting QB Cam Newton, who has big shoes to fill with his predecessor Tom Brady having created a dynasty in New England. With all of these signings, they will spend over $280 million in contracts over the next four years.
So far they've signed weapons to help Newton on offense such as TE's Hunter Henry and Jonnu Smith, and WR's Nelson Agholor and Kendrick Bourne. They are also upgrading their defense by adding  DB Jalen Mills, LB Mathew Judon, and others. They are also targeting RB Leonard Fournette.
The Patriots missed the playoffs last season with Tom Brady leaving for Tampa Bay and the Buffalo Bills winning the AFC East for the first time since 1995. However, with all these new assets they are becoming a real threat to reclaim their throne. Most of the players they signed had big impacts on their previous teams, so they most likely will do the same in New England. With these new weapons in New England hopefully Newton will get back to his 2015 MVP self.
Another team making big moves is the Washington Football Team. Washington's biggest needs going into this year's free agency were easily QB and offensive weapons, plus a little help in the secondary to limit giving up big plays. Washington ranked in the top ten in most cap space as free agency began, so they have the money to get it all done.
On each of the first three days of free agency, the Washington Football Team acquired a new asset. They started off by going after their biggest problem by signing veteran QB Ryan Fitzpatrick, who agreed to a one-year $10 million deal. He is favored to start, but will face competition from Taylor Heineke, who put on a stunning performance against the Bucs in last year's wild-card game.
They also grabbed the number one ranked CB, the Bengals' William Jackson, who agreed to a three-year $42 million deal. Last season, they lacked in their secondary, giving up 16 plays of 20 or more yards in just the first four games, the addition of Jackson will hopefully help limit that. Finally, speedster WR Curtis Samuel switched over from the Carolina Panthers on a three-year $35.5 million contract.
Although Washington won their division and made it to the playoffs last year, it was in an ugly fashion with a 7-9 record. Their offense just wasn't getting the job done because they had no solid QB. Their defensive front, on the other hand, was one of the best in the league with the new addition of eventual Defensive Rookie of the Year, Chase Young in the 2020 draft. However, with the addition of another offensive weapon to take some of the pressure off Terry McLaurin, a QB that can really launch the ball downfield and mentor young QBs, along with a lock down CB, they are looking very dangerous heading into the 2021 season.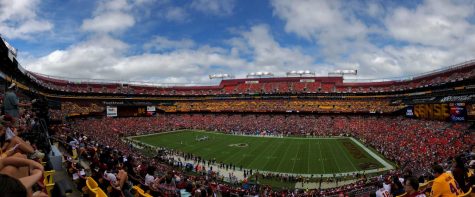 No other team has signed quite as many players as the Patriots, but there are some major stars being taken off the board early on.
Arguably the biggest signing so far is the Dallas Cowboys re-signing QB Dak Prescott. Dallas franchise-tagged Prescott last year due to them not being able to reach a long-term agreement. Many people thought Prescott was going to leave Dallas because, yet again, he and the team were struggling to decide on a contract. At one point Prescott even followed the Cowboys' rival, The Washington Football Team's Instagram page, a treasonous act for fans of America's Team and a sign that Dak was headed for the door.
Last year Prescott was on his way to an MVP season when tragedy struck in Week 5, with Prescott breaking his ankle, which kept him out for the rest of the season. He had thrown for 1,856 yards in less than 5 games while the Cowboys' various remaining QBs would only put up  2,305 in the remaining 11 contests.
Dallas eventually got Prescott to sign a contract for four years, worth up to $160 million with $126 million guaranteed. Granted, the Cowboys missed the playoffs last year but as long as their offensive line can stay healthy, they have the potential to become big threats in the NFC.
Other notable signings so far include Tampa Bay franchise tagging WR Chris Godwin, re-signing LB Shaquill Barrett and TE Rob Gronkowski, along with extending QB Tom Brady.
The New York Giants re-signed DL Leonard Williams, acquired WR Kenny Golladay, and TE Kyle Rudolph. Pittsburgh re-signed fan favorite Juju Smith-Schuster on a cost-efficient contract. Chicago franchise-tagged WR Allen Robinson, controversially denying him of the long-term agreement that experts say he's earned.
Green Bay re-signed RB Aaron Jones, giving them another chance to reload and make a Super Bowl run in what might be one of Aaron Rodgers' last seasons. Buffalo picked up the much-maligned QB Mitchell Trubisky, and the New York Jets agreed to terms with WR Corey Davis.
All in all, the 2021 free agency has been crazy and it has only been a couple of days. However, it is almost a guarantee that the craziness will continue with big names such as Melvin Ingram,  Jadeveon Clowney, and Richard Sherman still up for grabs. This year, "March Madness" doesn't just apply to college basketball.