Tackling a New Season
2019 State Champions Refuse to Take Anything for Granted
In 2019, the Albemarle Girls' Soccer team won a state championship. In 2020, they were looking to defend that title. Unfortunately, COVID had other ideas.
Now, a year later, they're determined to leave it all out on the field and appreciate all the little things they've missed in these uncertain times.
"We were very fortunate to end 2019 as 5A state champs," head coach Amy Sherrill said. "That team was relentless until the final whistle. Thankfully, we have 12 girls on the 2021 team that competed and contributed to that season. We would love to compete in states this year, but we will not take for granted the little things: practices and the games that come before post-season play.
As we start this year, we added solid pieces to our team and I am looking forward to building on the success we have established in the past."
Having their previous season taken away means the players are just all the more hungry to get back out there.
"Coming back this year, we have had many challenges," senior goalkeeper Jaya Daniel said. "Our team has a lot of underclassmen so we have a lot of learning and building to do, but with that comes a lot of potential. We know how it feels to have our season taken away from us so we know to not take anything for granted and just cherish every moment we have this season."
Daniel, a Christopher Newport commit, was the backbone of the Patriots' lockdown defense of 15 shutouts which led to a 20-1-1 record in 2019, including a perilous penalty shootout in the state semifinals.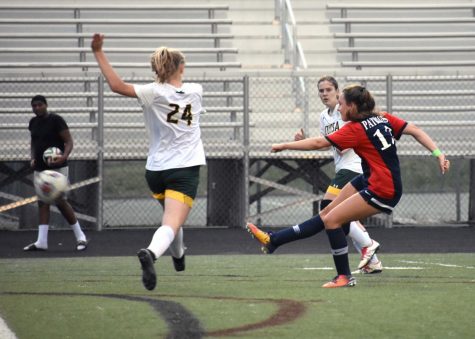 Adding leadership are the two other seniors with four years varsity experience, Emily Ward and Kora Jilions. The Patriots will be looking to Jilions for scoring help, since she had 20 goals in the 2019 season.
Setting this year apart is one very new priority – preventing the spread of COVID-19.
"Just like coming into school; prescreening questions and temp checks every day," Sherrill said. "We sanitize shared equipment and stay socially distanced when possible. We also have a few rule changes to abide by."
Some of these changes include the extension of the player and coaches' areas to maintain six feet of distance, suspension of the drop-ball restart in favor of a referee-awarded indirect free kick to whichever team is deemed to be in possession, and the stoppage of the clock during half-time to allow for the sanitation of hands, game balls, and water breaks.
"Making it through safely/healthily is the number one [goal]," Sherrill said. "We are so grateful to be back, but want to take the proper protocols to ensure we get a full season. Aside from that is to take advantage of each opportunity given."
But safety protocol isn't the only thing that's changed. Junior forward Madeline St. Amand, who was just a precocious freshman on the 2019 team, racked up 18 goals and 19 assists that season, including a pair of key scores in the state championship game. She feels that it's been very different coming back to an almost entirely new set of players.
"It's been strange, but also great coming back to a whole new team this year," St. Amand said. "When I was a freshman we had a whole different set of juniors and seniors. Last year, our season was ripped away from us so we didn't get the opportunity to play with that senior class for very long. Now, I'm one of the juniors.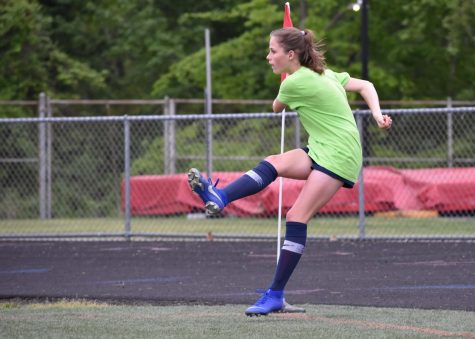 "It's all gone by so fast and I think that is what has made this year's team so different from the rest. We know what it's like to have an entire season taken away from us. An entire season of opportunities and chances. Because of that, everyone's mentality has changed. We aren't taking anything for granted this year. Our team is very determined to work hard and get as much as we can out of this shortened season and the opportunities that it provides."
Monday, they proved exactly how much they wanted to seize every opportunity this season in their opening game against Orange County High School, where they slaughtered the Hornets, 8-0.
"When your team is close and tight-knit, it translates directly onto the field," St. Amand said. "You get to know each other, you get to know how everyone plays, and you just begin to move as one unit instead of everyone doing their own thing. Our team's closeness off the field really helps us stay united and connected on the field, which leads to our success."