Arianna DeBoer Takes the Hills In Stride
Senior star looks to rewrite school record books in her final year.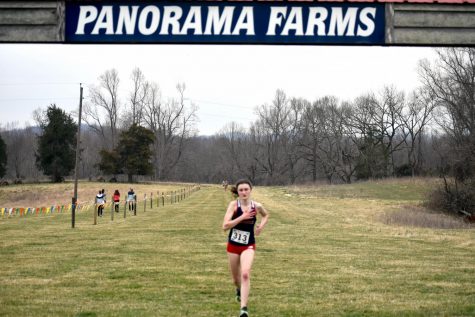 For anyone who has run cross-country over the past two decades for Albemarle, Panorama Farms holds a special place in their heart. 10 minutes from the school, yet seemingly in the middle of the countryside, the training ground for the Patriots is full of rolling hills, grass, dirt, and gravel paths, making it a runner's paradise. Rightfully so, it has earned its place as senior Arianna DeBoer's favorite place to run. 
However, the three-time state champion had to take over a year's break from Panorama as a result of a COVID-19 pandemic that, although depriving her of competition for months, managed to have a silver lining. 
"I think the quarantine period was almost good for me because I got to have extended training without meets in between, it was just workouts."
She did, however, get to do a few time trials that, although they weren't personal records, still proved that her training was going well. 
Restrictions lifted in the fall, when athletes could compete in unattached meets in lieu of a traditional cross-country season. This led to a culmination of her quarantine training, which came in the form of a PR in the 5K at Pole Green Park, a course known for quick times. 
"It was fun to be able to test my fitness and see my 5K times go down, since normally we don't run on that fast of a course. It was also nice to race against people that I wouldn't normally race against if I were competing with Albemarle."
DeBoer is already in rarefied air when it comes to the Albemarle record books, having run times of 11:01 in the 3200 meters, 5:09 in the mile, and 18:08 in the 5K. 
For those that are uninitiated in the world of track, these times are top notch. In fact, for this past indoor season, her 3200 time was the fourth best in Virginia and the 42nd best in the country.
However, she has her sights set even higher. Former Patriot and current Ole Miss Rebel Ryann Helmers ('18) holds school records in the 1600 and 3200, at a lofty 4:56 and 10:39. 
At a glance, these targets may seem out of reach, but there's two important things to remember. 
First, times on an outdoor track are typically faster than those indoors, since on indoor turns are tighter and more momentum is lost. Secondly, DeBoer hasn't had an outdoor track season in over two years, meaning that she's raring to go.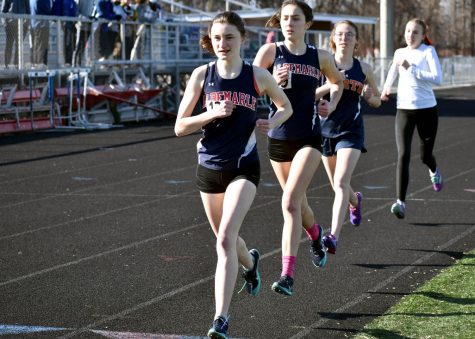 "Anything could happen this season. I think my fitness is a lot better than it has been in the past, and I'm looking forward to trying to get closer to [Helmers's] times. I do want to break 11:00, I think that's my main goal right now, especially since cross-country is over and I won't get another shot at the 5K."
With a senior year championship in each of the first two seasons under her belt, she'll look to complete the triple crown in the spring. With success, however, comes pressure. To cope with this, she works in some mental deception. 
"Sometimes that [pressure] makes it harder for me to race. When I race in [big meets], I have to go in telling myself that I'm the underdog."
She hasn't always had to trick herself into thinking that. She was a projected 12 seconds back in the 2020 indoor State 3200.
"It was a race that going into, I didn't really think that I'd be able to win, but I really surprised myself. I don't think I've tried harder in a race than that… I was so tired at the end." 
Coming into the meet, Maury's Maeve Stiles was the heavy favorite, having beaten DeBoer by over a minute in the 5K in the fall. As the race wore on, though, DeBoer hung onto the future Penn Quaker, weaving around lapped competitors on the tight green and yellow lanes of the notoriously difficult to navigate Boo Williams Sportsplex. 
After staying behind Stiles the whole race and closing the last lap in near 30 seconds, DeBoer made it into the home straight and summoned one final push towards the finish line. 
"I just said to myself 'Keep going, keep going'." 
Arms pumping and the crowd's noise raised to a deafening height, she burst across the line, edging Stiles by a razor-thin margin of two one-thousandths of a second to capture her first state title. 
"I looked up on the board and saw my name ahead of hers, but at first we didn't know who had won, so there was a lot of anticipation. After, it was just this feeling of joy that I had not expected at all… there's no other feeling like that."
She repeated this feat in 2021, garnering her second consecutive 3200 state crown after dropping a dominant 70 second last 400 meters to close the race. In an unorthodox transition, she moved to cross-country after the indoor season, ready to chase a championship on the grass.
Typically, the Class 5 State meet occurs in November at Great Meadows, a relatively fast course that runners can expect to PR on during a good day. 
For 2021, however, it was held in April at Oatlands, a course in Leesburg known for its killer hills that, after a fast opening downhill section, stops competitors in their tracks. 
We're not talking about your normal incline here, some run-of-the-mill bump in the road. No, these hills have names, highlighted by "Big Bertha," a seemingly endless mountain that's been quite literally soaked in blood, sweat, and tears. 
For DeBoer, however, it was nothing out of the ordinary. 
"It is a harder course, and I think that really helped us. We're a team that does a lot of hills, with both training on hills and racing on hills. Our main competition, Deep Run and Midlothian, both of them do a lot of flat courses, so I knew that being at Oatlands was going to help us." 
Due to COVID restrictions, she had competed solely on local, slower courses, as opposed to the flatter, faster ones that are found in the Richmond area. This left her with only the fifth fastest time overall heading into the State meet. 
However, she had the power of Panorama and its hills behind her. Forget "Big Bertha," DeBoer had conquered "Cardiac" and "Heartbreak" hills back in Earlysville. She would be prepared for whatever Oatlands had to throw at her. 
With her underdog mentality ready to go, DeBoer had her work cut out for herself as she faced off against Midlothian's Caroline Bowe, a fellow state champion who's PR was around 30 seconds better than hers. However, an unexpected challenger appeared.
"There was this girl in front who I'd never heard of… I kept expecting her to get tired and go slower, but she didn't, and it wasn't until a half a mile until the race ended that I was able to catch up with her and then I was finally able to pass her right at the end." 
Having already dropped Bowe, the unfamiliar face (who turned out to be Mills Godwin's Landin Bostian) was also left behind as DeBoer motored away in the final quarter mile. Even though her battle was over, the war was still raging on for her teammates.
Although she was worn out from becoming Albemarle's third-ever individual female state champion, DeBoer anxiously watched her fellow Patriots stream across the finish line in an attempt to capture their first State team title in school history.
"I started to see my teammates come in, and it was looking good, but I wasn't sure, so it really was fun when we found out we won." 
Fun it was, as the Albemarle girls won by six points and got to bring home plenty of hardware for the trophy cases back on Hydraulic Road. 
Exhibiting her trademark modesty, DeBoer downplayed her first place finish. 
"They way they do the scores in cross-country, it's the scores of the top five combined, so the top runner doesn't really make much of a difference." 
Her track coach, Chris Alba-Cantone, says that it's this humility that gives her an edge.
"You wouldn't know that she's a state champion by the way that she walks, by the way that she talks, even by the way she runs workouts. The only way that you really know is either by looking at a results sheet or seeing her right on the line."
With her success on the track, college coaches came calling. After taking some time to decide, DeBoer committed to William and Mary this past fall. 
A self-described "math girl" who plans on majoring in either statistics or chemistry, DeBoer prioritizes the educational side of college just as much as the athletic part. "I knew I was looking for a school that has good academics, since as much as I love running, I really am going to college to learn." 
In addition to W&M, DeBoer talked consistently with coaches at Virginia Tech and Davidson, as well as some chatter with Duke and UVA. However, her heart was set on Williamsburg. 
'It's a great academic school, I talked with the coach, I liked what the team looked like, and it's close to home, plus it's a state school, so it's definitely affordable." 
Since she tends to lean towards the longer distances, DeBoer says she's excited to have a chance to run some events that are contested on the collegiate circuit, specifically the 6K for cross-country and the 10K on the track. 
Alba-Cantone thinks that she has the perfect skill set for a successful transition to the next level.
"Running in college is difficult, and it threatens to eat you alive sometimes, but what I know about Arianna is that she's always a person before she's a runner. She's Arianna who runs, not the Runner Arianna, and I think that's a really important distinction for someone like her."
While excited about the new challenges in college, DeBoer will miss the camaraderie of her fellow Patriots the most. 
"We've had such a great team over all four years, and I'll miss running with these girls. I know that I'll find a new awesome team at William and Mary, but it will be really sad to leave behind the people that I've run with for so long." 
With only the outdoor track season left to go, DeBoer has graduated from the long grass and soft trails of Panorama Farms as a high schooler. However, the 2023 NCAA Cross Country Championships are being held at her old stomping grounds, so maybe there's a chance that she'll return to where it all began.