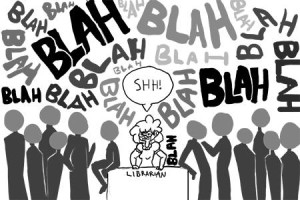 October 10, 2013
Noise in the library is always a problem, but with the new updates more people seem to be coming into the library during long lunch and before school. The Revolution would like to remind students that some people are in there to work and need a quiet environment to do so. Try and save the socializing...
Bailey Bush, Online Editor

October 10, 2013
Unless you're new to Albemarle, or just unobservant, you've probably noticed the changes in the library. From new furniture to a whole new room known as the Writing Center, the amount of money spent on this project was a whopping $75,000.             The "modern" changes are part of a county-wide program ca...