The Actively Dull Life of a Sea Lion
February 17, 2015
The amount of sea lions that are here is almost absurd.
New Zealand sea lions (Phocarctos hookeri) are only found in New Zealand. They are one of the rarest species of sea lion in the world and arguably the most threatened, because of their declining numbers and restricted breeding range.
The Maori people refer to them as the "whakahao."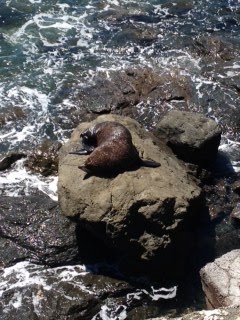 The sea lions live along the coast of the south island. They are adorably lazy, and basically just crowd around the rocky coasts and sun bathe all day long, occasionally stepping in the water to cool off.
If only I could be as lazy as a sea lion; the only thing to worry about is how to get from the rock to the water because its too hot.
The New Zealand sea lions are everywhere along the coastline, but there is a colony of them off of the West Coast that are particularly interesting.
The sea lion mothers in this colony swim in the ocean for long periods of time to eat lots of fish in order to produce milk for her pup.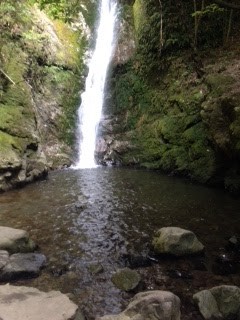 While their mothers are gone, the newly born sea lions make their way up a stream to a waterfall and play around in the water.
I hiked up to the waterfall to check it out, and was lucky enough to see one of the babies.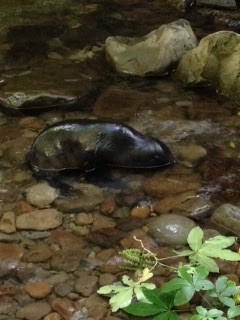 The baby sea swam around the pool of water a couple of times, twirling and diving through the base of the waterfall. He then began his decent back down towards the ocean.
I don't quite understand how the babies knew this waterfall exists, and to swim up to it while their moms are gone, but it's cool to see this mini-migration occur annually.
The pups are born in December and start swimming to the waterfall in April, their adventure to the waterfall and back builds their strength and social bonds with the other pups. As many as 200 pups swim up the stream at one time.
Fun fact: When sea lions are eating fish or squid, they appear to be "playing" with their food, but actually, they are flipping the food around so that it is swallowed head first.