There's No Place For Methane Here
March 25, 2015
This falls under the same category as "Capturing the Arts of the Damaged," going along with the whole idea of having beautiful pieces of art thrown into a town with massive amounts of destruction. (If you haven't read that blog post yet, I highly suggest it).
The Pike River Mine disaster was a coal mining accident in November 2010 at the Pike River Mine, northeast of Greymouth, on the West Coast of the South Island.
A methane explosion occurred in the mine. At the time of the explosion, 31 miners and contractors were present. The 16 miners and 13 contractors, often referred to as the twenty-nine, were believed to be at least 4,900 feet from the mine's entrance.
This was an extremely big death count for the New Zealand community before the earthquake in Christchurch.
The explosion was caused by Methane that may have accumulated in a void formed during earlier mining activities, then been expelled into the rest of the mine by a roof fall. They don't know what sparked the explosion, but there were several possible ignition sources due to it being an active mining site.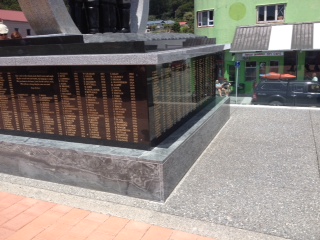 Greymouth City memorialized this disaster next to the Pike River, including all of the victim's names, and the victim's names of other mining incidents within that district. 
The city of Greymouth, and various other mining cities in this region put up memorials like this one so that the people in the community can remember the sacrifices those men made.
The memorial, titled In Memory Of Those Lost In Coal Mining Incidents Within The West Coast Inspection District was revealed by Mayor Tony Kokshoorn on January 19, 2013. It was also blessed by Father John Morrison, Archdeacon Robin Kingston, and Reverend Mere Wallace.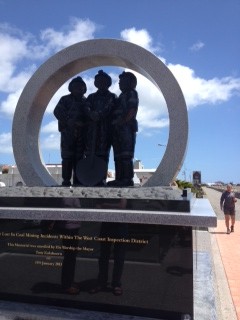 Atop of the list of names, a beautiful statue of three miners standing together against the tragedy below their feet.
In the typical Kiwi fashion, something as tragic as the loss of these men was paired with a touching poem by Bill Riley.
It creeps up on us daily as we mine the coal below,
We can't see it, we can't smell it; but it's starting to grow.
It gains strength, collecting near the roof or on the floor,
If we choose to ignore it, it will punish us for sure.
It is deadly it is silent; it creeps nearer every second,
It's gathering up its forces, nearly ready now, if beckoned.
Now it's all around us, but we can't feel a thing,
If it's not detected soon, disaster it will bring.
The deputy was called for, and he brought his silver lamp,
He quickly took a sample and found deadly firedamp.
"Get some brattice cloth erected; right across the gate".
"We must dilute this menace, or I know what is our fate".
The work was carried out, brattice spread from side to side,
Forcing fresh air up, directed, where the enemy did hide.
The gas was soon dispersed as it mingled with the air,
The danger now is over, there's no place for methane here.
Now that we are safe again, we think of bad times past,
Of the men who lost their lives when the methane grew too fast.
A single spark was all it took to release its mighty force,
It took with it each fragile life, which passed along its course.
All coal-mining areas have endured their share of grief,
They have suffered with explosions, lives taken by this thief.
To defeat the coal mine menace you must treat it with respect,
Be alert; be on guard, it only wins when there's neglect.
Keep the fresh air flowing, keep it mingling with all gases,
Then each day we will return to our wives and to our lasses.
That is why such a common disaster can be made extraordinarily personal and worth writing about, with the power of a poem and the power of names.