Road To Recovery
May 17, 2022
"I came out of the surgery singing." 
As soon as Bruno regained consciousness the words of the hymn "My God is an awesome God(he reigns)" were on her lips.  
Her voice was scratchy, her throat dry, but she could sing. She was alive and could sing, talk, and read.
The surgery lasted seven hours. During the surgery, Bruno's surgeon Dr. Ashok Asthagiri took about three breaks to collect himself and update Bruno's parents.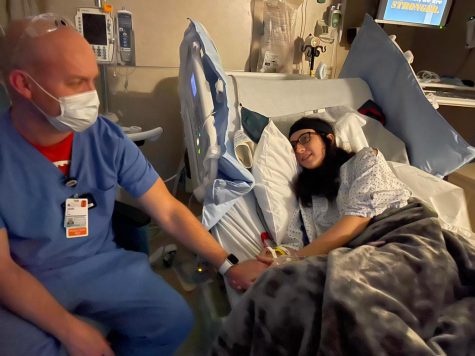 The goal was to remove the entire tumor. In theory, Bruno would be "cured" if that were to happen. However, many complications and too much risk caused Asthagiri to pull back before he was able to remove it all.  
A small sample was all that was retrieved during the surgery; however, it was enough to send to pathology in order to diagnose the tumor. 
Once sent in, the agonizing wait began to see if the tumor was cancerous and what the next steps to reducing or removing the tumor could be. Bruno and her family would not get the results until the day she returned home.
Asthagiri came to speak with Bruno about her recovery process after the procedure. Steroids would be necessary but cause weight gain, hair loss, and acne. "I know that is not what a teenage girl wants to hear," he told her. 
Bruno looked at him and said,  "I've never been happier to be fat, bald, and pimply."
"
I've never been happier to be fat, bald, and pimply"
— Ginny Bruno
Despite the small celebrations, plenty of hardships were ahead of Bruno.
She suffered a tachycardia episode in the ICU after the surgery that almost caused a heart attack. Her heart began beating much too fast and medication was required to bring it back to a normal rate.
Bruno prayed while it happened and said she did not feel pain, "I was so overwhelmed with the holy spirit."
As she entered recovery, Bruno began the laborious process of re-learning how to do things like write and walk. The biggest problem for Bruno was building stamina.
Despite being proud of her accomplishments in the hospital, Bruno could not shake her despair at having lost so many of her abilities in such a short time.
"Three weeks ago I was doing crazy moves in Kung Fu, now I'm walking with a walker," Bruno confided in her mother as she tried to stand from her hospital bed.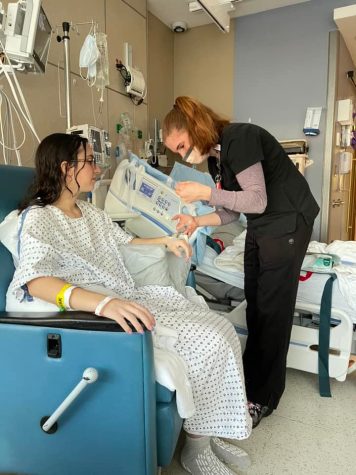 Bruno's days in the hospital looked very repetitive. "My sense of time was kind of lost," Bruno said. She was ecstatic when it was finally time for her to return home to continue recovery. 
The first shower Bruno remembers fully was right before leaving the hospital. Instead of doctors and physical therapists showering her, she got to take a shower with her mom. 
"I remember being terrified of her falling since she couldn't walk or even really stand on her own very well," Kate Bruno said.  
The hardest moment for Kate was when she helped Ginny stand to see herself in the mirror for the first time. "She was a vibrant, active 18-year-old just days prior, and now saw herself as helpless and weak. I wanted to cry with her."