The Jefferson
May 17, 2022
The Jefferson was packed with parents, peers, and jazz lovers during the Sunday evening show on March 13.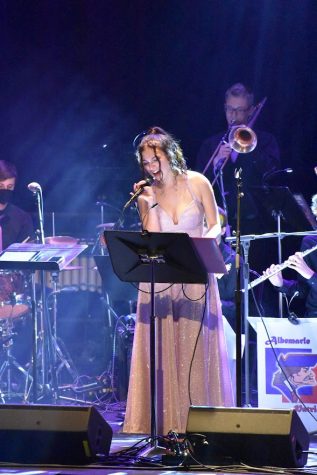 All of the proceeds from Swing into Spring go to The Haven, a local homeless shelter. By the end of this performance over $5,000 was raised to help support people in the community. 
Lines formed outside the theater to get into the concert. Inside, the lights were low and a sea of bodies bathed in colored lights from the stage were eagerly anticipating the show. Many people in the audience were there to see Bruno perform: friends, teachers, nurses, and family members alike.
On stage, the jazz band was gleaming with brass. 
Bruno was not with them.
She was below the sage in a green room that blocked out all the noise above her. 
Bruno returned to the room in between all the songs she performed in an effort to allow her brain to relax during the three-hour show.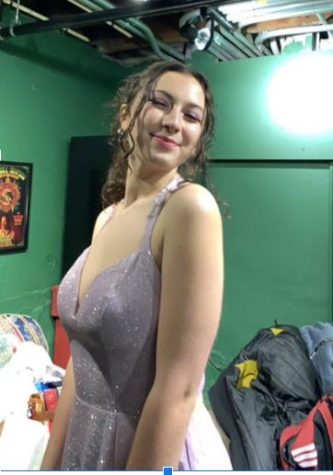 "I prayed before, during, and after the event for her to find peace and calm amidst the excitement," Kate Bruno said. She was filled with "pride and gratitude" to watch her daughter perform again, but could not shake the terror that the loud environment could trigger a medical setback.
"Ginny fought to be in this show," she said, "so all I could do was trust she knew her own body and watch her shine." 
When Bruno did grace the stage for her first song, her heels could be heard echoing throughout the theater as she strode up to the microphone.
Her dress was a shade of glittering purple, her eyes brushed in the same color. 
A song called "Green Piece" by Maria Schneider was Bruno's debut. The audience was filled with nervous energy as they awaited Bruno's first notes. 
"All of my worries melted away and I felt truly in the moment," Bruno said. "On that stage I felt free."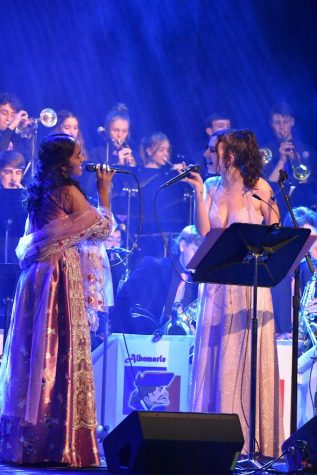 Throughout the show Bruno sang six songs, some solos and others duets with senior Renae George, her high tones complimenting George's low ones. 
Bruno sang beautifully backed up by the loud and lively jazz ensemble. Those who had been holding their breath let it out a little as, song after song, Bruno and the Band brought the house down. 
"It was an amazing feeling to have her on stage with us. The whole time she was singing I was just thinking to myself 'this is ridiculous," LaPrade said. 
The show continued smoothly the entire night as guest musicians and alumni came up to perform. The audience was entranced in the music, and before they knew it the last song was upon them. 
The entire band and all guest musicians came together on stage to perform Aint No Mountain High Enough to the close the night. A performance that earned them a standing ovation.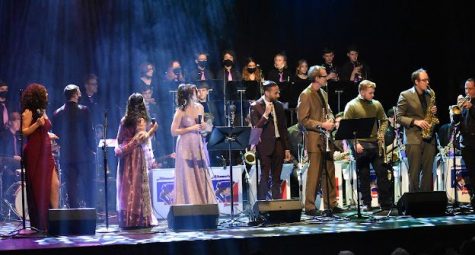 Family members and friends flooded the stage, hugging and congratulating members of the band. 
The music had filled everyone with joy, but none so much as Bruno. "I was just so thankful that God allowed me to use my gift of singing that this tumor tried to take away from me."