Lasting Legacy
31-year Athletic Director Deb Tyson retires.
Patriot Athletes dread the looming retirement of 31-year Athletic Director Deb Tyson at the end of the month.
Tyson started at AHS in 1990 and became Athletic Director in 1991. Prior to that, she worked as a collegiate volleyball coach at Eastern Carolina University, JMU, and UVA.
"Deb Tyson has left her mark on not only the athletic department at AHS but on each and every athlete and coach she has supported," tennis/lacrosse player Mindy Foster (AHS '99) said.
The first thing anyone mentions about Tyson is her presence.
Tyson can be found at pep rallies, Valentine's Day serenades, and of course cheering on the sideline. 
"She was at almost every home game and as many away games as she could get to," four-year varsity football player Trae Payne (AHS '08) said.
She showed up for all Albemarle teams no matter their record or ability, celebrating when teams did well and aching with them after tough losses.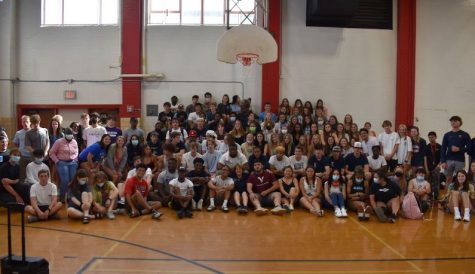 Tyson radiates positive energy and has mastered the art of pep talk. "I am proud of you no matter what you come home with after this game," Tyson told the girls varsity lacrosse team as they boarded a bus to go play Riverside in the 2022 Regional semi-finals.  "Just remember to have fun and lean on your teammates."
She gives out smiles and fist bumps, spreading her infectious energy and hyping students up before events. "She knows everyone's name, athlete or not," Swim/Cross-Country/Tennis player, sophomore Alexis Alms said. "It's as if she knows all Patriots by heart." 
Her genuine love and passion for the students she works with is what makes losing Tyson so heartbreaking for the athletic community at Albemarle.
"When I think Albemarle Athletics, I think Deb Tyson," former principal Jay Thomas said in a 2017 interview with The Revolution. 
Tyson has achieved much in her years as an athletic director, including 18 state championships, VIAA Athletic Director of the Year, State Award of Merit, Outstanding Leadership awards, and induction into the Guilford College, Central Community College, and Virginia High School Halls of Fame.
"
When I think Albemarle Athletics, I think Deb Tyson
— Jay Thomas
Tyson's involvement does not halt in traditional sports. She is an avid supporter of Albemarle's non-athletic competitions, such as the scholastic bowl and marching band. 
Band Member junior Laura Post feels that Tyson is a huge part of their program and appreciates how she is always willing to advocate for the band. "We are so thankful for what she has done for us."
"I have always felt like she truly cared about every one of the students," volleyball/scholastic bowl member junior Weining Ding added.
Part of caring for student-athletes has been promoting equal opportunity during her time at Albemarle. 
Tyson is a strong advocate for women's involvement in sports and Title IX. As a woman, she took it upon herself to make space for women at Albemarle to be valued in the athletic community.
Daisy Stevens Rojas ('09), remembers Tyson standing up for girls in PE when they wanted to join the boys in learning to wrestle instead of playing badminton. "We had a great time learning how to compete and feeling empowered as women," Rojas said.
"Deb has always had the students' best interest at heart," head volleyball coach Lance Rogers said. "That goes for both their athletic opportunity and education."
"
Deb wrapped her supportive arms around me, giving me the tough love I needed to make sure I kept my head on straight.
— Robbie Taylor
"Student-Athlete," Tyson drills into all her players, "Student first."
Athletes are required to attend classes and maintain passing grades to play on the field, an important value that has uplifted the Albemarle community and supported relationships between sports and schoolwork. 
Tyson believes in the abilities of the students at Albemarle and holds high standards for them.
She expects all students to be respectful and act responsibly both in school and at sporting events. She has no tolerance for tom-foolery and is not hesitant to step in and correct a student.
"I was a bit of a knucklehead in high school," golf/wrestling/baseball player Robbie Taylor ('08) admitted. "Deb wrapped her supportive arms around me, giving me the tough love I needed to make sure I kept my head on straight." 
Tyson is there to support her players beyond the field, track, or pool in any way she can.
"Ms. Tyson was always willing to talk and listen to me, no matter the time of day," junior Caroline Perkins, who plays three varsity sports, said. "She wanted to make every student athlete's experience as good as possible."
Even 20 years after they graduate, Patriots can rely on Tyson. When Foster needed help managing athletics at her child's school over the pandemic, Tyson called Foster one-on-one to offer guidance and support.
"Once a Patriot always a Patriot," is Tyson's slogan. She has held true to that statement for all her years with the school.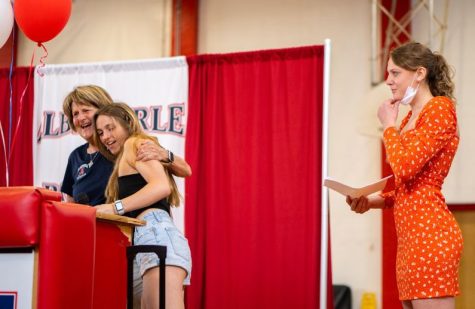 Despite her enthusiasm for the job, the position of Athletic Director is not all cheering and district titles. The role comes with dog poop, organizing bus rides, rainy day rescheduling, rivalry vandalization, puke cleanup, and so much more. 
Just this year Tyson spent an hour chasing a pigeon off the turf so the girls varsity lacrosse team could finish their game against Riverbend, a moment that had the team and everyone in the stands giggling.
"She is an expert at juggling all the pressing demands of her job," Rogers said.
Tyson's role in all the behind-the-scenes issues is what has enabled the Albemarle sports program to continue to run smoothly.  
Tyson will not only be missed as an Athletic Director but as a co-worker. 
Rogers came out of retirement for the opportunity to work with Tyson again. "She's a class act in every sense of the expression," Rogers said. "I admire her and what she's achieved in her career."
"She is one of a kind. The best AD I have ever worked for, hands down,"  rowing and cross country coach Cathy Coffman told The Daily Progress, "Though I am excited for Deb and her chance to retire, I am sad for Albemarle. To say she will be missed is an understatement."
Students and faculty honored Tyson on May 27 by surprising her with a "signing day," an honor Tyson usually hosts for seniors. 
Athletes and coaches lined the doors to the gymnasium, creating a path for Tyson to walk through.
When the doors opened the drum line loudly welcomed her into the room, providing Tyson an official entrance down the path of clapping and cheering patriots.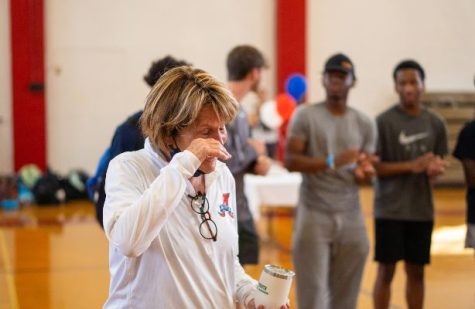 Tears welled in Tyson's eyes as she stopped to fist bump students and pose for selfies. 
The surprise was apparent on her face as she clutched her chest, amazed at the show of support for her, the same love and support Tyson has been offering Albemarle athletes for more than thirty years. 
"Good ADs are hard to come by; great ADs are gold," Foster said.
Tyson's departure leaves a legacy that sets the gold standard for Albemarle Athletics.
Trevor Przyuski and Eavan Driscoll