Mission For Mental Health
Albemarle Juniors start a club to offer support to students struggling with mental health after the pandemic casued a deprssion crisis for teenagers.
Anxiety and depression have become a major part of the everyday lives of teens. According to new CDC data, more than a third (37%) of high school students reported they experienced poor mental health during the COVID-19 pandemic, and 44% reported they persistently felt sad or hopeless during the past year.
"The pandemic really kind of was like a tipping point because this is when isolation and stuff like that began," freshman Dena Mahammed Ali said.
When Covid-19 closed the schools, lots of students' mental health dropped. Teens became stressed with school, work, and the unknown. Isolation was driven by not being around people for a very long time and students couldn't connect with their friends or new people.
The CDC did find that, "a sense of being cared for, supported, and belonging at school — called 'school connectedness' — had an important effect on students during a time of severe disruption.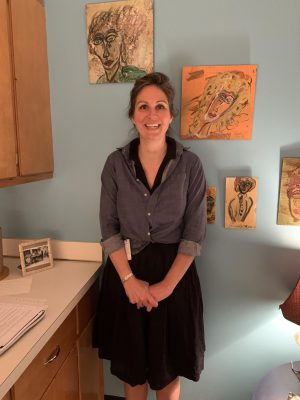 Youth who felt connected to adults and peers at school were significantly less likely than those who did not to report persistent feelings of sadness or hopelessness (35% vs. 53%); that they seriously considered attempting suicide (14% vs. 26%); or attempted suicide (6% vs. 12%). However, fewer than half (47%) of youth reported feeling close to people at school during the pandemic.
In an effort to combat this mental health crisis, AHS has a new social and emotional counselor Summer Puopolo. "I would say that my main goal is connecting with people and connecting people [to others]," she said. "She's really helpful and she kind of comes up with things that are more cognitive, behavioral, in style," Mohammed Ali said.
However, even before the pandemic, high school students with persistent feelings of sadness or hopelessness increased 40% between 2009-2019, according to the CDC.
Junior Justin Magsipoc described his struggle as, "the feeling of hopelessness or comparison. Going into other classes and seeing people that are doing so fine and so well. That discourages you and makes you think,  'Why aren't I like that?'" Teens often feel discouraged when seeing other students excel or succeed while they're struggling. They don't understand where they went wrong or how to fix themself.
"I think a lot of times people are judging themselves very harshly and then they assume that everyone else is judging them that harshly, and that also keeps them very distant from other people," Puopolo said. "That can cause a lot of damage."
"I think about those issues of judging yourself and of how uncomfortable it can feel to be vulnerable. Then, how do you take that leap and do something that feels uncomfortable?" Puopolo said. She wants to encourage others to make the "uncomfortable comfortable" by seeking help.
It can be easy for students to brush off serious situations. Some students don't want their parents to know about their mental health struggles or don't want them to know that they've been seeking help. While there are some things counselors are required by law to report (self harm, harming others), most conversations between students and counselors are confidential.
"There are certainly times when it's really important that someone feels safe and that they can share whatever they need to share without having it come back and become a conversation with parents," Puopolo said. "If someone is struggling to talk to their parents about something, that is certainly something I can help with."
While asking for help can be frightening for students, reaching out is the most important thing they can do to help themselves or peers.
"If it's bigger than teenagers can handle, get help from a trusted person. We often think of 'reach out to your school counselor' but not everybody has a connection with their school counselor," Puopolo said.
"Find somebody that you feel comfortable with. Maybe it's a parent, maybe it's an older sibling. Get a check on the situation. I think sometimes kids are afraid of bringing more people in and sometimes that's what it takes to keep somebody safe."
It's definitely harder for students to socialize their struggles because they are scared of being judged or they're scared of connecting with others. In order to make getting help less scary, three students have created a Mental Health Club.
Juniors Emma Niehaus, Madeline Colavincenzo and Marissa Trader are hoping their club can help de-stigmatize mental health issues; "get it more talked about and less of a scary conversation," Trader said.
The club began during an evening of board games when the girls discussed the difficulties of dealing with mental health in high school.
"We want to make Albemarle a safe place for people struggling with mental health issues," Niehaus said.
On April 21 the group gave a presentation at the monthly faculty meeting. "Hopefully that will improve some things. We just want to make it known that there's a safe place at Albemarle," Niehaus said.
Besides presenting to the faculty, the group wants to expand mental health resources available to students. "We know that sometimes it's difficult for the LGBTQ+ community to find people that they want to work with or people of color," Niehaus said.  "A lot of times it's more of a specific group that's harder to find resources for."
Getting help for your mental health is a necessity; not only will it benefit you, but it also benefits others who might be struggling to take initiative on their mental health too.
"If it's bigger than teenagers can handle, get help from a trusted person. We often think of 'reach out to your school counselor' but not everybody has a connection with their school counselor," Puopolo said.
"Find somebody that you feel comfortable with. Maybe it's a parent, maybe it's an older sibling. Get a check on the situation. I think sometimes kids are afraid of bringing more people in and sometimes that's what it takes to keep somebody safe."
Leave a Comment