Revolution Staff Tries Weird Holiday Candy
To close out the last week of school before winter break, The Revolution staff tried interesting takes on seasonal snacks, from bacon candy canes to gingerbread Kitkats. Here are our reviews…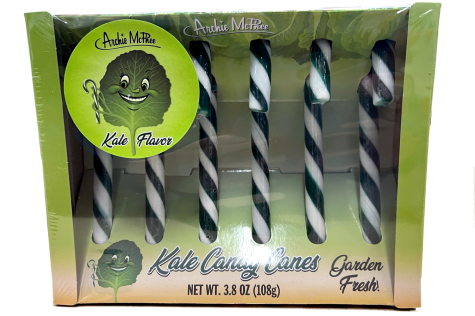 First up were kale-flavored candy canes. Did they actually taste like kale?
Jeremy White: Smells like grass and does not taste much better, 3/10.
Mira Keshap & Riley Farmer: Disgusting, -10/10,  tastes like weed killer.
Gracie Bitrick: I don't mind the taste I just wouldn't keep eating it. I don't taste anything until the aftertaste hits. My breath smells like grass which I don't appreciate, 3/10.
Mackenzie Schultheis:  Smells absolutely terrible.  Very acidic and leaves a lingering aftertaste, 1/10.
Kenzie Nachtrieb: No.
Hunter Cooper: Not a super distinct smell, but a very interesting taste. I can't quite tell if it tastes like grass or a bad apple. Horrendous aftertaste, 2/10.
Anna Zheng: Smells like a medicine cabinet. Very strong aftertaste — kind of like dirt. Better than I expected, but not great. I'm gonna finish it, but I'm not gonna like it, 2.5/10.
Eavan Driscoll: This candy cane smells like grass and roasted vegetables with a hint of sour milk. It looks pretty normal but tastes like old grass clippings with an aftertaste of wet clay. Overall, sickening, 0/10.
Harry Yung: Tastes like what a stick would taste like if you licked it, maybe a stick coated in old apple pie, 1/10.
Eric Theobald: 8/10, yet it does taste like grass.
Eva Fulmer: It doesn't even taste like kale. Someone tried to make the worst possible candy cane flavor and called it kale flavored as a joke. 1/10.
TeLea Johnson: Smells disgusting; tastes like grass and chemicals. The aftertaste is even worse.
Carlota Escorza Macho: Never in my life am I gonna eat it again. -10/10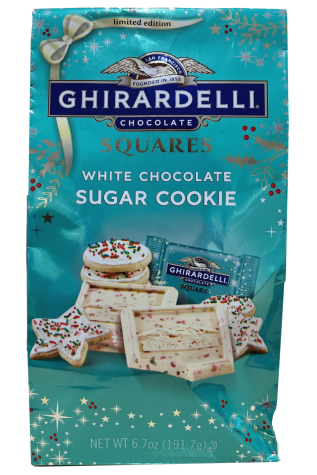 Next, we tried Ghirardelli White Chocolate Sugar Cookie Squares.
Anna: Smells like those super delicious but nasty sugar cookies at Target. White chocolate is overrated, but it's still pretty good, 7/10.
TeLea: Taste like those animal cookies with the frosting.
Mira & Riley: Smells like a cookie. Just tastes like crunchy white chocolate, 5/10.
Hunter: Tastes really nice. I'm not a big white chocolate fan, but the sugar cookie flavor is incredible, 9/10.
Harry: Really sweet, and tastes like the store-bought frosted cookies.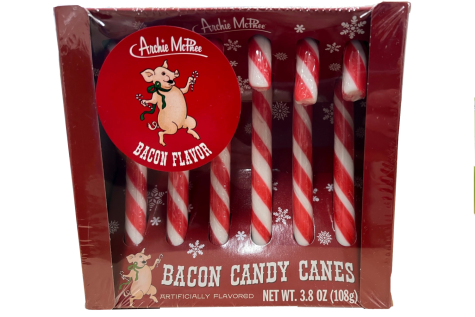 They look like normal candy canes, but watch out — they're bacon flavored.
Cohen Davis: It tastes like wet uncooked bacon.
Mira & Riley: Meaty, 0/10, kinda smells good.
Carlota: Smells like dog candy. I hate this one; I would never eat it again. 1/10.
Hunter: Weird smell, awful taste at first, like spoiled meat, but after a while, it starts to taste a little like coffee, 3.5/10.
Gracie: Tastes almost nothing like bacon, more of a toffee/caramel taste somehow. Definitely smells like old bacon, though. Gives me a headache, good luck finishing this, 2/10.
Eavan: Smells faintly of meat, not bacon, more like roadkill. It looks deceivingly like a cherry or strawberry-flavored cane but tastes like sour coffee. The aftertaste is really bad..kind of like old turkey, 1/10.
Eric: The smell reminded me of dog treats which threw me off; yet, once I tasted it, it tasted like coffee. Mocha especially, 4/10. It does not taste like bacon.
Anna: Kind of meaty smell. Tastes like coffee and the smoky taste comes and goes. The aftertaste is a mix of sugar and meat. Not even bad, y'all are dramatic. Maybe something is wrong with me, 4/10.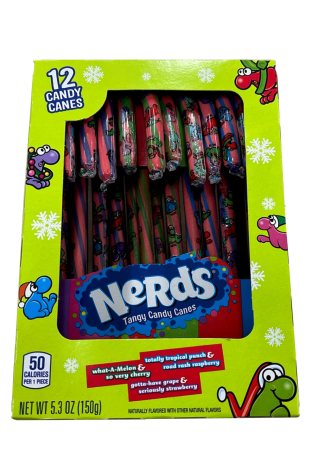 Nerds flavored candy canes. Here's what we thought:
Mackenzie: This candy cane has a strong taste of watermelon.  It's tangy, but a little too sweet.  It doesn't remind me of Nerds, except for the fact that it has a fruity flavor,  5/10.
Gracie: Overwhelmingly sweet and underwhelmingly tasteful, 4/10.
Eva: They kind of taste like nothing, 5/10.
Riley: Wouldn't eat it again. It's very sweet and tastes like Welches fruit snacks, 2/10.
Harry: It's sweet, a bit tangy and slightly tastes like bubblegum. I taste a bit of watermelon too, 6/10.
Anna: Vaguely Nerds-y. Mediocre. Tastes like a tutti frutti jellybean, 5/10.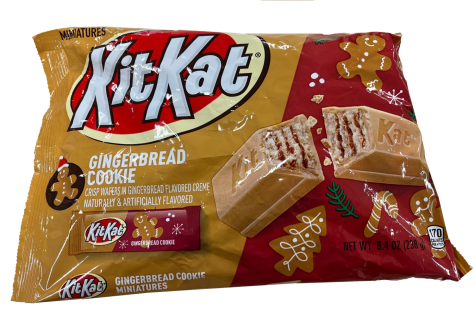 Gingerbread Cookie KitKats:
Anna: Definitely tastes like gingerbread and some other spice, but it's a little much. Makes my nose hurt like I just walked into Bath & Body Works for 0.01 seconds. Forgettable. As in I want to forget it. 3/10
Mira & Riley: Smells pungent, tastes like sweet dirt, 5/10.
Mackenzie: Very strong maple smell.  I'm not a huge fan of gingerbread, but it's not terrible, 5/10.
Kenzie: I am in love.
Gracie: I think this candy single handedly brought back my sense of smell entirely. The first whiff is overwhelmingly gingerbread… like a gingerbread house got demolished inside my nose. The taste is fine, I'm not a fan of gingerbread, but the KitKat part is OK. I'm inches away from death, 5/10.
Harry: Amazing, makes me feel good inside, 9/10.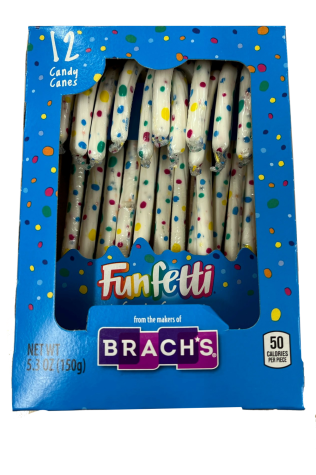 Funfetti candy canes:
Eavan: Immediate sugar blast. It smells like Peeps marshmallows and tastes like cupcakes and icing. The sweetness kind of punches you in the taste buds. The flavor is overwhelming, 5/10.
Hunter: Overwhelming smell of birthday cake, lots of sugar right when you put it in your mouth. Not a great aftertaste, but still pretty good, 7.5/10.
Carlota: Tastes too sweet for me. I don't like it; I would never eat it again.
Eva: It does taste like cake, but candy canes should not taste like cake, 3/10.
Kenzie: On a scale of terrible to amazing, it's definitely decent, 5.7/10.
Mira: Tastes exactly like frosting, 1/10.
Anna: Smells like a marshmallow. Looks like frozen ranch. Sweet, does kind of taste like birthday cake. Not as good as it sounds. I could have a bite, but any more is sickening, 4/10.
Eric: Reminds me of Dippin' Dots cake flavor. Overall it isn't that bad, 6.75/10.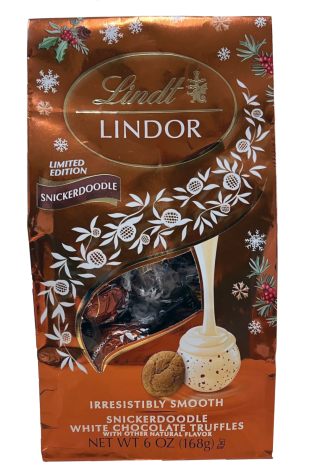 Last, we rounded it out with Lindt Lindor Snickerdoodle Truffles:
Mackenzie:  Slight sweet smell, not too strong of a cinnamon taste.  It's sweet and reminds me of a snickerdoodle,  9/10.
Eva: Does not taste like a snickerdoodle, but it's very good. Would be better if it was milk chocolate, 7/10.
Anna: Smells uncannily similar to gingerbread house icing that's been sitting out for a day. Not into the smell, but the taste is good. Not as rich as I expected, just a lil-cinnamon, 8/10.
Gracie: Doesn't smell like snickerdoodle in the slightest. Tastes like your average white chocolate Lindt with a hint of cinnamon spice. Still not a fan of white chocolate, but this was a good last hoorah before I slip into a sugar-induced coma, 7/10.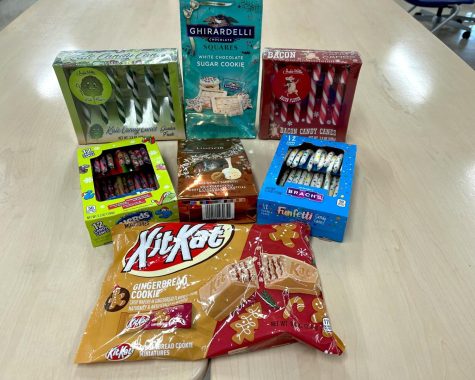 Final Thoughts:
Anna: None of these should exist. All of these are crimes against nature. I'm gonna take a nap after this. Might go into a coma. I hope Santa's sleigh runs this business into the ground.
Gracie: These should go on an America's Most Wanted list but in a bad way. Like, Netflix should make a true crime documentary about these candies. I will never eat any of these again, but if I were forced to I would choose the Nerds candy cane.
Eavan: Why? No one asked for these. Candy Canes should be strictly peppermint and KitKat needs to stick with what they know. While all chocolate is good, these flavors were far too sweet. It all tasted like if Christmas was violently ill with a stomach ache.
Hunter: Whoever makes these special candy canes: I hope your business fails, and your kids business, and so on and so forth. They were a disgrace to us all and the fact that someone makes a living off of them is the biggest sign that capitalism has failed.
The KitKats, Ghiradelli squares, Nerds candy canes, Funfetti candy canes and Lindt truffles were all purchased at local Kroger and Target stores. The kale and bacon candy canes were purchased online from Archie McPhee. All product photos taken by L. Reaser.