The Face Behind the Photos
Bus driver Anton Largiader stays after hours to take pictures of AHS sports teams
Twenty minutes passed without any sign of the school bus as Anton Largiader waited with his daughter in their driveway. As time ticked away without any communication from the school, Largiader felt compelled to do something. 
"I knew they needed drivers," he said. " and I thought, 'I can do that.'" 
Largiader first began training to drive school buses in late September of 2020. By December, he had completed all of his requirements. 
Despite being considered a substitute, ACPS was so short on drivers that Largiader was given a regular morning route before heading to his everyday job as a mechanic. 
Largiader has an independent BMW motorcycle repair shop near Monticello High School that has been in business for over 18 years. This job gives Largiader more flexibility in his schedule. "My least productive time is morning, so I never gave much up by taking a morning route," Largiader said.  
Later on he got involved in driving activity trips because he realized he had extra time on his hands. He has continued to drive for sports teams across the county ever since. 
His first sports trip was just about a year ago for wrestling. He recently returned to that location with the wrestling team for a match this year. "It was like marking the anniversary and that was awesome," Largiader said. 
Largiader is a regular driver with Albemarle tennis, lacrosse, and baseball in the spring season. To pass the time while the athletes are playing, he started photographing the games.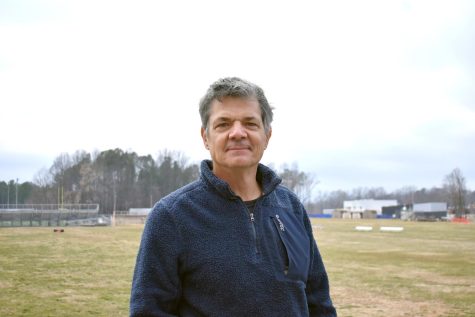 Largiader's interest in photography began in 2010 when he and his wife got their first DSLR camera. The two decided to do a photo-a-year project where they take one photo every day for 365 days. Largiader said that the project "was a lot of fun" and "stretched his creativity." 
"By the end of the second week you're like 'oh my gosh, what am I going to do today? I'm out of ideas,' and that's when it gets interesting because you have to dig down deep and try something new."
After the challenge, his photography interest declined until his daughter started gymnastics and he began taking photos of her. He fell in love with sports photography and has expanded his subjects to include the teams that he drives. 
"It is action practice," Largiader said.  
Largiader goes home from most events with somewhere between 300-1200 photos. After sifting through them, he normally comes out with around 20-60 good-quality frames to post to an online photo album which he shares with the teams' coaches. 
With spring sports in full swing, Largiader is back on the field taking photos. Lacrosse, tennis, softball, soccer and track are mostly what we can expect to see from him and his photography. So far, Largiader is most excited to take photos of tennis.
"I have realized I simply love to photograph [tennis]. Good light, good visual access, powerful action, and every player is fully engaged all the time so I never have to wait for someone to get the ball." 
If you see him at any games, don't hesitate to say "hi."
More of Largiaders photos can be found at https://www.icloud.com/sharedalbum/#B0XGQOeMmG7gqRm 
Leave a Comment
About the Contributor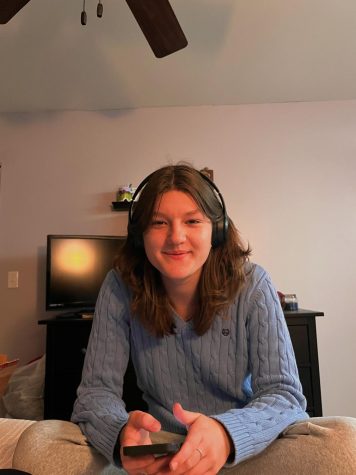 Riley Farmer, Staff Reporter
Riley (she/her) is in her junior year at AHS and spends most of her free time with friends and family. However, she thoroughly enjoys reading as well as...