School Lunches: What's Really in Them?
Ashley M Bond, Managing Editor
December 15, 2015
Hang on for a minute...we're trying to find some more stories you might like.

Despite what you may have heard, the beef in the taco bar is not made of people or horses or cats; it's actually turkey.
Freshman John Barber buys the school lunch regularly, "I love school lunch, it tastes good."
Barber has been eating the school lunch since he can remember, and the nutritional value of the food is not an issue for him, "I buy because i'm hungry."
However, Barber is concerned about certain aspects of school lunch, "the process, and if it's not real meat,"
With his concerns in mind, it was time to take a look at the inside of the kitchen and get to the truth of how the school lunches are made and what other options students have.
Food Service Manager Dean Ferguson sat down for an interview and has opened up the kitchen for all students to see. "There's nothing I wouldn't want anyone to see."
So, to put all the misconceptions and rumors to rest, the kitchen is kept clean, the food is all fresh and prepared daily, and they do not spit in our food.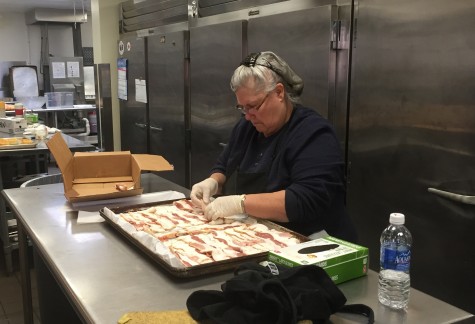 The nutritional value of the school lunches, however, is another story. "Most calories or most fat would probably be the taco bar," Ferguson said, "The pizza dipping sticks have a lot of calories and a lot of cheese."
Many students are 'calorie conscious' and may be concerned with these non-nutritional meals. A breakdown of the nutritional facts of each of the school lunches is not readily available to students. "I'm sure some of them would like to know," Ferguson said.
Hidden somewhere in the tangle of the county website is a detailed menu of the calories and fat content that you're eating each day. Once that information is revealed, Ferguson said that "It would maybe cause [students] not to eat that meal that often."
"There isn't anything I wouldn't eat," Ferguson said. But if he had the choice he would get the salad. But in reality how many students actually buy the salads? Or even know the school sells salads? They are hidden in the corner of the lunch room, when the other options, like the taco bar, and the pizza, are right in the middle.
There are other alternatives that students may not be aware of. For example, for the pasta with meatballs, "even though it says pasta with meatballs on the menu, students can get it without the meatballs." Ferguson said.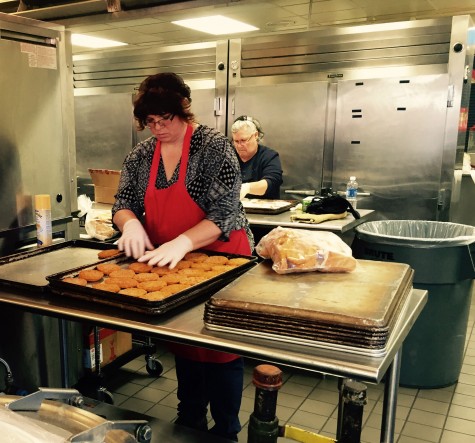 Additionally, "students can grab a wrap and the veggies off of the cold line and make their own veggie wrap," Ferguson said.
But, the weekly wraps, salads, taco bar, and pizza can get repetitive after a while. Barber said that he would like for the cafeteria to "maybe have more things," because it's "usually the same thing every week."
"[The] menu is set by the central office, it's the same for every school in the county." Ferguson said. However, if you have an idea for a new menu item, Ferguson is willing to "take it to my bosses and see what we can do, within reason."
Barber can continue to eat the school lunch without worrying about if there are gross things that could be behind it, even though "it still tastes good, so i don't care." Barber said.
There are many different options for lunch, and the lunchroom is not closed to students.  "I'm glad to do this for any students that want to come back and have a tour," Ferguson said. And that even "classes can come down."
If you have any ideas for a lunch, or want to tour the cafeteria, you can send an email to [email protected] or stop by the cafeteria between 9:30-11:00 or 2:00-3:00 on CHAT days to set up a time with him.