Students Walk Out Over Mask Policy
On Tuesday March 1, students walked out of class as a response to the new state law making wearing a mask in school optional.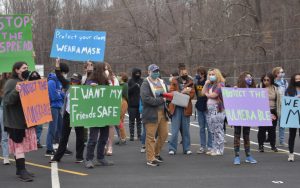 About 80 students walked out into the bus parking lot at 9:30 a.m. with signs and a loudspeaker, loudly chanting, "Wear a mask!" Students remained for about 15 minutes before going to their 1B class. 
Participating students would be faced with a tardy to their 1B class but no other disciplinary action, principal Darah Bonham wrote in a Feb. 28 email to staff.
Senior organizers Morgan Bizier and Ari Cogswell hoped to convince the AHS community to continue wearing masks at school. 
"My biggest goal here was to send a message to peers and staff and administration alike that masking is an important issue to us," Cogswell said. "We as a student group feel strongly that the people around us being masked makes us feel safer.
I don't expect this to change the legislation that's currently in effect, but [we are doing] anything to kind of rock the boat and bring awareness because that's the first step to any change."
Bizier wanted to "protest more to communicate to other students rather than to communicate towards the legislation." 
Cogswell and Bizier were initially "worried it was going to be vapid," but were satisfied with the number of people genuinely participating. 
"I'm glad that most of the people here seem to be wearing a mask as they're out here and showing their support for the cause," Cogswell said. "One of the worries with a walkout in a school setting is that people are walking out just to get out of class or cause trouble or seek attention. But it seems like we do have a lot of people who are actively or passively supporting the cause."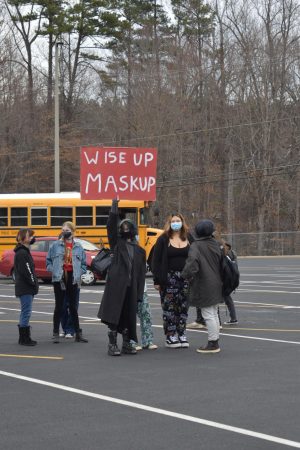 Sophomore Brynn Curnutte said she was participating because, "Masks are supposed to represent the fact that you need to stay safe and you're caring about something. A lot of people are upset with the changes."
Students carried signs with phrases like, "Wise Up, Mask Up" and "Protect Our Community" to help express their message. 
"I don't want it to seem like it's just an empty thing, you know? This isn't just a nonchalant thing. This is a real deal and you can't just take the lives of others with little-to-no care," Bizier said. "We want our voices heard."
Bizier contacted local media in order to give their event more publicity. News outlets like NBC29, CBS19 and The Daily Progress covered the walk-out. She hopes more students across Virginia will be inspired and join the cause.
"Ultimately, this isn't just a message for Albemarle students," Bizier said. "I want this to be something that passes over to other schools."
Leave a Comment
About the Contributors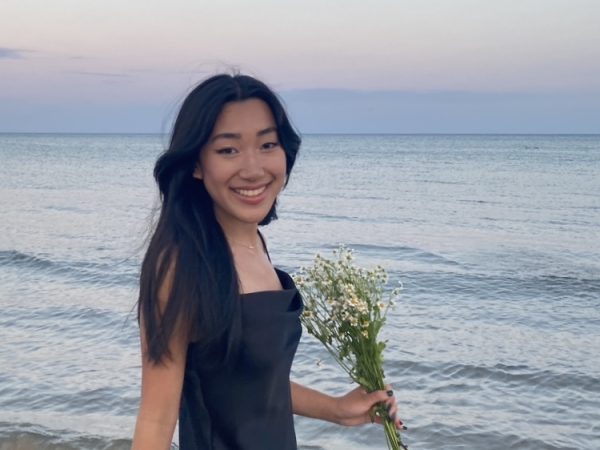 Anna Zheng, Editor in Chief
Senior Anna Zheng (she/her) is in her fourth year of journalism. Previously, she served as Social Media Editor for two years and spent a summer at the...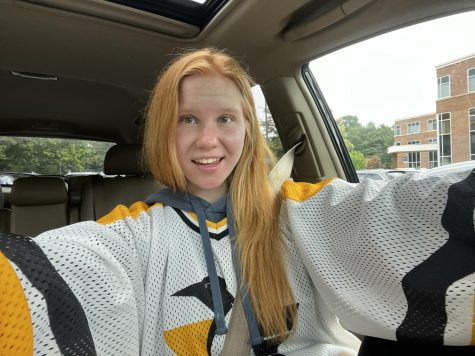 Eavan Driscoll, Editor
Eavan Driscoll is a senior at Albemarle High School in Virginia and will be attending Virginia Tech in the fall. She is a captain of the field hockey team...