March Madness Preview & Predictions
It's March again, and you know what that means. The NCAA tournament is back after last year's hiatus, with the first games tipping off  March 18.
The tournament will look a little different this year, with none of the typical sold-out seats or hyped up student sections, since the stadiums will be at 25% capacity. Not to mention it'll be held in a "bubble," one held in Indianapolis, IN. Expect some fans, but not the March Madness crowd we know and love.
Not even COVID can destroy the magic of March, and we've got everything you need to understand this year's field and to dominate your bracket pool. 
We'll start in the West Region, where the No. 1 overall seed Gonzaga roams. The Bulldogs finished the year with a 26-0 record and the WCC title. This side of the bracket has a lot of potential upsets. Look out for UCSB to upset Creighton, and for VCU to get the win over Oregon. 
Virginia will also have their hands full with Ohio, led by Jason Preston. Preston, unrecruited out of high school and only receiving a scholarship to Ohio after posting his highlight tape on Twitter, is now averaging 17 points for the Bobcats. After nearly upsetting Illinois earlier this season, they have the perfect opportunity to pull off the upset against the Cavaliers. 
USC and Pac-12 Player of the Year, Evan Mobley, should be too much for Kansas to handle in the second round. But after that, don't get your hopes up for anymore upsets here. Gonzaga was number 1 for a reason, they should cruise to the Elite 8. Awaiting them will be the Iowa Hawkeyes, and although Luka Garza and crew should make for a fun match-up, Gonzaga is too deep; they'll come out on top.
Next up is the East Region, where Michigan is the No. 1 seed. The biggest upset of the tournament may be here, as Abilene Christian lucks out with a weaker 3 seed in Texas. The Wildcats finished the year 23-4, and capped it off with a 79-45 blowout win over Nicholls State in the Southland Championship game. 
Texas is favored, but Abilene Christian's defense will keep them in the game, as it has all year. The second round is where the upsets start pouring in. BYU is in a prime position to upset Texas, assuming the Longhorns move on. As mentioned before, Texas is a weaker 3 seed, and BYU has come closer than anyone to upsetting the all-mighty Gonzaga. Look for the Cougars to shock some people by moving on.
Michigan should take down Florida State in the Sweet 16, but expect a close game. In the Elite 8, the Wolverines should come out on top, as Alabama has looked great in the regular season, but history has shown that this isn't a team that'll go too far in March.
"
North Carolina and Wisconsin face off in a match-up of blue-bloods that could be the best first round game in the entire tournament."
Now let's head to the South Region, where Baylor is the No 1. seed. This is the bracket with the most upset potential. Utah State should give Texas Tech a run for their money, North Carolina and Wisconsin face off in a match-up of blue-bloods that could be the best first round game in the entire tournament. Winthrop should also remain competitive with Villanova, as the Wildcats are missing star senior point guard Collin Gillespie. 
Colgate is the team to look out for here, having lost just one game all season, finishing 14-1. They're criminally underrated, as they finished the year with the ninth highest NET rating (an advanced ranking system), a spot typically reserved for top three seeds. While Arkansas is favored to come out on top, don't be surprised if Colgate pulls off a major upset. 
Baylor will be in for a dogfight with the winner of the North Carolina/Wisconsin game, but the Bears shouldn't worry about any legitimate upset potential here. Purdue should beat Villanova, and Arkansas should pull out a win over Texas Tech, even though this is another game with upset written all over it (Sorry Arkansas).
Baylor and Ohio State should meet in the Elite 8, and expect Ohio State to move on, as Baylor has a tough road here, and after all those close games, it'll be tough to finish in the biggest stage yet. It should also be noted that even though Baylor went 22-2 this year, and looked really dominant, they face a lot of tough, scrappy teams. Don't be surprised if they're upset before reaching the Elite 8.
Finally we have the Midwest Region, with No. 1 seed Illinois. This is another bracket without a ton of upset potential, and you'll probably notice this during the tournament. Ten Seed Rutgers is your safest upset pick here, as they've shown flashes of greatness this year. Syracuse is another potential upset, although don't count on it, as San Diego State has looked great all year, playing top notch defense and cruising to the Mountain West Championship.
Loyola Chicago's defense will slow Illinois down in the 2nd round, but it won't stop them. The rest of the second round should go by the chalk: expect Houston, West Virginia, and Oklahoma State to move on.
The match-up between Illinois and Oklahoma State will be a highlight, or at least one with the most exciting players. Projected number one overall pick Cade Cunningham and the Illini's Ayo Dosunmu light up opposing defenses on a nightly basis. It'll be a fast paced, high scoring game, but Illinois should come out on top.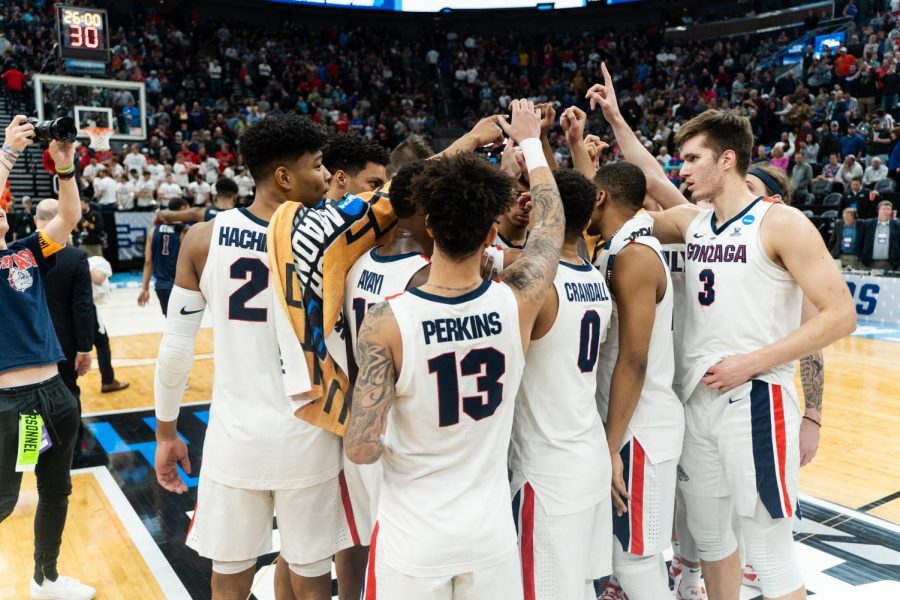 West Virginia and Houston's Sweet 16 match-up would be the exact opposite with two defensive-minded teams. This one comes down to who can control the tempo, and the Mountaineers' "Press Virginia" nickname should give them the edge, although they fall to Illinois in the next round.
After all this madness, we're down to four teams: Gonzaga, Michigan, Ohio State, and Illinois. The Illini have beaten Ohio State twice this season, and they'll continue that streak by moving on to the championship. Gonzaga should have no problems with Michigan, and after 62 games, we're down to just two.
Illinois is loaded, they're a deep team that has a better chance than anyone of beating Gonzaga, but at the end of the day, they won't. Gonzaga will win the NCAA Tournament, but you probably won't win your bracket pool.