Game Day Crystal Ball
What to watch for in tonight's match-up against WAHS
This year's Homecoming game pits Albemarle against Western Albemarle in the latest addition to the fiercest rivalry in the District.
"The energy is just different against Western, the fans really get into it, even off the field. As a player it's almost indescribable" Senior wide receiver Jake King said. "And having it be Homecoming this year just makes it even crazier."
Western has won the last three match-ups against the Patriots, but this season's game has the potential to be a classic.
"We haven't beaten them since I've been here, but we're better than ever this year and ready to play," senior running back Ebenezer McCarthy said.
The Warriors (5-0) come in on fire, but the Patriots (4-1) have also exceeded expectations. Both these teams are battling for the top spot in Central Virginia, and although the Warriors come in as slight favorites, in a rivalry this intense nothing is guaranteed.
Western Albemarle's key to success has been their dominating defensive line. They'll look to win the battle of the trenches, as they have nearly every game this season. Their defense has been a brick wall, letting up just 6.8 PPG.
Albemarle isn't too worried about Western's stifling defense, though. "I've been on varsity for three years; I've seen better defenses. As long as my guys on the O-Line do their job, we'll be fine running the ball," McCarthy said.
Western also has one of the best rushing trios in the state, led by the three-headed monster of seniors Kaden Morrow and Dakota Howell, along with junior Kyle Keyton. The Warriors secondary has also come up big throughout the year, with a game-clinching interception against Goochland being the most notable example.
However, Albemarle is more than capable of ending that hot streak. The powerful defense is coming off last week's 44-0 beatdown of Orange, as well as allowing only one touchdown from Harrisonburg on Aug. 27.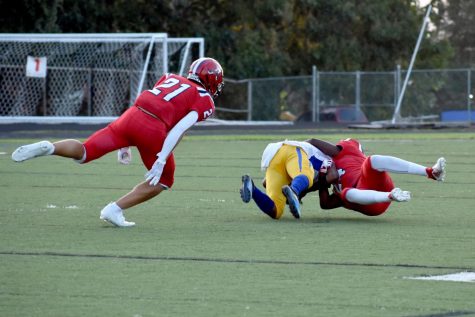 Not to mention the explosive offensive attack, which dropped 62 against Monticello. McCarthy is one of the best running backs in the state, and King says the game plan is simple, "We're looking to attack the ground, but if they're stopping that we'll switch to a pass-first gameplan."They play zone a lot, so we'll have to watch out for that."
The Patriots special teams may be atop the District as well, as the game against Monticello involved two special team touchdowns and several deep returns. Jake King took a punt 65 yards to the house. King had another big return earlier in the game, yet fumbled at the 15. But, like everything else that game, it went the Patriots way, as senior cornerback Jacob Terry scooped it up and scored.
This should be an intense game, as both teams are evenly matched and the ferocity in this rivalry should help keep it close. Western has won the last three, but expect Albemarle to come out firing on Homecoming night.
Prediction: Albemarle: 24, Western Albemarle: 21